General information about the crematorium
The crematorium opened in 1956. Since opening it's been run by the Eltham Crematorium Joint Committee, made up of Royal Borough of Greenwich, London Borough of Bexley and Dartford Borough Council.
Floral tributes
The Garden of Remembrance is cleared of all floral tributes every Thursday morning, before the grounds are open to the public. There are four exceptions where floral tributes are not picked up - in the week before and week of Christmas, Mother's Day, Father's Day and Remembrance Sunday. The last day to view any tributes left is Wednesday, however, tributes left in the Flower Pavilion will be disposed of once they have wilted.
Accessing our services
Our chapels, waiting rooms and toilets can be accessed without the need to use steps.
The majority of the grounds can be accessed by wheelchair, although in some areas assistance may be required.
We can provide wheelchairs for use in both chapels.
Visitors with a RADAR key may use the accessible toilet located behind the office building, if you do not have a RADAR key, please contact the office for assistance.
Both chapels have induction loop systems and the office has a portable induction loop system.
Read the accessibility guide on AccessAble
Crematorium administration office is open:
Monday to Thursday – 8.30am to 4.30pm
Friday – 8.30am to 4pm
Filming a service at the crematorium or within the grounds
If you want to film a funeral service and/or procession, you need to seek permission from the Royal Greenwich Film Unit. This is because the crematorium is on Royal Greenwich land. If you have any questions about filming, or the type of permission you may need, contact filmofficer@royalgreenwich.gov.uk
Only assistance dogs are allowed in our chapels and grounds.
Parking
The car park is located in the grounds and has 80 spaces, plus two spaces for people with disabled parking permits.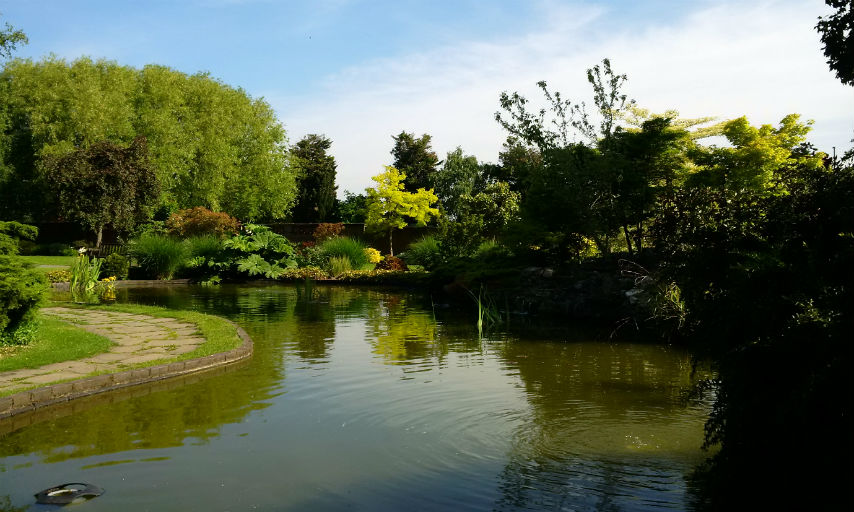 Garden of Remembrance
Tours of the crematorium
We occasionally hold group tours of the facilities at the crematorium.
If you would like to view the crematory please visit us during working hours, when the staff will be happy to answer any questions and give a guided tour.
If you wish to see both chapels before you book a funeral service, please contact us and we'll arrange an appointment for you.
The Pavilion Flower Shop
You may purchase and order flowers and light refreshments from The Pavilion Flower Shop based in the grounds of the crematorium.
The Book of Remembrance Chapel and The Flower Pavilion
These buildings are open daily, and will close 15 minutes before the cemetery & crematorium grounds:
1 October to 31 March – 9am to 3.45pm
1 April to 30 September – 9am to 6.45pm
All other Bank Holidays – 9am to 3.45pm