Chapels at the crematorium
The crematorium remains open for funeral services, with the grounds and cemetery open for visitors every day as per the opening times below:
1 October to 31 March – 9am to 4pm
1 April to 30 September – 9am to 7pm
ALL Bank Holidays – 9am to 4pm
There are two non-denominational chapels located at Eltham Crematorium:
West Chapel, with seating for 72
North Chapel, with seating for 100
Both chapels have designated seating areas for vulnerable or high-risk mourners. Please, notify your funeral director any attendees at your service require this area.
Standing is allowed, however, we will continue to monitor this to ensure overcrowding does not take place. Excess mourners are requested to remain outside the chapel entrance and all attendees are asked to scan the QR code adjacent to the chapel entrance.
We recommend that visitors should wear face coverings when in the chapels and adjacent buildings.
Those who are experiencing coronavirus symptoms must not attend.
Find out more about what happens when someone dies during the coronavirus pandemic, including funeral service guidelines.
The first funeral took place in the West Chapel on 15th August 1956. The increasing demand for cremation led to the opening of the North Chapel in 1975.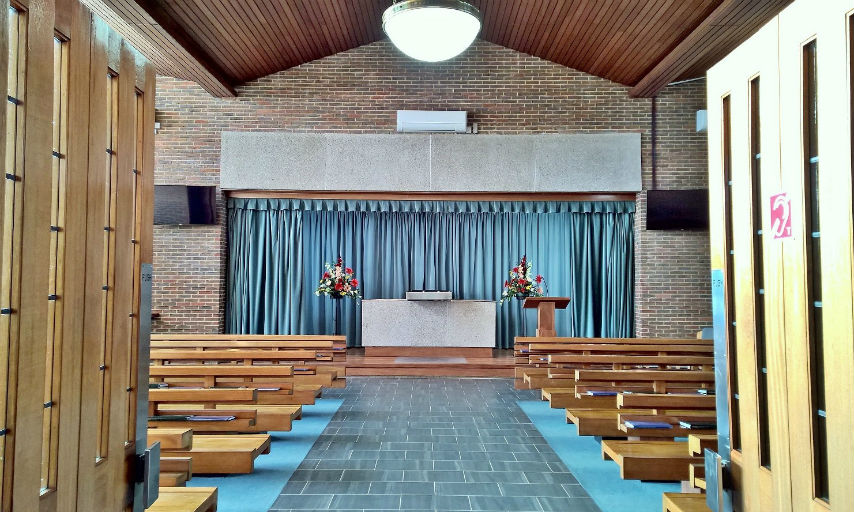 North Chapel, Eltham Crematorium
Floral tributes are displayed in an allocated space in the cloisters following the service.
Both chapels have wheelchair access, waiting areas, toilets, induction loop systems and we can also provide a wheelchair for use.
If you wish to see both chapels before you book a funeral service at Eltham Crematorium, please contact us and we will arrange an appointment for you.
Last updated: 8 October 2021