Chapels at the crematorium
Last updated 20 December: All information below is up-to-date following the announcement of Tier Four restrictions.
The crematorium remains open for funeral services, with the grounds and cemetery open for visitors every day, from 9am to 4pm. There is a limit of 30 mourners to all funeral services to reduce the spread of the pandemic. We understand wholeheartedly how difficult this will be for many people, but we've had to take this step to ensure the further safety of our residents. Find out more about what happens when someone dies during the coronavirus pandemic, including funeral service guidelines.
There are two non-denominational chapels located at Eltham Crematorium:
West Chapel - seating for 64, with standing room for 50
North Chapel - seating for 100 with standing room for 100
The first funeral took place in the West Chapel on 15th August 1956. The increasing demand for cremation led to the opening of the North Chapel in 1975.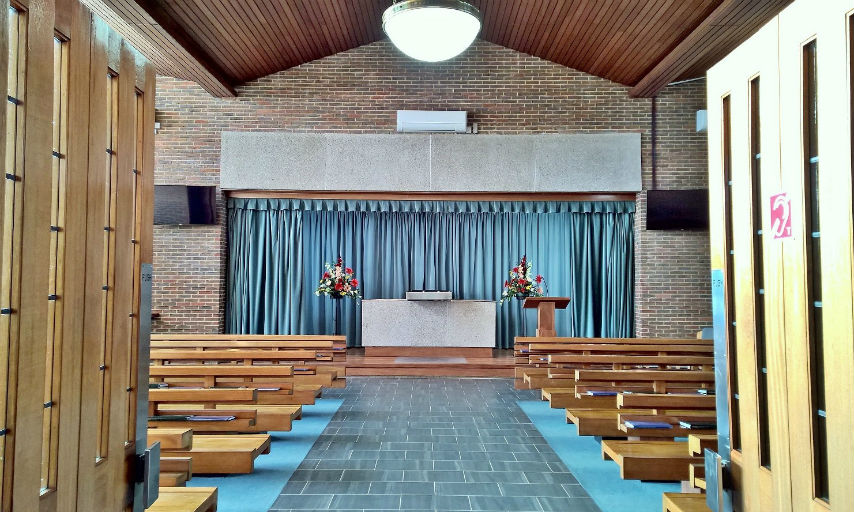 North Chapel, Eltham Crematorium
Floral tributes are displayed in an allocated space in the cloisters following the service.
Both chapels have wheelchair access, waiting areas, toilets, induction loop systems and we can also provide a wheelchair for use.
If you wish to see both chapels before you book a funeral service at Eltham Crematorium, please contact us and we will arrange an appointment for you.