Arrange a service
Last updated 20 December: All information below is up-to-date following the announcement of Tier Four restrictions.
Please request a 'Test and Trace' form from your Funeral Director, which you will have to fill out and return to them before the funeral service.
The ongoing COVID-19 coronavirus pandemic means the following some restrictions are in place for funerals taking place at the crematorium.
All services have been reduced to 30 minutes (from 45 minutes) to allow sufficient cleaning time between each service, and mourners are no longer permitted to carry the coffin of the deceased in order to prevent further spread of the virus
There is a limit of up to 30 people allowed to attend a funeral (whether the person has passed away due to coronavirus or not).
This should only include members of the person's household, close family members and in the absence of their household or family members, friends may attend.
As per government advice, anyone who has had contact with your loved one will need to self-isolate for 14 days from their last time of contact, and anyone who is showing signs of COVID-19 should not attend.
There is a limit of 30 mourners to all funeral services and those who are experiencing coronavirus symptoms must not attend.
All visitors, mourners and Funeral Directors are required to maintain social distancing, with two metres between attendees. We strongly advise all mourners, Funeral Directors and Officiants to wear a mask.
Additional mourners are not allowed to stand outside the Chapels or in the car park as this prevents safe passage for other families attending their service.
We ask everyone to follow hand hygiene and social distancing advice when travelling to and from the funeral and avoid direct face-to-face or physical contact such as hugging, unless you are part of the same household.
Hand washing facilities and toilets are available for you to maintain your hand hygiene when visiting our Cemeteries and Crematorium.
Before and after each service, staff will clean and disinfect the area where the service has taken place, as well as frequently touched surfaces to reduce the risk of spreading the virus.
---
Eltham Crematorium has two non-denominational chapels which can conduct the service.
You may choose to arrange your own service elsewhere, and simply have a brief committal ceremony at the crematorium.
The chapel is booked for 45 minutes, which allows approximately 30 minutes for the service. If you require more time, the service can be extended for an additional fee. This must be arranged at the time of booking the funeral.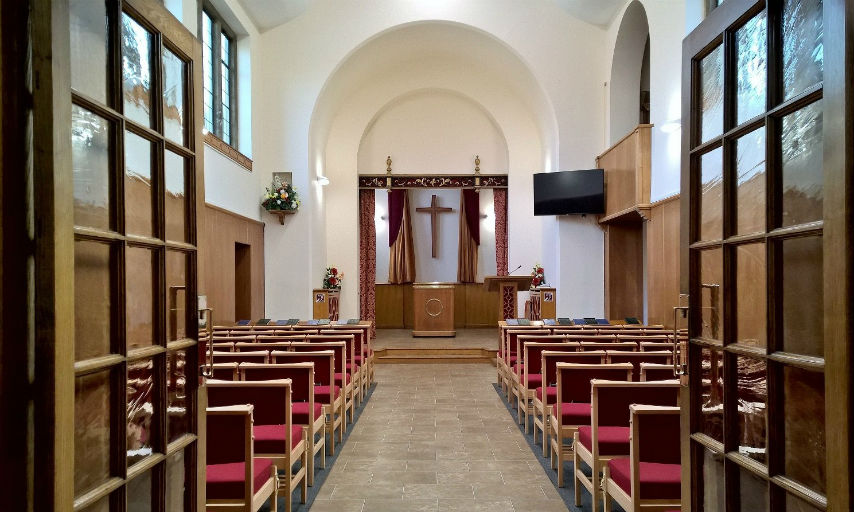 West Chapel, Eltham Crematorium
We also offer a shorter funeral at the beginning of the day at a reduced fee. The chapel is booked for 30 minutes allowing approximately 20 minutes for the service.
Music during the service
Most people choose to have music as part of their funeral arrangements.
You'll need to discuss your particular music requirements with your funeral director at least 48 hours before the funeral.
We can offer you an organist or a selection of recorded music - search online - the password is: elthamcrematorium
For an additional fee you can also choose to have a live webcast of the service, a service recording or a visual tribute. These options must be requested via your funeral director at least 72 hours prior to the service.
Witnessing the charge
For services scheduled before 3pm arrangements can be made for a small number of mourners to view the coffin being placed into the cremator following the service.
Floral tributes
There will be an allocated tribute stand in the cloister. Floral tributes for services that take place Monday to Wednesday will be removed from the cloisters before opening on the following Monday. Floral tributes for services Thursday – Friday will be removed from the cloisters before opening on the following Wednesday.