Benefit support and entitlements for people from Ukraine arriving in the UK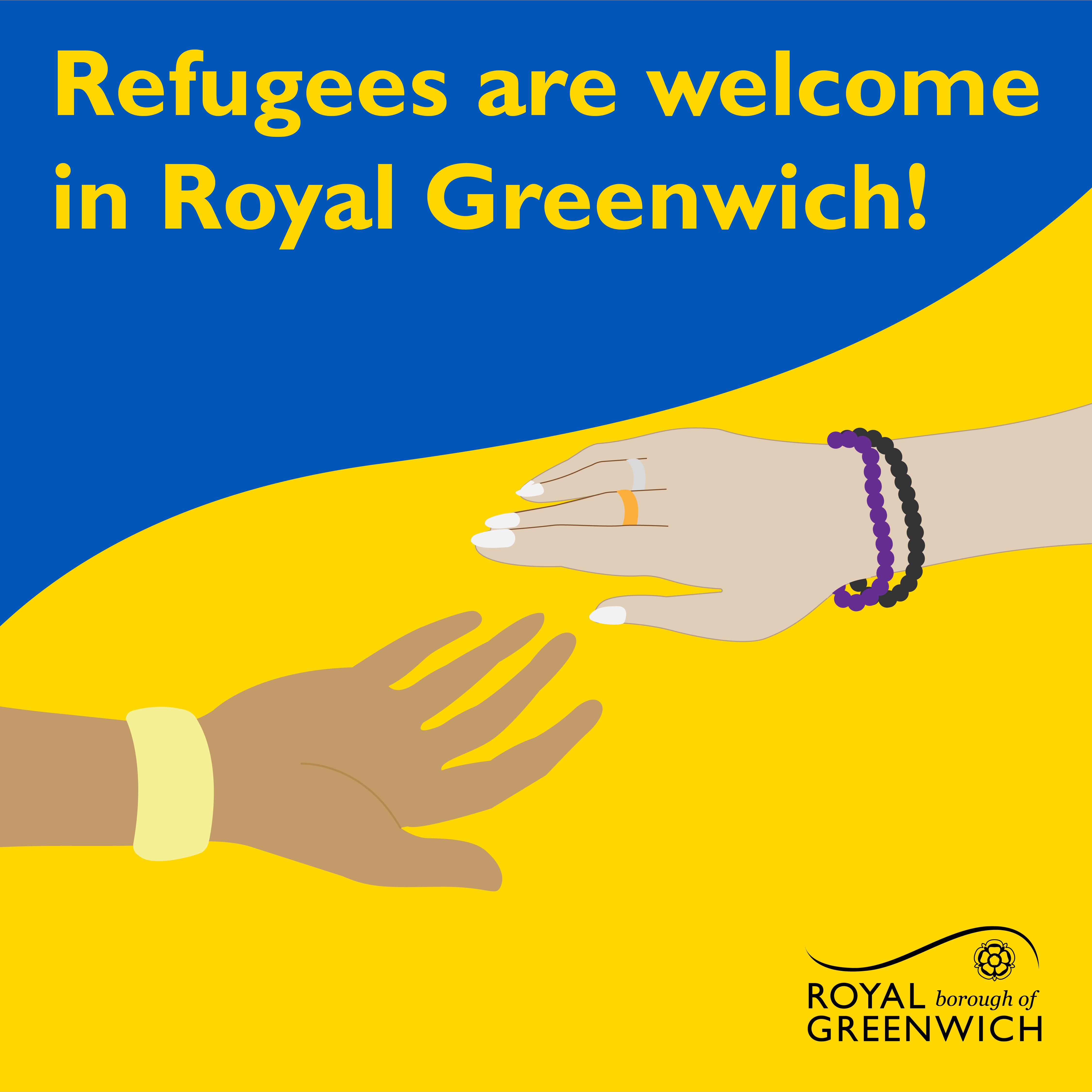 Welcome to the Royal Borough of Greenwich!
The council will provide all the help and support we can for you while you are in the UK. Follow this link to download a printable version of this information.
Emergency regulations have been put in place so that you can get financial and employment support from the government – known in the UK as 'benefits' – immediately, without the usual residence or public funds restrictions. You can claim the full range of health benefits and social security benefits from day one of your arrival and are free to live and work in the UK for up to three years.
You are covered by these special rules if you are a Ukrainian national or their immediate family member (for example spouse, partner, or child under 18) and have recently arrived in the UK but were residing in Ukraine immediately before 1 January 2022. These rules also extend to some non-Ukrainian nationals who left the country after the Russian invasion, and were residents before 1 January 2022. Call our Public Advice Line (020 8921 6375) to check your position (open Monday, Wednesday and Thursday 10am to 1pm)
Translation services are available if you need to claim benefits and need advice in your own language. A telephone interpreter can be arranged for you if you do not have access to your own. More details about translation services are explained below and a version of this webpage will be available in Ukrainian shortly.
If you are being sponsored or have entered the UK under the Ukraine Family Scheme and your sponsor or family member needs advice, they can visit the Royal Greenwich website to view our separate factsheets:
Impact on your benefits and entitlements if you are supporting a family member under the Ukraine Family Scheme (this will be available shortly).
The British Red Cross has also produced a helpful advice booklet in Ukrainian. Download it here.
The main benefits you can claim
This next section gives an overview of the main benefits you can claim.
Each benefit has different rules. For example, some benefits are only for people of working age on low incomes. Others are for people who have reached state pension age, have long-term health problems, or are disabled and may need extra help looking after themselves.
You will need to open a UK bank account to receive benefits. This can take a long time, so please start the process as soon as you can. However, your first payment can be made by voucher if you don't already a bank account set up.
You will normally need identification, proof of address and immigration status to open a bank account. However, some UK banks have account options where you don't need a permanent address or have put special provisions in place for arrivals from Ukraine - see the list below. Visit the Money Helper website for more information on choosing a bank account for your benefit payments.
Banks with schemes for Ukrainians:
As a new arrival to the UK, you may be unfamiliar with the system and what your rights and responsibilities are when claiming benefits, so please call our Welfare Rights Service Public Advice Line on 020 8921 6375 for benefits advice and support if you need it (Monday, Wednesday, and Thursday, 10am to 1pm).
Universal Credit (UC) is the main source of support for people of working age on low incomes who are unable to work (for example due to illness/disability or caring responsibilities) or who are looking for work but have not yet found a job. It covers your living expenses like food, fuel, and other household expenses. UC also includes support for adults, children, and housing costs, and is paid into your bank account by the government in single monthly payments. The amount you get is based on your income, savings, how many people are in your household and their circumstances each month. If you have savings and assets, this must not be more than £16,000 to qualify.

Extra amounts may also be included if you have an illness or disability that makes it difficult for you to work, caring responsibilities, or if you pay for childcare while you work (conditions apply for all of these).

How to claim

You can apply for Universal Credit online or by calling the Universal Credit helpline 0800 328 5644 (Monday to Friday, 8am to 6pm). Once you have made your online claim, you may need to attend an appointment at a local benefit office called a 'jobcentre'. You will meet your 'work coach' who will go through the claim with you and help you apply for a national insurance number - which is a unique personal number you need to work, which makes sure the tax you pay is properly calculated. You can ask for an interpreter if you need one.

Support to make or manage a UC claim

Call The Help To Claim Telephone Service on 0800 144 8444 (Monday to Friday, 8am to 6pm) for help with your application. They will also arrange to speak to you through an interpreter if needed, use this link for more information.

Most people manage their claims online. Please contact Royal Greenwich's Universal Support Team if you need help with managing your claim online by calling 020 8921 3333 (Monday to Friday, 10am to 4pm).

Couples

If you're joining your partner in the UK and they are already claiming UC, they will need to notify UC and their claim will end. You will need to make a new claim as a couple and your entitlement will be assessed based on your joint income, savings, and circumstances. The new claim will take up to five weeks to be put into payment.

Support while you're waiting for your first UC payment

It takes up to five weeks for the first payment to come through. You can apply to the department for work and pensions (DWP) for an advance payment if you are struggling and need urgent financial support. However, this is a loan that will have to be repaid once your UC claim comes through and will reduce your future payments.

Alternatively, you can contact the Council to check if you can get a non-repayable cash grant called an 'emergency support payment' while you are waiting for your first UC payment.

If you have questions about UC, call our Welfare Rights Service Public Advice Line for Royal Greenwich residents on 020 8921 6375 (Monday, Wednesday, Thursday, 10am to 1pm). Further information is also available on the Royal Greenwich website.
If you are entitled to Universal Credit, the assessment will normally include support for up to two children.

Child Benefit

This is extra money to help with the cost of bringing up a child. You can claim Child Benefit for all your children - there are no limits on how many you can claim for. Anyone can claim Child Benefit and it doesn't matter how much savings you have. However, a Child Benefit tax charge applies for people earning over £50,000 a year.

Complete a CH2 form to claim and send it with supporting documents to:

Child Benefit Office (GB)
Washington
Newcastle Upon Tyne
NE88 1ZD

Visit the GOV.UK website for more information.

Clothing, free school meals for school-aged children

If you have school-aged children, you can get free school meals if your child is either:

in reception or year 1 or 2 at school (regardless of income)

in year 3 or above and you're receiving certain low-income benefits.

Check what school year your child is in.

You may also be able to get help towards the cost of school clothing if you're on a low income and your child is in reception or years 3, 7 or 9 in school.

Find out more and apply for support online by completing this form on the Royal Greenwich website.

Free milk, fruit, vegetables, and vitamins

Healthy Start is a government welfare food scheme that provides free infant formula, fresh, canned, or frozen fruit and vegetables and vitamins. You can get this if you are on a low income and are at least 10 weeks pregnant or have a child under four years old in your household. You will be given a prepaid card that is topped up every four weeks, which can be used in any store accepting MasterCard payments (including supermarkets, markets, convenience/grocery stores and pharmacies). Apply for Healthy Start.
Pension Credit

Pension Credit is the main source of financial help for pensioners on low incomes and guarantees people aged 66 or over a minimum weekly income.

If you are part of a couple, you both need to be over state pension age currently (66+) to qualify. Check your state pension age.

There is no limit on how much savings you can have to qualify, but savings of over £10,000 will affect how much Pension Credit you can get. You may qualify if your weekly income is less than £182.60 a week if you are a single person or £278.70 for couples (April 2022/23 rates). You may still get help even if your income is higher than this. For example, if you or your partner receive disability benefits or are a carer.

The Older Person's Freedom Pass

The Freedom Pass allows free travel for older people on London's public transport. Anyone aged over 66 can get one. Use the eligibility checker on the London Councils website to check if you qualify.

Apply online (recommended) or by post at a main post office. For more information visit

the Freedom Pass website.

If you are aged 60+ but have not yet reached state pension age (66+), you can apply for a 60+ London Oyster photocard. This provides free travel on public transport in London. Visit the Transport for London website for more information and to apply online.
Universal Credit

You may get extra Universal Credit if your ability to work is limited by a health condition or disability. You will need to have an assessment called a 'work capability assessment' and complete a UC50 form.

Tell your work coach at the jobcentre about all the difficulties you have in finding work due to your physical or mental health condition or disability. They should make reasonable adjustments to ensure that you have the support you need to manage your claim. This might include offering telephone appointments or reducing the number of jobs you're expected to look for. Please contact the Welfare Rights Service Public Advice Line (020 8921 6375) if you need further advice about this process.

Personal Independence Payment (PIP)

This is a benefit for people with a long-term health condition of disability.

You may qualify for PIP if you:

are aged 16 or over but have not yet reached state pension age; and

have a disability or long-term health condition and need a lot of help looking after yourself; or

supervision to keep you safe; or

have mobility difficulties.

You get PIP regardless of how much income or savings you have. You can start your claims by calling 0800 917 2222 (open Monday - Friday between 8am and 5pm) - someone else can do this for you, but you will need to be present during the phone call. You will also need to complete a more detailed form which will be sent to you later once you have checked and returned the initial form.

If you need further advice or support with filling out the form, call the Public Advice Line on 020 8921 6375 (open Monday, Wednesday, and Thursday, 10am to 1pm).

View our Personal Independence Payment factsheet to find out more.

Attendance Allowance

This is a similar benefit for people who have reached state pension age. Call 0800 731 0122 (open Monday to Friday, 8am to 5pm) to request a paper form. View our Attendance Allowance factsheet to find out more.

Disability Living Allowance (DLA)

DLA is the equivalent benefit for children under 16 who need much more looking after than a child of the same age without their health condition or disability. Call 0800 121 4600 (open Monday to Friday, 9am to 5pm) to request a form. View our Disability Living Allowance factsheet to find out more.

People who are terminally ill

Special rules allow claims from people who are terminally ill to be fast tracked and paid at the highest rate - call the Public Advice Line on 020 8921 6375 (open Monday, Wednesday, and Thursday, 10am to 1pm) to get advice.

Help with transport costs if you receive a qualifying disability benefit

Sources of help with transport costs depending on your circumstances include:

Blue Badge - this is a government scheme to enable people with mobility difficulties to park closer to their destination.

Vehicle Excise Duty (road tax) exemption.

Disabled Persons Freedom Pass and the Taxicard Scheme.

Contact the council's mobility team for more information on 020 8921 2387 or email mobility-duty@royalgreenwich.gov.uk The Royal Greenwich website also includes more information about these schemes.
You may qualify for a benefit called Carer's Allowance or an extra amount in your Universal Credit if the person you look after starts receiving certain rates of Personal Independence Payment, Disability Living Allowance or Attendance. Our Benefits for carers factsheet includes further information.
If you are a tenant and unable to pay your rent, you could qualify for Universal Credit to help cover your housing costs. Your sponsor should not be charging you rent if you entered the UK under the Homes for Ukraine scheme.

You will generally not be liable to pay rent if you are living with family members temporarily. However, if your family member receives low-income benefits, the amount they get may be reduced if other adults live with them because the benefit rules assume that adults aged over 18 will be contributing towards the housing costs. There are some situations in which benefits will not be reduced, so your family should find out and get advice.

If you are liable to pay housing costs you will need to claim Housing Benefit if you have reached state pension age, or if you are living in certain types of accommodation, like temporary accommodation provided by the council. Find out more.
Council tax is a property-based tax in the UK. You won't be liable for council tax if you are living with family members or with a sponsor under the Homes for Ukraine scheme.

Financial help via Council Tax Support (CTS) is available for people on low incomes who pay council tax. There is also a system of discounts to help reduce council tax costs - you can get this help even if you don't qualify for CTS. Find out more.
Jobcentre staff are delivering additional face-to-face assistance to help people find suitable work - including advice on benefit eligibility. Visit GOV.UK to find your nearest jobcentre.

It is also worth contacting Greenwich Local Labour and Business (GLLaB), the council's employment and skills service. They work with a range of organisations to give you the best chance of finding a job. Register with GLLaB.
Children, people aged 60 or over, and some people with certain medical conditions can get free prescriptions and eyesight tests. You will also get free prescriptions, help with NHS dental treatment, vouchers towards the cost of glasses and refunds of fares to hospital if you receive certain income-based benefits. You may also get help towards health costs if you are on a low income even if you're not on benefits. Visit the NHS website for more information.
Financial support in an emergency or crisis

The Council's Emergency Support Scheme is a discretionary scheme to assist residents in crisis. Support includes Emergency Support Payments for residents who don't have enough money to buy essentials in an emergency or crisis. You don't have to be receiving benefits to qualify. There are also Community Support awards for residents on low-income benefits who need help with basic household items and furniture.

For more information and how to apply, visit the Royal Greenwich website. Please call 020 8921 3333 (Monday to Friday, 10am to 4pm) if you need help with the online form. If your emergency support payment application is successful, you will be issued with a cash payment which you can redeem at the Post Office.

LiveWell Greenwich

LiveWell Greenwich supports residents to live healthier, happier lives for longer. It works together with local services, and communities to promote good physical and mental health and wellbeing.

LiveWell Greenwich can provide signposting and support to get help with things like eating well, becoming more active, stopping smoking, drinking less, money/debt/benefits advice, employment and /training, support with housing needs, NHS health checks and support managing your long-term health condition.

Call the Live Well Greenwich Line on 0800 470 4831(available Monday to Thursday 8.30am to 7.306pm, Friday 8.30am to 5.30pm, Saturday 9am to 12 noon) to access this support or visit the website for further information.

The British Red Cross

The British Red Cross supports people from Ukraine who are in the UK. The information on their website will help you and your family to find out about services and support that might be available. For any more information about British Red Cross, or for emotional support please call the free British Red Cross support line on 0808 196 3651 (open between 10am - 6pm daily). Interpreters are available.
For benefits advice and/or to check if you're missing out on any entitlements, contact the Welfare Rights Service Public Advice Line on 020 8921 6375 or textphone 18001 020 8921 6375

(Mon, Wed, Thurs: 10am - 1pm)

If you need help with claims (including managing your Universal Credit claim), call the Universal Support Team on 020 8921 3333 (Mon to Fri, 10am-4pm)

The best way to contact these teams is to send an enquiry via the website using an online contact form or email universal-support@royalgreenwich.gov.uk

You can also visit the website to view our benefit webpages, download benefit factsheets or use our online benefit calculator. 

GOV.UK

GOV.UK is the UK government's website and is the best place to find information about government services. Visit the website for more information including:
UK Visa and Immigration Ukraine Helpline

Telephone: 0808164 8810 or +44 (0)175 390 7510 if you cannot contact UK 0808 numbers.

Lines are open 24 hours a day, seven days a week.

Universal Credit Help to claim

Free phone service delivered by Citizens Advice.

Telephone: 0800 144 8 444

Advisers are available 8am to 6pm, Monday to Friday.

Ask for a translator if you need to get advice in a different language.

Local Jobcentres

Woolwich Jobcentre

Nelson House, 50 Wellington Street,

Woolwich,

London SE18 6PY

0800 169 0190

Opening hours: Monday to Friday 9am to 5pm (except Wednesday 10am to 5pm)

Bexleyheath Jobcentre

Westminster House,18694 Broadway,

Bexleyheath,

Kent DA6 7BB

0800 169 0190

Opening hours: Monday to Friday 9am to 5pm (except Wednesday 10am to 5pm)

Independent organisation providing free, confidential advice and information on a range of issues including debt, benefits, housing, and employment.

Freephone 080 8278 7695 (Mon 10ampm; Tues 2-4.30pm; Wed 102 & 2-4.30pm; Thurs 9.30am-4.30pm).

Royal Greenwich services

Emergency Support Scheme (ESS)

For emergency support payments or community support payments.

Telephone: 020 8921 2078

Email: emergency-support@royalgreenwich.gov.uk

Free School meals, school clothing and travel grants.

Telephone: 020 8921 2530

Email: pandsbenefits@royalgreenwich.gov.uk

Find out about free early learning for two- to four-year-olds.

Telephone: 020 8921 7921

Email: fis@royalgreenwich.gov.uk

Support from short-term help and rehabilitation to longer-term help.

Telephone: 020 8921 2304

Email: aops.contact.officers@royalgreenwich.gov.uk

Housing Inclusion Service

For housing advice and support.

020 8921 2863

If you need immigration advice

Visit GOV.UK website for details of how to find an immigration adviser.