Recycling and waste collections
Different types of waste we collect
There are three main types of waste that you need to know about so you can put the right kind in the right bin for our collection teams:
Food and garden waste (green service)
Mixed dry recycling (blue service)
Non-recyclable waste (black service)
Where to put different types of waste

| Type of waste | Wheeled bin | Sacks (for properties without enough space to store bins) |
| --- | --- | --- |
| Food and garden waste | Green top | Corn starch or paper sack |
| Mixed dry recycling | Blue top | Clear sack |
| Non-recyclable waste (what's left) | Black top | Black sacks (provide your own) |
Food and garden waste (green service)
The Royal Borough of Greenwich collects food and garden waste from your green-top bin or corn starch sack (depending on your property type). The material is delivered to an in-vessel composting (IVC) facility in Dagenham, Essex, where it is turned into compost.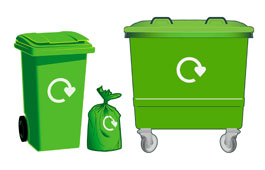 Food waste refers to all cooked and uncooked food, including:
fruit and vegetables
meat, fish and bone
plate scrapings
rice, pasta and bread
tea bags and coffee grounds
used tissues or paper kitchen towels
Garden waste includes:
grass, hedge and shrub cuttings
leaves and weeds
plants and flowers
straw, hay and sawdust
tree bark and small branches (less than 50mm or two inches in diameter)
vegetarian pet waste (for example, from rabbits, guinea pigs and hamsters)
Please do not put plastic bin liners, plastic sacks, carrier bags or degradable/biodegradable sacks in your green-top bin as they are not compostable and do not break down quickly enough.
Please keep the amount of soil you put into the green-top bin to a minimum. Soil contained within a small root ball is acceptable but you should not fill your bin with loose soil and stones. If a bin is filled with loose soil our crews will be unable to move it to the bin lift for emptying and we will not be able to collect it.
If you have a lot of soil to dispose of you can load it into small rubble sacks and we can collect it as part of our bulky waste collection service.
Using your kitchen caddy
We provide residents with a six-litre kitchen caddy to store food waste in until there is enough to put into the bins or sacks for collection. Below are a few tips when using your caddy.
Line the caddy with newspaper or kitchen towel to soak up moisture. Do not use plastic bags
You can also use corn starch or paper caddy liners
Place all your food waste and plate scrapings into the caddy
Empty your caddy into your green-top bin, corn starch or paper sack
Rinse your caddy before using again
Corn starch and paper liners and sacks are suitable for containing your food and garden waste.
Buy corn starch and paper liners
You can also buy them from other retailers, but make sure that the sacks carry the 'compostable' sign, as shown on this page.
Home composting equipment
The Royal Borough is working with a company called Straight PLC to provide composting equipment to residents at discounted prices.
Discounts on home composting equipment (Get Composting website)
Reduce food waste
We are supporting the Love Food Hate Waste campaign, which encourages people to shop, cook and store food wisely. Making some small changes could save £50 a month on the average food bill.
Learn how to reduce food waste (Love Food Hate Waste website)
Mixed dry recycling (blue service)
We collect mixed dry recycling from your blue-top bin, clear sack or large communal wheeled bin depending on your property type. The recycling material goes to the materials recycling facility (MRF) in Nathan Way, Thamesmead, where it is separated and sent to re-processors for recycling.
Here is a list of mixed dry recycling materials that we collect:
Cans, including:
food tins and drinks cans
empty aerosol cans
tinfoil and foil ready-meal containers (with food removed)
Cardboard, including:
cardboard boxes
cardboard food packets
greeting cards
toilet roll and kitchen roll inserts
food and drink cartons (with liquids removed)
Paper, including:
newspapers and magazines
catalogues, telephone directories and paperback books
envelopes and junk mail
shredded paper (bagged)
Glass, including:
glass drinks bottles (clear and coloured)
glass food jars and bottles
Plastic, including:
plastic bottles (emptied drinks, milk, shampoo and bleach bottles)
yoghurt pots, plastic ready-meal containers, margarine and ice-cream tubs, plastic fruit punnets and cling film (clean with food removed)
supermarket carrier bags
Clear sacks provided by the Royal Borough of Greenwich are for your mixed dry recycling only. You should not use them for general household waste or garden waste.
Please do not put your mixed dry recycling in black waste sacks as our collection crews can't identify what is in them.
Don't forget to squash plastic bottles to save space and wash out any containers that have food or liquid in them. Remember, even a small amount of food waste can potentially ruin a large amount of mixed dry recycling.
Non-recyclable waste - or what's left over (black service)
We collect non-recyclable waste from either your black-top bin, black sack or large communal wheeled bin depending on your property type. The waste material goes to an energy from waste plant located in neighbouring borough Lewisham, where it is incinerated to generate electricity.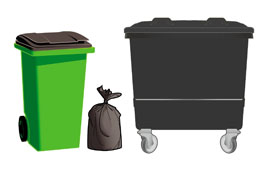 Please use the black service for:
disposable nappies
sanitary towels and incontinence pads (bagged)
polystyrene packaging
pet waste or cat litter (double-bagged)
broken crockery (wrap first to avoid injury)
cigarette ends and ashtray contents
coal and wood ash (cooled)
cotton wool pads and buds and make-up wipes
vacuum cleaner waste
textiles (which you can also take to a recycling bank, or request a free kerbside collection)
Remember, if you are unsure where an item goes, put it in the black-top bin.
Larger or bulky items
If you have larger items to dispose of, such as washing machines, fridges and furniture, you can:
take these to our Reuse and Recycling Centre
arrange a bulky waste collection
You can also give good quality furniture to charity or pass it on through a reuse network such as Emmaus.
Not for collection
Please do not use bins or sacks to dispose of building materials, paint, chemicals or small electrical goods.
Pages in Recycling and waste collections
You are here: Different types of waste we collect