Good Growth Fund project
Through the Mayor of London's Good Growth Fund, more than £2.5million has been secured for the project, matched by an equal amount from the Royal Borough of Greenwich, making £5.2million in total. The project will be delivered in partnership with the local community and local stakeholders.
Committed investors include the Council and the Greater London Authority (GLA). Future investors will include workspace operators and business owners.
The project has two main strands:
Plumstead High Street improvement schemes
redevelopment of the Plumstead Power Station into a business and workspace hub.
White Hart Road and railway underpass
The underpass is an important connection between the high street and industrial estate, and planned improvements include:
better lighting
improved route to and from the underpass
planting of greenery
artwork.
Retail and business support
The Plumstead High Street regeneration project will improve the visual appearance of the high street and make it a more attractive destination for both businesses and shoppers.
The project includes:
shopfront improvements
establishing a traders' forum
a retail and business support programme including help with business plans and branding.
Plumstead Power Station
It's intended that the Plumstead Power Station will be converted to create new business space and increase jobs and local spend. Ideas include:
new workspaces
event spaces
a market
food and drink businesses.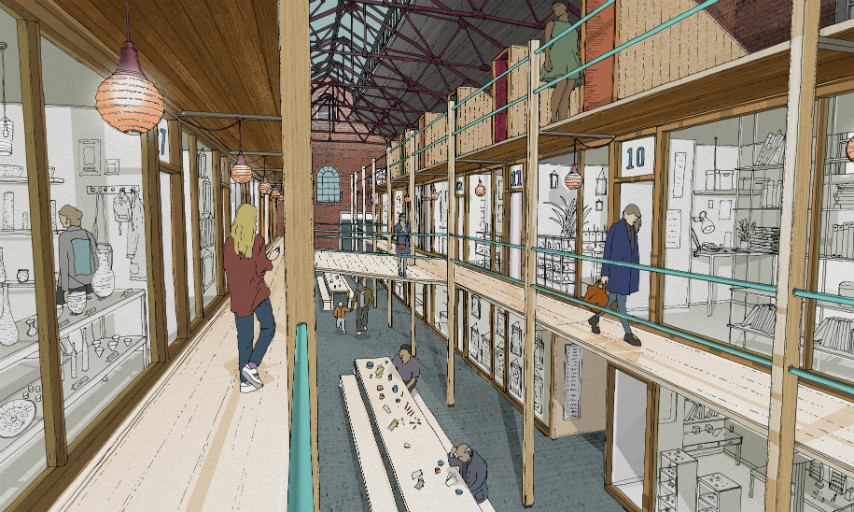 Artists impression of workshop spaces inside Plumstead Power Station.