The Plumstead Centre
The Plumstead Centre is a state-of-the-art community hub featuring both library and leisure facilities in the heart of Plumstead. It represents a fantastic a multimillion pound investment by the Royal Borough of Greenwich.
We have refurbished the Grade II listed building, which housed the original Plumstead library, and have created the new library in a manner befitting the historic status of the building. Modern facilities have been included and we've expanded the centre to include a leisure centre, community rooms and a café.
Residents and community groups have access to a wide range of enhanced leisure facilities, including a dance studio, a book wall and a multi-use space suitable for a range of activities.
The centre is a sustainable building and is a flexible and accessible community space for all residents including those with a disability. Facilities and activities include:
large library
high-tech gym
soft play area
badminton court
fitness and dance studios
performing arts classes
community meeting rooms
café
The Plumstead Centre is a cashless facility which means that payments for leisure activities will need to be made online or at the centre using contactless or credit or debit cards. The café will accept both card and cash payments.
The Plumstead Centre is now open. The grand opening will be on Saturday 29 February which will include demonstrations, a tour of the building and free taster activities.
The centre is operated by Better on behalf of the Royal Borough of Greenwich.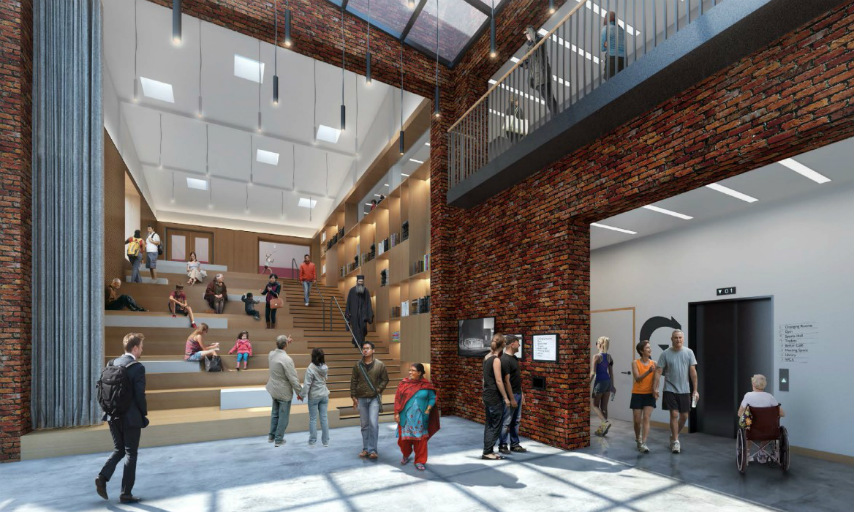 Artists impression of the inside of the renovated Plumstead library