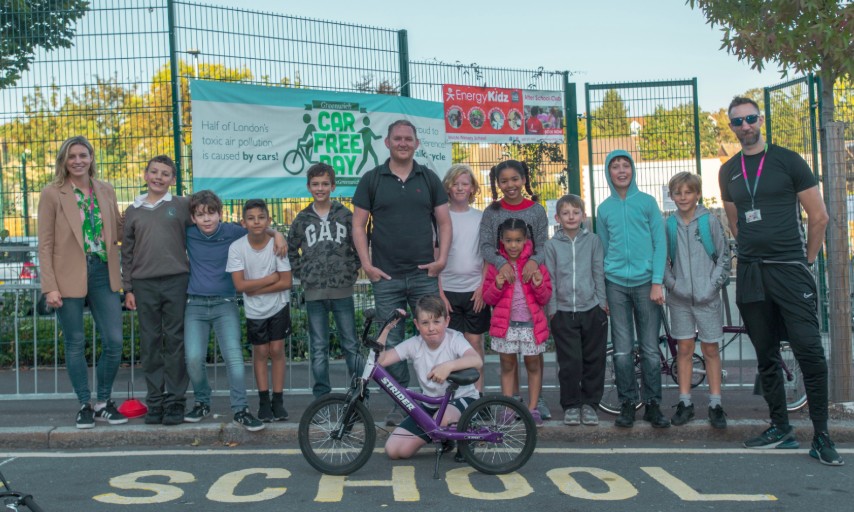 Published: Monday, 9th September 2019
To celebrate World Car Free Day in Royal Greenwich over fifteen residential streets throughout the borough will be temporarily closed during the days leading up to Sunday 22 September 2019.
From Friday 20 to Sunday 22 September neighbours across three roads will get together to temporarily close their streets to traffic and create Play Streets and on Friday 20 September nine primary schools will close nearby roads at the beginning and end of the school day.

Four primary schools in the borough already close their roads to traffic throughout term-time as part of School Streets, a pioneering initiative to improve air quality and safety for pupils.

Play Streets are temporary road closures where children can play and neighbours can get to know each other. There are 200 Play Streets across London that will be taking place as part of Car Free Day.
London's biggest ever Car Free Day celebrations
Events in Royal Greenwich are part of London's biggest ever Car Free Day celebrations and are aimed at reducing air pollution and making streets safer for everyone to walk and cycle.

Cllr Danny Thorpe, Leader of the Royal Borough of Greenwich, said:
"We are celebrating Car Free Day this year in Royal Greenwich with a Car Free Weekend. Reclaiming roads from cars means healthy streets with space to walk, play, sit and relax. We can all be part of the change to swap the short journeys we make by car to walk, cycle or take public transport instead.

"Around half of London's toxic air pollution is caused by road vehicles and that's why we're proud to be taking part in a London-wide and World Car Free Day to do our bit and make a difference."

Cllr Denise Scott-McDonald, Cabinet Member for Air Quality, Public Realm and Transport, said:
"I am delighted that the Royal Borough of Greenwich is taking part in Car Free Day. It is a fantastic scheme that allows residents to enjoy their local area, free from the presence of cars and pollution.

"Trialling temporary road closures can lead to real change. We already have four schools pioneering the School Streets initiative and hopefully more will follow their lead after experiencing the temporary benefits of this year's Car Free Day too."

Jacqueline Graves, deputy headteacher of Haimo Primary School, commenting on the success of School Streets, said:
"We have seen a 54% reduction in the number of children being driven to school, with a big increase in those cycling, walking and scooting. Our street is quiet and peaceful at both ends of the day and children are safer which wasn't always the case before. Our parents are happy with the School Street - saying 'it's like it was when we came to school' and even local residents in the road who had concerns at the beginning now acknowledge the benefits."
See what's happening in Royal Greenwich…
School road closures on Friday 20 September
Alexander McLeod Primary School – Abbey Wood
Bannockburn (Plumstead High Street) – Plumstead
Bannockburn (Church Manorway) – Plumstead
De Lucy Primary School – Abbey Wood Ward *existing school street*
Invicta Primary School (Blackheath) – Blackheath & Westcombe
Our Lady of Grace Catholic Primary School – Charlton
Thorntree Primary School – Charlton
Eglinton Primary School – Woolwich Common
Notre Dame Catholic Primary School – Woolwich Common
Play Streets
There are twelve current residential streets in the borough that have regular Play Streets throughout the year. Three streets are participating between Friday 20 and Sunday 22 September 2019.
Dinsdale Road, SE3, 20 September, from 3pm until 5pm
Charles Grinling Walk, SE18, 22 September, from 4pm until 5pm
Gurdon Road (between Hardman and Rainton roads), SE7, 22 September, from 1pm to 4pm
Olven Road, SE18, 22 September, 1.30pm until 7pm
Spindle Close, SE18, 22 September, 2pm until 4pm
Woolf Close, SE28, 22 September, 2pm until 6pm
Map of schools and Play Streets taking part in Royal Greenwich
Find out more about London Reimagine events
Apply online to become a future Play Street
Find out more about the Council's E-Z Cycle electric bike loan scheme
Find out more about the Council's free cycle skills sessions