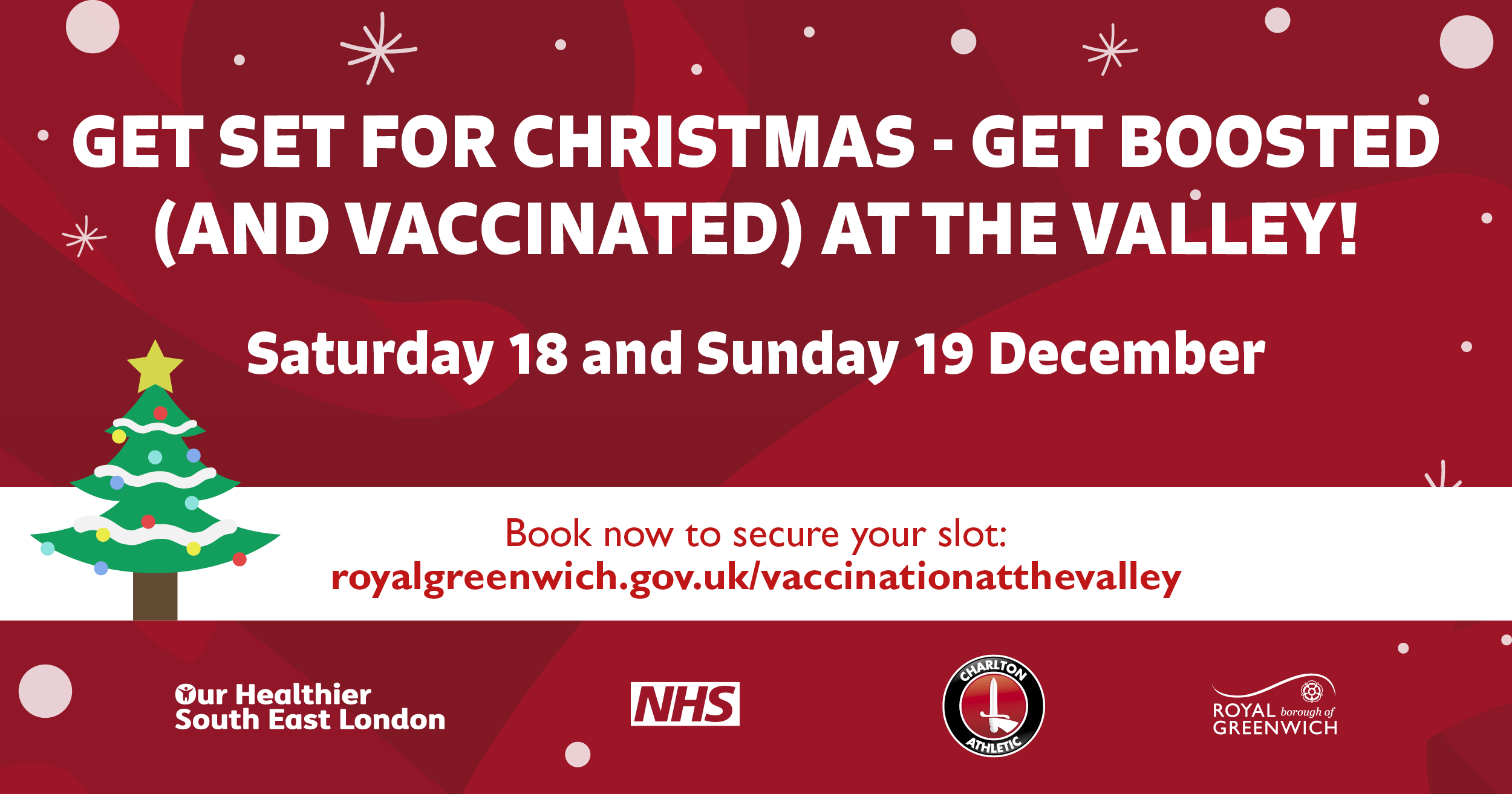 Published: Wednesday, 15th December 2021
Due to popular demand, we have increased our capacity to boost and vaccinate even more residents before Christmas – so book now to secure your slot!
Thousands of residents are swapping the last minute Christmas shopping dash for boosters and vaccines this weekend in Royal Greenwich.
We're preparing to turn The Valley football stadium into a mass vaccination once again, filled with vaccinators ready to give our community the boost they need in the run up to the festive season.
Don't forget to dress for the weather as queuing is outside, with elves, street entertainers, a choir and more on hand to add to the festive feel!
In London, the virus is spreading at a faster rate than the rest of the country. In Royal Greenwich, we are seeing a significant increase in the number of confirmed cases of COVID-19 over the past few days.
To help reduce the spread of the virus, including the Omicron variant, the UK Government has announced that all over 18s will be offered a booster by the end of December. NHS in South East London are due to administer 750,000 vaccines over the next three weeks. In Royal Greenwich, that works out to 41,000 vaccines a week.
Cllr Danny Thorpe, leader of the Royal Borough of Greenwich said: "The challenge we collectively face with the threat of Omicron is unlike we have ever seen since the pandemic struck nearly two years ago. So it is vital that we do everything we can as a borough and a community to significantly increase the number of residents who get their booster and vaccinations as soon as possible.
"Our mass booster and vaccination event at The Valley this weekend is hugely important for our residents, businesses, staff and service providers and I'm urging everyone to get boosted and vaccinated.
"I'm also lending my support as a volunteer vaccinator and hope to see, and vaccinate, as many residents as possible this Sunday."
Act now
We are all hands to the deck at the Royal Borough of Greenwich and leading the way with our partners and our local booster (and vaccination) programme.
From 8am to 6pm on Saturday 18th and 9am to 6pm on Sunday 19th December, we are offering:
booster dose to everyone aged 18 and over, but no sooner than three months after the second dose
first and second vaccination doses to everyone aged 16 and over
second doses given eight weeks or more following the first dose for 18 and over, and twelve weeks for 16 and 17 year olds.
Walk-ins on the day, but subject to availability so book now to avoid disappointment.
Why get boosted
Some people may be asking why a third dose – the booster – is so important. Scientists have confirmed that two doses of vaccine are simply not enough to give the level of protection we all need against the new Omicron variant that is starting to circulate widely through our communities. However, they are confident that with a third dose, a booster dose, we can bring our level of protection to where it needs to be.
We also know that Omicron is more transmissible so the more people who are boosted, the higher their level of protection and the greater their chances of avoiding serious illness.
We all need to get boosted now, both to protect ourselves but also to help to stop the NHS from being overwhelmed with COVID patients and prevent avoidable deaths.