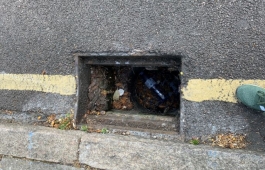 Published: Monday, 10th May 2021
The Royal Borough of Greenwich is asking for the public's help to catch gully thieves operating in the area.
Gully grid thieves have struck eight times in the Eltham and Mottingham area over the past week alone, leaving dangerous holes in the ground and costing the taxpayers around £200 per cover.
We are currently investigating the spate of thefts, but we need the public's help. We're asking people in the area to stay vigilant, and if they witness suspicious behavior to:
Try to take as many details as possible, including photos of the missing drain cover, number plates, exact location of the gully covers

Call the police on 101 if they see someone in the act of stealing

Report any missing covers to the Council and the police
It's really important that you do not approach suspected thieves directly, or take photos of them, as this could be dangerous. Instead, call the police if you catch someone in the act, and report any missing covers you see to the Council. Details of how to report are below.
Jackie Smith, Cabinet Member for Safer Communities said, "This isn't just about the appalling waste of public money. When gully covers are stolen, this also poses a real risk of serious harm and injury to drivers, pedestrians, children and cyclists."
When grids - which protect drains from blockage by debris - are stolen, we have to make the area safe and replace the grate with a new lockable grid which cannot be lifted out by hand. The cost to the taxpayer is around £200 per drain, not to mention the staff resources to carry out the work.
Although theft like this reduced recently as a result of the banning of cash payments for scrap metal, we are concerned about the high number of stolen gullies over the past week.
Scrap metal dealers need to have a license from the local authority and keep a record of the goods they trade. It is illegal to buy or sell scrap for cash, payment should be made by electronic transfer of cash so there is proof, and a trail of payments made.
Cllr Sizwe James, Cabinet Member for Environment, Sustainability and Transport, said, "This theft is really mindless. It costs the Council so much more to replace in taxpayer money, than the value of the scrap metal. If anyone sees someone removing these grids, please report it to the Police by calling 101."
You can report any missing gullies or acts of theft online via our form:
https://www.royalgreenwich.gov.uk/info/200268/street_cleaning_and_repairs/811/pavement_and_road_repairs