Greenwich Get Digital: Loan and learn scheme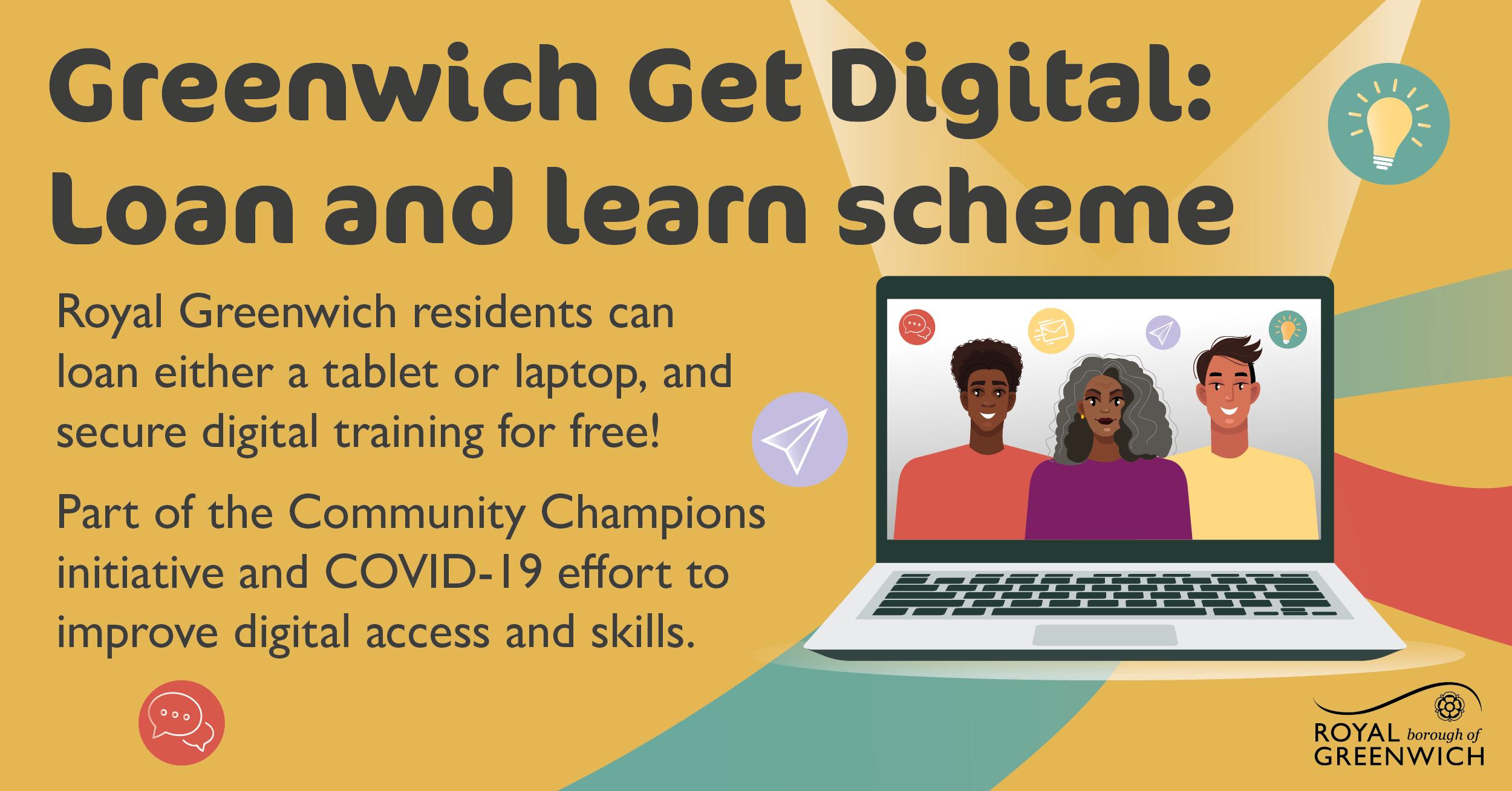 Residents who are most at risk from COVID-19 are receiving additional help to protect themselves, their families and communities thanks to £720,000 funding towards our Community Champions initiative.
The Royal Borough of Greenwich has launched a new initiative to provide residents who are at high-risk of COVID-19 with access to the internet, portable devices and digital skills training.
The loan and learn scheme will also give residents the digital tools and skills they need to get online and be more informed and reduce the misinformation about COVID-19 being spread.
The four elements of the initiative will enable residents to access up-to-date, trusted information about COVID-19 through:
A device-lending scheme: The Council is lending a range of devices to residents via local community centres and organisations.
A mobile data lending scheme: The Council is lending 4G dongles with 2GB data to distribute to local people who have no internet access at home and who are interested in using their own devices to get online.
A community WiFi scheme (due to rollout in October): The Council will install WiFi routers and boosters to improve internet access in community centres and other shared spaces.
Digital skills training to:
Community Champions – the Council will train its growing network of Community Champions so they're able to support other residents to improve their digital skills.
Community centres and groups – the Council will provide community centres and local groups with training materials to deliver to the residents who use their services.
How to loan and learn
Royal Greenwich residents can apply direct at local participating community centres and organisations (see below) to borrow a digital device and/or secure training and skills.
Each site will be provided with devices (tablets or laptops) which will be loaned out to individuals for four weeks. Similar to a traditional library, the equipment will be checked in and check out, with pre and post evaluation surveys to ascertain improvements on skills and training. The equipment will be remotely data cleansed and cleaned after each use, ready for the next person.
More about Digital Champions
Participating community centres and organisations
Lending questions and answers for participating sites
Question
Answer

Is this open to my members that live or work outside of Royal Greenwich?

All participants need to live or work in Royal Greenwich.

How are the devices tracked so you can see where they are?

Deep freeze (system managing the devices) has geolocation enabled so we can track it. If the device is switched off it will show the last location where the device was when it was switched on and connected to wifi or the dongle. This may not be the current location if the device is being switched off.

When can the programme team be contacted?

The team can be contacted Monday to Friday, 9am to 5pm

How does a device get cleaned, secured and fully functioning before it is lent to the next person?

We check and wipe the device remotely. The participating site will make sure it is clean (especially to reduce the spread of viruses) and turn it on to make sure it powers on and launches correctly.

Are we free to decide who and who doesn't get to loan equipment without responsibility?

The participating site will decide to loan the devices as they see fit, and all borrowers have responsibility to look after the device as per the Borrower Agreement.

Can we integrate this work within our existing Digital Inclusion work?

Yes, as long as its referenced as the Royal Borough of Greenwich Digital Inclusion programme.

Why can't we keep the tech after the project?

No decision has been made. This will depend on the evaluation and outcomes of the pilot.

Who should the borrower contact if they need technical assistance?

The borrower should escalate the problem to their centre, then the participating site should contact community-device-support@royalgreenwich.gov.uk

What happens if a device breaks?

The participating site must immediately contact community-device-support@royalgreenwich.gov.uk

What happens if a device is stolen, lost or damaged?

The participating site must immediately contact community-device-support@royalgreenwich.gov.uk

What do I need to do once a user returns a device/SIM card?

What documents do I need to prepare before loaning a device?

Centres must ensure borrowers sign the Borrower Agreement BEFORE borrowing a device.

Centre must ensure user completes pre-evaluation survey before borrowing device.
Centre must turn on the device before loaning it.
Centre must record details of the loan and device before loan - refer to Device Lending Log spreadsheet

What do I do if a borrower breaches the Borrower Agreement?

Take all reasonable steps to course correct
If that's not possible, end their participation in the programme
Report the breach to the Mobile Device Team so that we wipe the device and make it useless
Inform the Digital Cities Team.