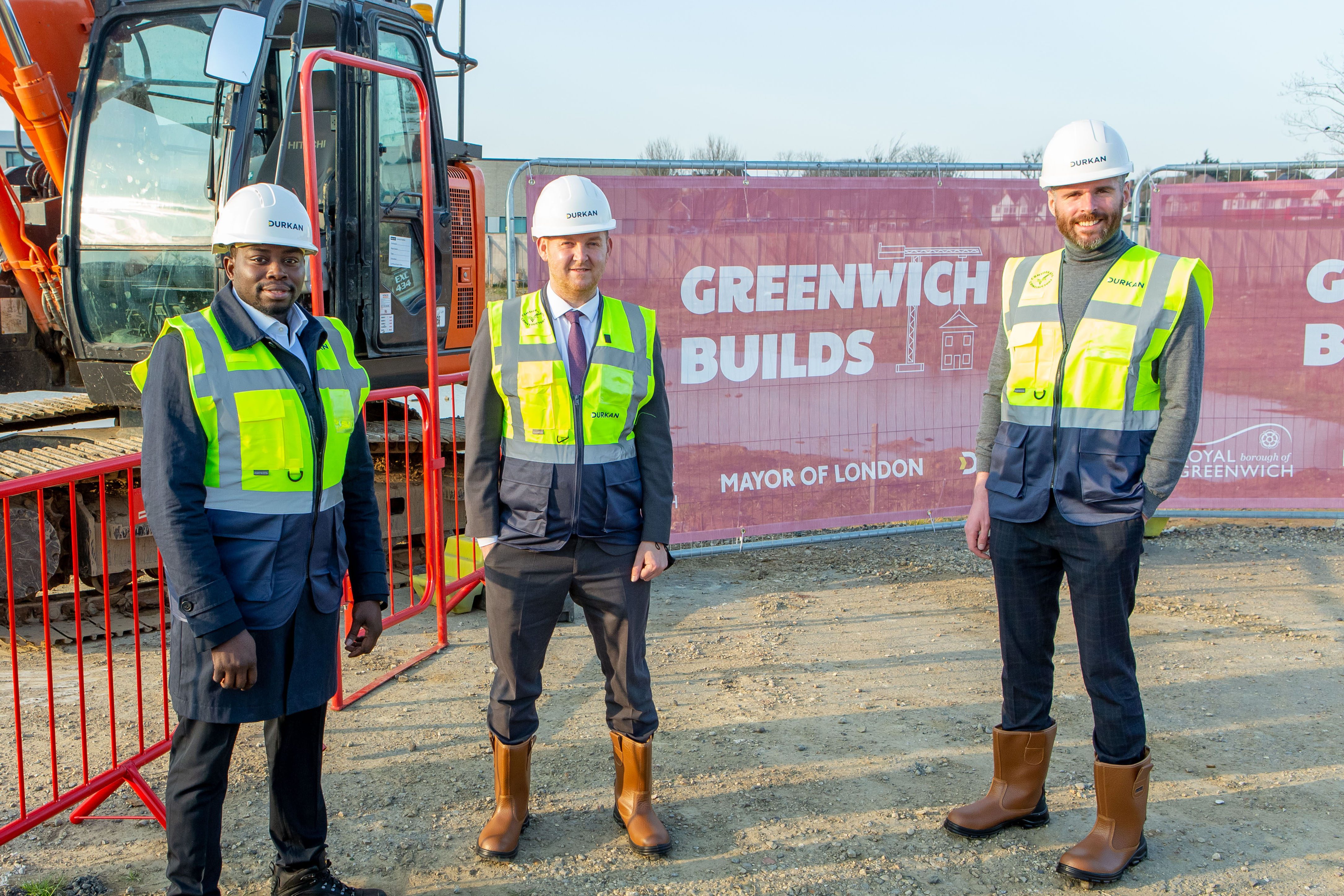 Published: Friday, 11th March 2022
Today a ceremony was held to mark the start of work on the largest development of council homes so far in Royal Borough of Greenwich's Greenwich Builds programme.
Deputy Mayor of London for Housing, Tom Copley, joined Leader of the Royal Borough of Greenwich, Councillor Danny Thorpe and Member for Housing, Councillor Anthony Okereke in breaking ground on the site at Kidbrooke Park Road.
When complete the development will provide 117 one, two and three-bedroom apartments and maisonettes, 12 of which will be specifically designed for wheelchair access. Also incorporated is a nursery for both new tenants and local Kidbrooke residents.
The homes at Kidbrooke Park Road North will be spread over four buildings, and will achieve high sustainability standards through the implementation of features such as air source heat pumps, solar panels and efficient insulation. Two large landscaped communal outdoor areas and a tree-lined corridor with 69 newly planted trees will provide amenity space for local residents.
In addition, the council has recently consulted on proposals for a second development to the south of this site, which, subject to planning, will provide a further 322 units a total of for 439 new council homes for local people.
All the homes will be made available to local residents on housing waiting lists, which currently stand at over 22,000 households. The Greenwich Builds programme, of which the new development is part, will see over 750 sustainable council homes constructed across Royal Greenwich.
Hundreds more homes for local people are being delivered as part of the council's multi-strand approach to securing and delivering new council homes, homes at genuinely affordable rent levels as well as other rented and intermediate affordable housing. This includes working with housing associations, developers and Meridian Home Start.
Councillor Danny Thorpe, Leader of Royal Borough of Greenwich, said:
"We are delighted that construction work is now beginning on the largest scheme yet in our Greenwich Builds programme, which is providing hundreds of truly affordable homes in response to overwhelming demand from local residents.
In addition to delivering Greenwich Builds developments like Kidbrooke Park Road North, we are working tirelessly in partnership with housing associations, private developers and community benefit societies to deliver hundreds more homes for local people on waiting lists."
Royal Borough of Greenwich cabinet member for housing, Anthony Okereke, said:
"Thousands of people are suffering in our borough as a result London's ongoing housing crisis, so I am extremely proud of the progress we are making with our Greenwich Builds programme, providing innovative, sustainable and high-quality council homes which are equal to private developments in every respect except cost.
The development at Kidbrooke Park Road North will create a brand new neighbourhood with landscaped areas, nearly 70 trees and a nursery to benefit everyone living in the area. Schemes like this represent how committed we are to making sure everyone in our borough has a safe, comfortable place to call home."