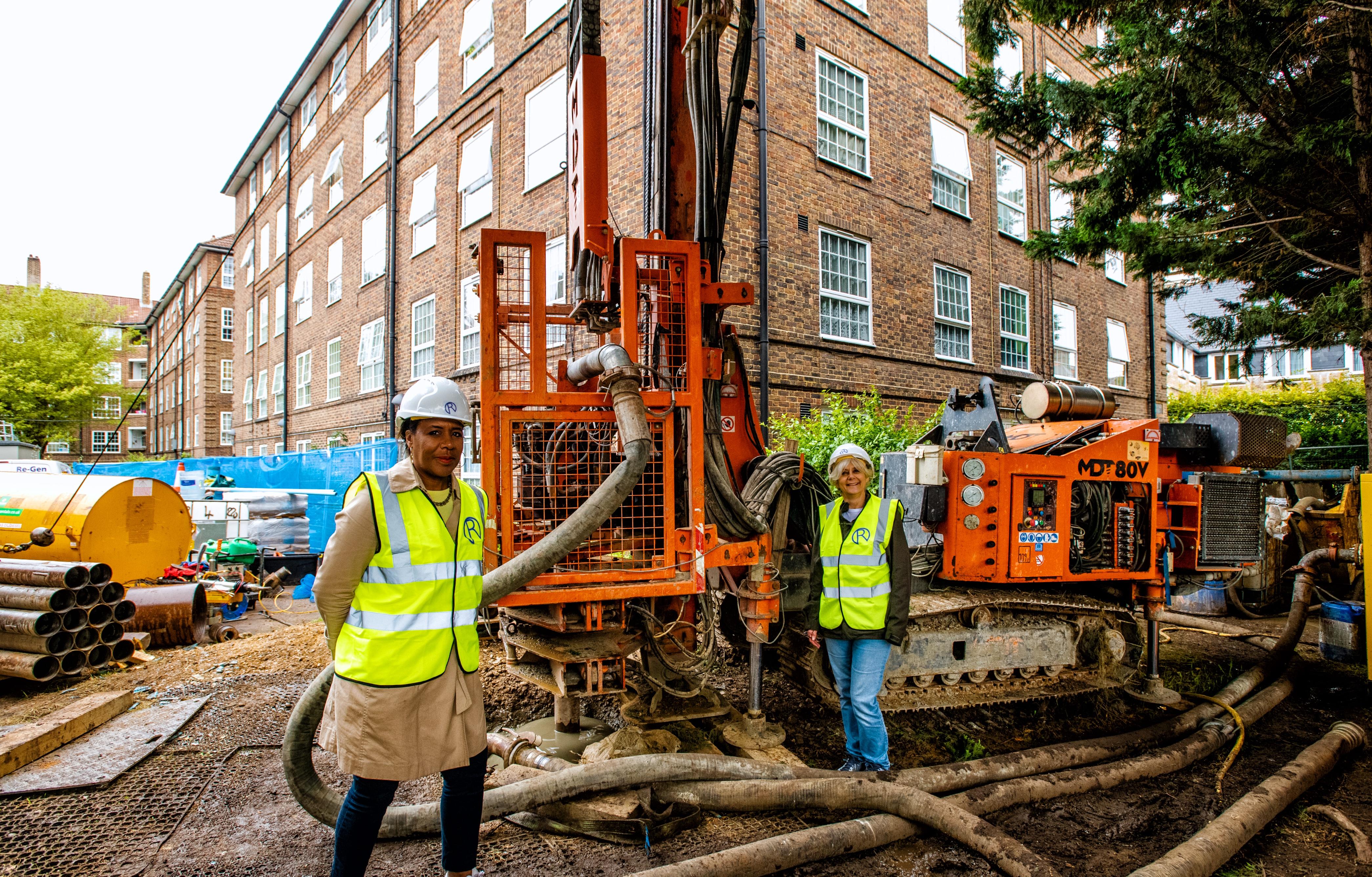 Published: Monday, 8th November 2021
Borehole drilling commences at the Council's Ernest Dence Estate, Greenwich, to fit highly innovative water-source heat pumps.
Works to install a highly innovative water-source heating system, which will warm 95 homes at Ernest Dence Estate, Greenwich, have begun as part of the council's ambitious target to reach net zero carbon emissions, 20 years ahead of the national target in 2030.
Water-source heat pumps are a low carbon and cost-effective alternative to traditional gas boilers. They work by extracting heat from water hidden beneath the ground and converting it into useful energy to warm homes.
Renewing the heating and hot water system using water-source heat pump will provide a more efficient heating system producing less carbon emissions, improving local air quality and delivering 5,309 tonnes of CO2e savings over 25 years – the equivalent of growing around 87,000 trees!
The Royal Borough of Greenwich was the first council in London to investigate water-source heat pumps in 2018, to look for solutions to cut the carbon emissions generated by council estates. The Council is also installing air-source heat pumps at a further four housing estates over the next six months, as part of its ongoing commitment to tackle the climate emergency.
Deputy Leader Cllr Denise Scott-McDonald joined Cllr Sarah Merrill, Cabinet Member for Environment, Sustainability and Transport, when a 95-metre borehole was drilled into the ground, which will take water from the river basin to heat people's homes.
Cllr Merrill said: "As COP26 has shown, leaders at every level need to show initiative and find solutions to address the climate emergency. The Royal Borough of Greenwich is proud to be a leading authority in cutting carbon emissions and this is just one change we're making to play our part."
Cllr Anthony Okereke, Cabinet Member for Housing said: "This is the culmination of years of hard work and research to find low carbon alternatives to traditional boilers. Local authorities have a key role to play in responding to the climate crisis and I'm so proud that Royal Greenwich has been at the forefront of these trailblazing schemes, paving the way for others using the same methods. We will continue to invest in smart city innovations to find new solutions to the major climate challenges we face."
The installation of heat pumps at the Ernest Dence Estate are part of a wider scheme which has included building repairs and redecoration, window repairs, loft insulation, and new low energy LED lighting. These works were part-funded by the European Union through a programme known as Sharing Cities. The Royal Borough Greenwich is a key partner in this scheme, along with the Greater London Authority, Milan and Lisbon.
How do water source heat pumps work?
Water is taken from a source of water found in rock hidden underground
Using electricity, water is raised to a higher temperature
Water is sent to radiators, sinks, baths in every house
Water, which is now cool, is returned to the ground