Published: Tuesday, 19th October 2021
In just one week's time, the Connecting Communities Dance Festival will hit the Royal Borough of Greenwich with five days of dance and music, rounding off Black History Month 2021.
Starting on Monday 25 October, the festival will showcase collaborations between residents, community groups and dance professionals in the cultural styles of our African, Asian and Caribbean diaspora communities.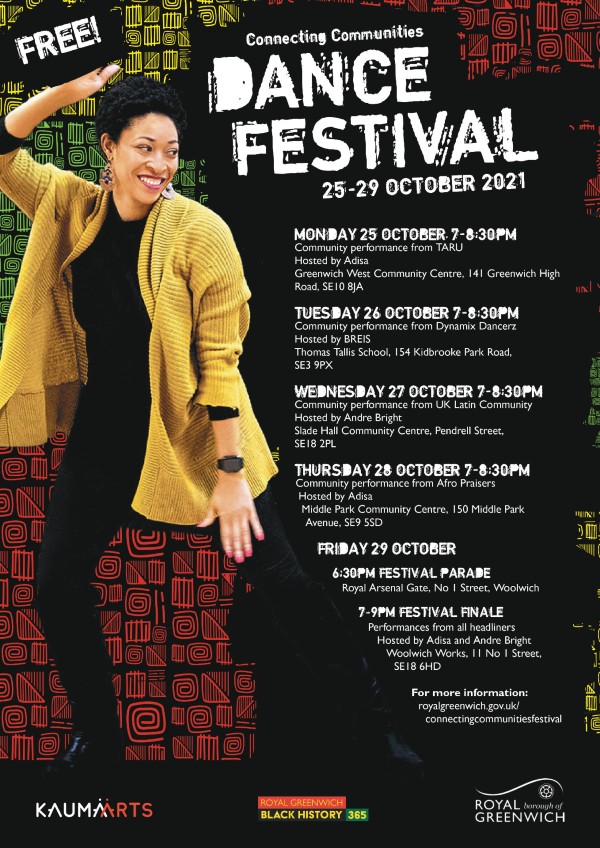 Cllr Adel Khaireh, Cabinet Member for Culture and Communities, said: "The festival has come around so quickly and we're not complaining! This is the perfect way to round off Black History Month, especially during half-term as many more of you will be able to attend – and I hope you do."
Showcasing four new commissioned dance pieces, our headliners are:
Funky Immigrants present Dancemic. The breakdance trio's light-hearted replay on the 'new normal' following the pandemic.
Silyvester Bahanda fuses his Tanzanian roots with Plumstead street dance Kiduku Rhythms in this collaboration to reflect togetherness in his new piece, Pande Zote.
Dipson Ghale's new contemporary solo, Timro Saath, is influenced by his Nepalese background and love of hip hop and pays homage to local community stories.
UK Latin Community presents an Afro infused creative extravaganza, with a decidedly Spanish twist in this uplifting and powerful performance.
Plus, several unique performances made in collaboration between residents, community groups, and dance pros TARU Arts , Dynamix Dancerz, UK Latin Community, and Afro Praisers. The Connecting Community Dance Festival is the culmination of work developed with by and for our diverse communities is partnership with Kauma Arts, funded by Arts Council England.
Dr. Mercy Nabirye, Director at Kauma Arts said: "Producing this festival in collaboration with a variety of partners, creatives and the community in Royal Greenwich has been a wonderful and insightful experience which reveals that we can do more and better together"
The finale will be hosted at Royal Greenwich's new creative district, Woolwich Works which will cover two floors in rhythmic dance!
The events are free however, you will need to buy a ticket. Read the full schedule and book your space now