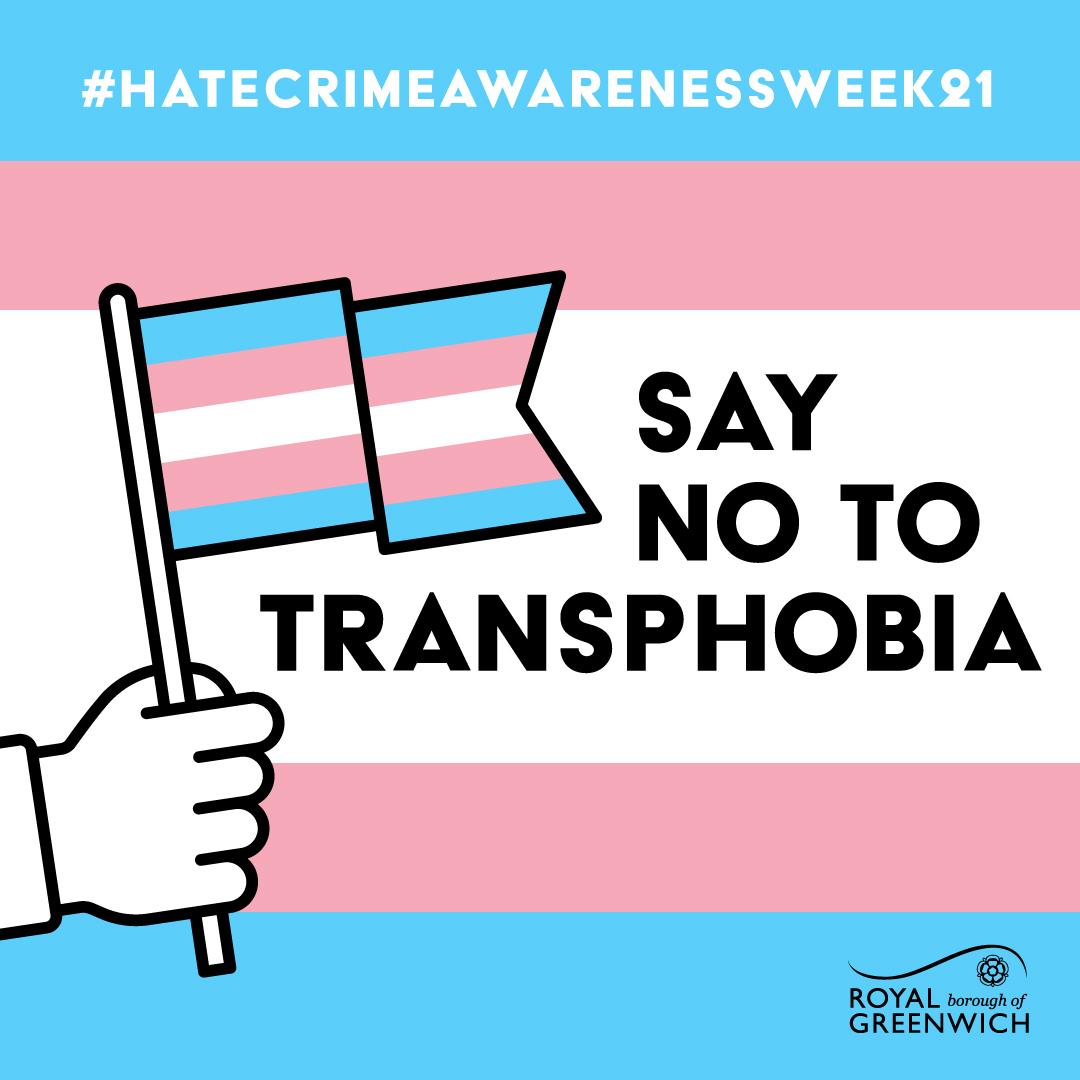 Published: Monday, 11th October 2021
The Royal Borough of Greenwich stands together against hate during Hate Crime Awareness Week 2021.
This year, the council is focusing on hate crime experienced by trans and non-binary people in our borough.
Just last week, the charity TransActual UK released a shocking report exposing the reality of the daily discrimination faced by trans and non-binary folk in the UK, with 99% of trans people surveyed having experienced transphobia on social media.
Crime statistics have also shown a huge surge in reports of transphobic hate crimes across the UK over the past five years, making the council's focus this year even more important.
What is Transphobia?
The common denominator underpinning any form of transphobia is the dismissal and denial to acknowledge the existence of trans and non-binary people as deserving equality, adaptions and rights. As a consequence, transgender people often struggle to live freely or easily in society.
Transphobia includes, but is not limited to:
Attempting to remove trans people's rights
Misrepresenting trans people
Abuse
Systematically excluding trans people from discussions about issues that directly affect them
Other forms of discrimination
We will be launching a week of activities on 10 October, and will be sharing resources and events for trans and non-binary folk living across our borough.
On Wednesday 13 October our partners METRO Charity will be running a myth-busting workshop alongside two transgender Met police officers, for professionals in the borough to teach Royal Greenwich residents about transphobia and how to tackle it.
On Thursday 14 October, METRO and the Greenwich Inclusion Project (GrIP) will be speaking at Avery Hill youth club from 6.30-8.30pm.
The council will also be recruiting brand new Neighbourhood Watch Hate Crime Community Ambassadors across the borough. By volunteering with your local Neighbourhood Watch team, you can help to raise awareness of hate crime, signpost how victims can get support, and the importance of reporting. More information on how to apply.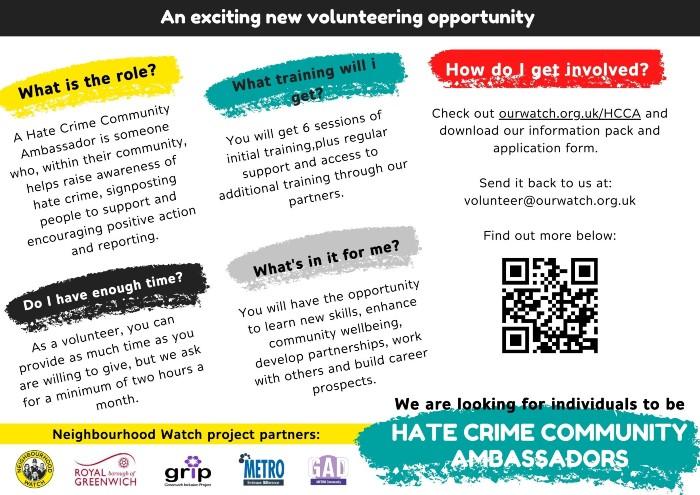 "Transphobia has no place in Royal Greenwich"
Councillor Jackie Smith, Cabinet Member for Community Safety and Environment, said: "Transphobia has no place in our borough and the shocking rise in transphobic hate crimes in recent years highlights why we need to stand together against all forms of hate. For this year's Hate Crime Awareness Week, I urge anyone who has witnessed or experienced transphobic hate crimes to report them.
"The Royal Borough of Greenwich commissions independent services to respond to hate crime. These services can help by providing emotional support, guidance, signposting and advocacy. The services also raise awareness and provide education through training and workshops - including in housing, police and youth settings."
Get support or report an incident
If you have been a victim of a transphobic hate crime, we urge you to report it. We understand how painful reliving these experiences can be, but we are here to offer all the support we can. In Royal Greenwich, you can report incidents directly to the police, or via other independent charities including; Stop Hate UK, GALOP or METRO Charity.
Local people can show support for Hate Crime Awareness Week on twitter at the handle @Royal_Greenwich and using the hash tags #NHCAW and #GreenwichTogether.