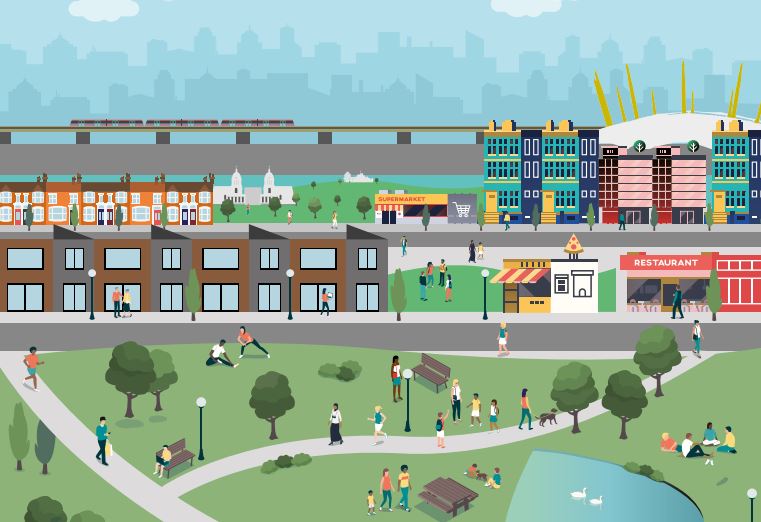 Published: Tuesday, 25th May 2021
The Royal Borough of Greenwich launches consultation for ambitious five-year plan to tackle the housing crisis.
We're asking residents of the Royal Borough of Greenwich to have your say on a draft Housing and Homelessness Strategy for the borough.
The new strategy sets out to address the scale of housing pressures in Royal Greenwich and the council's ambitions for the next five years to tackle the crisis of housing affordability, insecurity and need. The strategy, which will cover the period 2021 to 2026, will be developed through a collaborative process that places residents' needs at its heart.
The new draft strategy has five key objectives – also known as 'strands' – which underpin the council's plans. They are:
Strand 1: Ensuring the supply of high-quality homes
Strand 2: Tackling homelessness and ending rough sleeping
Strand 3: Support for people with specific needs
Strand 4: Safe and sustainable homes for all
Strand 5: Building vibrant and resilient neighbourhoods
Anthony Okereke, Cabinet Member for Housing said, "Tackling the housing crisis remains one of the most urgent priorities for the Royal Borough of Greenwich. We believe that housing is not just about having a roof over your head, but that everyone deserves a home which is safe, secure and affordable.
"We're launching this consultation because we need residents to feedback on our housing plans for the next five years. It's vital that local people and their needs remain at the heart of our plans and policies."
A considerable amount of work has already been done to tackle the housing crisis in Royal Greenwich, specifically in the areas of homelessness prevention, with 8,000 households being prevented from becoming homeless in the borough since 2014.
The commitment to build 750 new council homes by 2024 is also on track through the Greenwich Builds programme, with 302 homes currently under construction or already completed with families moved in.
But there is more work to be done. Like every other borough in London, Royal Greenwich is facing an unprecedented housing crisis. While the cost of living has increased, people's incomes have not kept pace, and many housing options are not financially viable. The average household income in the borough is approximately £30,778, while the average market rent for a two-bed property is around 53 per cent of the average household income before tax, service charges and any expenditure.
Homeownership is even more unaffordable, with the average price of a home-to-buy being 13 times higher than the average household income.
During the 2019/20 financial year, there were 1,199 council homes allocated through our social housing waiting list. In comparison, there are over 3,100 households in priority need on the waiting list. The demand for affordable housing is clearly outstripping the supply.
The COVID-19 pandemic has only exacerbated the housing crisis and had a devastating impact on many people in the borough, which – in turn – has put a huge amount of pressure on council services.
The new Housing and Homelessness Strategy sets out to tackle many of these issues and the council remains committed to doing all it can to deliver on affordable, high-quality homes for local people, especially following the economic impact of COVID-19.
However, if the council is going to achieve long-term and lasting success, there needs to be fundamental changes to national housing policy. The UK Government must urgently address issues including renter's rights, more genuinely affordable social housing programmes, and climate change.
Cllr Okereke said, "We remain committed to doing all we can to solve the housing crisis in Royal Greenwich. But we cannot do this alone. We will continue to lobby the Government to fix the broken housing system in the country. In the wake of COVID-19, some of the most vulnerable people in our society have been disproportionally affected, highlighting inequalities that are simply not acceptable. Our plans must drive positive change for everyone and truly reflect the diversity that makes our borough such a great place to live."

For more information and to give feedback on the Council's plans, visit https://housingstrategygreenwich.commonplace.is