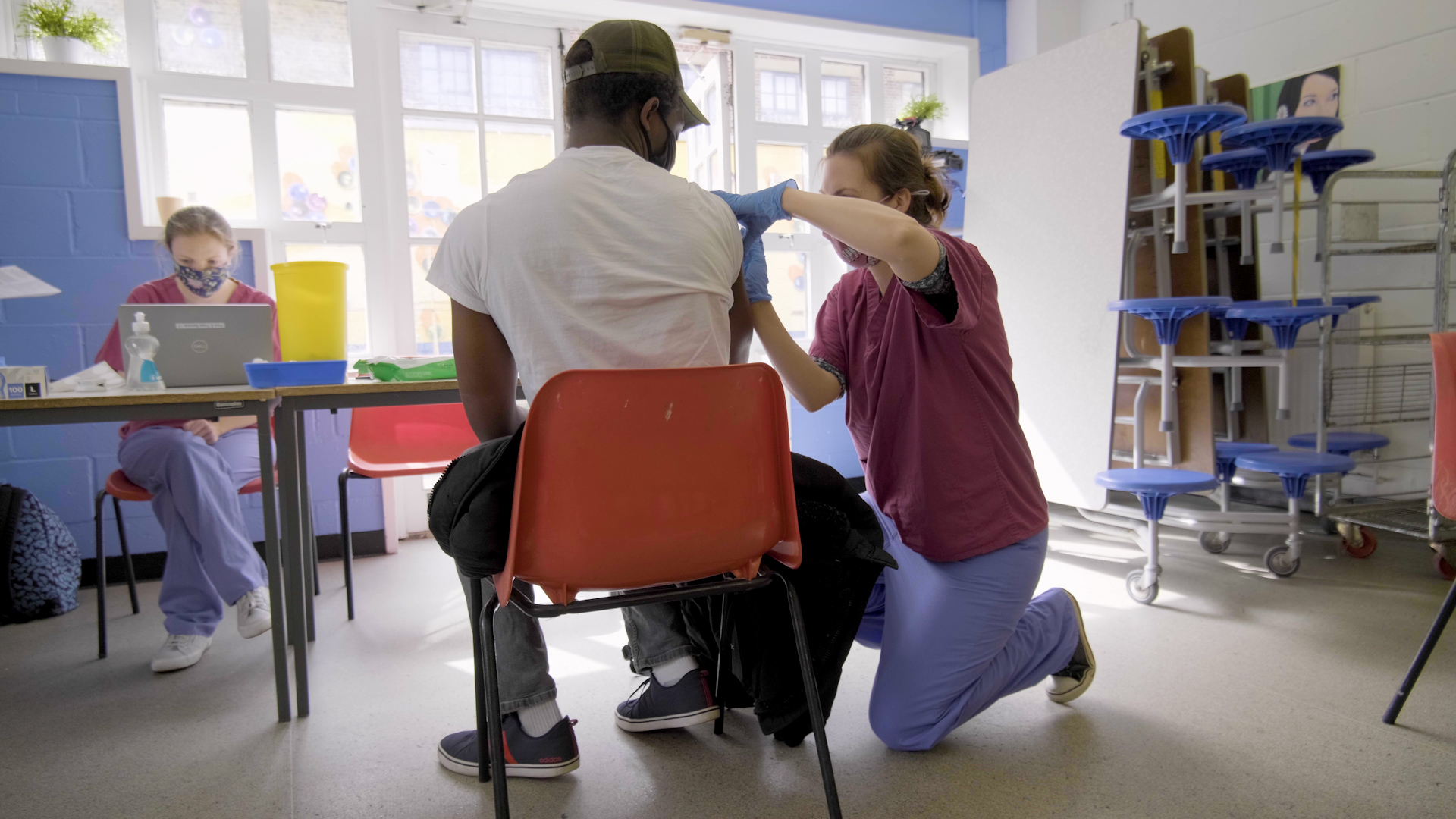 Published: Friday, 30th April 2021
That's what former rough-sleeper Richard said at a special COVID-19 vaccination day for homeless people and rough sleepers.
More than two dozen homeless people and rough sleepers have been given their first COVID-19 vaccine, following a vital vaccination day organised by the Royal Borough of Greenwich, Thames Reach and the NHS. The day was part of a wider drive to ensure vulnerable people are protected against COVID-19, following official advice that homeless people and those sleeping rough should be prioritised for coronavirus vaccines, given they are more likely to have undiagnosed conditions and have less regular access to healthcare.
A total 27 people received their first dose at Deptford Reach, a day centre run by Thames Reach, which supports over 2,500 people each year who have been affected by homelessness, drug and alcohol addiction, mental health issues and social isolation. The centre provides tailored support, advice, education and training to help people recover and rebuild their lives.
Thames Reach's London Street Rescue and the Royal Borough of Greenwich's rough sleeping outreach team worked together to get people registered with a GP through Deptford Reach, so they could have their vaccine and access other vital health services during the pandemic.
"It can be difficult for people with experience of street homelessness, as well as those at risk of street homelessness, to access health services, so this is such an important day to get people engaged and get them vaccinated and protected against COVID-19." said Jordan McTigue, Lead Manager at Deptford Reach.
On the day, snack packs with water and nutritious sandwiches were provided, alongside testing for hepatitis C and other blood borne diseases, as part of a holistic approach to medical care for this vulnerable group of people. The NHS also provided a mobile chest X-ray van, and free transport to and from the centre was organised by Charlton Athletic Community Trust.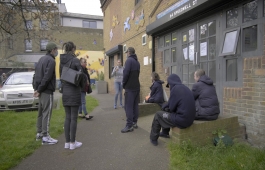 People wait outside Deptford Reach to receive their coronavirus vaccination.
People who received their first dose in April have also been booked in to receive their second in a few weeks' time. Former rough-sleeper Richard said, "I was homeless for about three months before finding temporary accommodation through the Council. It's really important to have the vaccine, so you know you're protected and you can protect others."
Cllr Anthony Okereke, Cabinet Member for Housing, said: "This is such a great initiative to ensure everyone in our borough, including people facing or experiencing homelessness, has a fair chance to get their vaccine. We're extremely proud to fund Thames Reach programmes, and work closely with their teams and the NHS to help get people vaccinated."
Cllr Miranda Williams, Cabinet Member for Health and Adult Services added, "We are encouraging everyone to get your COVID-19 vaccination when it becomes available. This is especially important for people who are at risk of increased clinical vulnerability."
If you are: aged 45 and over; an eligible frontline health worker; receive a Carers Allowance; have a learning disability; are clinically extremely vulnerable (high risk) or clinically vulnerable (moderate risk) – you can book your vaccine online at www.nhs.uk/covid-vaccination or call 119 without needing an invitation. If you are eligible to use this service but cannot get an appointment, speak to your GP surgery.
For more information about how and where to get vaccinated, including information in easy-read or other languages, go to www.selondonccg.nhs.uk/what-we-do/covid-19