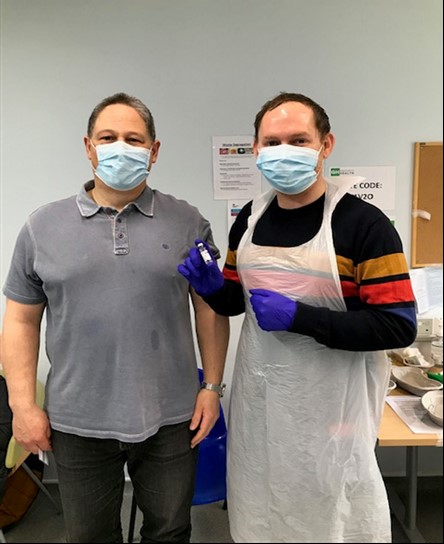 Published: Monday, 22nd March 2021
Cllr Danny Thorpe, Leader of the Royal Borough of Greenwich is so passionate about the importance of getting vaccinated including the benefits and safety, he's now a volunteer vaccinator.
"I'm now a St John Ambulance trained volunteer vaccinator and had my first session last week administrating the vaccine to residents at the Charlton Athletic Football Club - both a vaccination centre and testing site as part of the Council's COVID-19 programme.
"I'm personally willing to administer the vaccine and I wouldn't be doing so if I did not feel confident that it is safe."
The latest weekly figures show 34 people per 100,000 had the virus in Royal Greenwich - an average of 14 cases a day. At the height of the pandemic, we saw over 600 cases a day. The rate of infections is falling and particularly in the over 60's residents that have been vaccinated.
Our vaccination programme is targeting communities most impacted by the virus, and by sharing information, listening to concerns and providing support we are delighted to see significant increases in the uptake of the vaccine over the past two weeks across the following ethnic groups:
• 14 per cent increase in our Black African population
• 10 per cent increase in our Asian population
• 9 per cent increase in our Caribbean population.
However, concerns are growing that the AstraZeneca COVID-19 vaccine can cause blood clotting.
Cllr Thorpe was interviewed on BBC Radio London talking about the AstraZeneca COVID-19 vaccine and blood clotting and said: "The vaccine is safe. And the vaccine is working. When you reflect over the past year, 125,000 people have died - this is a huge number. People need to look at these numbers. While a small number of people may experience side effects from the vaccine, the risk has to be worth it.
"We need everyone to come forward, trust our NHS and get vaccinated. The benefits far outweigh the small risks so please keep focused and keep going."
The Medicines and Healthcare products Regulatory Agency confirmed that following a rigorous scientific review, the evidence does not suggest that blood clots in veins are caused by the AstraZeneca vaccine. They went on to say that the benefits of the vaccine in preventing COVID-19 far outweigh the risks.
More information
Royal Borough of Greenwich COVID-19 vaccination programme
BBC Radio London Vanessa Feltz show 17 March – interview with Cllr Thorpe (06:40)
UK regulator confirms that people should continue to receive the COVID-19 vaccine AstraZeneca