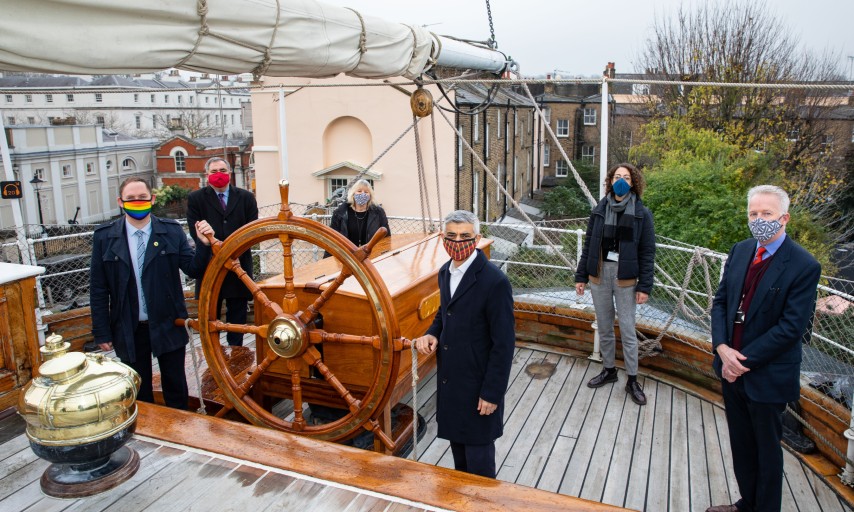 Published: Monday, 7th December 2020
Sadiq Khan, Mayor of London, visited Greenwich Town Centre on Monday 7 December and was welcomed by the Leader of the Royal Borough of Greenwich Cllr Danny Thorpe.
The Mayor used the opportunity to discuss London's economic forecast following the end of lockdown.
Cllr Thorpe and Sadiq spoke firsthand with market traders, and staff from the Royal Museums Greenwich, to find out how they have been affected by Covid-19 and adapted to do business safely.
'This is a really challenging time for many of our retail and hospitality businesses'
Cllr Danny Thorpe, Leader of Royal Borough of Greenwich, said: "It was a pleasure to welcome the Mayor to Greenwich Town Centre today and show off a few of the many fantastic visitor attractions we have in our beautiful borough. Unfortunately, this is a really challenging time for many of our retail and hospitality businesses, and cultural attractions, that have been badly affected by the pandemic. It was a great to hear from traders about the work we've been doing together to support them during the pandemic.
"I would urge visitors to come back to Greenwich to do their Christmas shopping, eat out and visit our wonderful museums and parks in safe and secure way. We are running a series of festive markets throughout December too, where visitors can discover unique presents for loved ones."
'I'm determined to support London's economic recovery'
The Mayor of London, Sadiq Khan, said: "We had hugely positive news about the Covid-19 vaccine last week, but this data shows the devastation this pandemic has and could yet cause without more government support. Many businesses are still in danger of closing and many thousands of jobs are still at risk over the next few years.
"I'm determined to do all I can to support London's economic recovery now, and in the years to come, and we continue to provide grants and support directly to business across the capital. But these sectors won't be able to sustain pre-pandemic levels of employment until 2023 at the earliest. If the Government continues starving the capital of investment it will do nothing more than choke off our recovery from Covid-19 – both in London and across the UK. The country cannot afford to take for granted London's economy firing on all cylinders and continuing to contribute billions to the treasury to fund the Government's spending plans.
"Extending the business rates holiday and abandoning their decision to end VAT-free shopping is the kind of support our businesses need from Government right now, but we also need a longer-term plan to address the unprecedented jobs crisis this pandemic could yet cause."
Greenwich Christmas markets
Royal Greenwich's fabulously festive Christmas markets, sponsored by London South East Colleges, will be popping up in Eltham, Woolwich, Thamesmead and Greenwich.
Saturday12 December, 10am-4pm, Passey Place, Eltham
Saturday 12 December, 10am-3pm, Clocktower, Joyce Dawson Way, Thamesmead
Every Saturday and Sunday throughout December in Cutty Sark Gardens, Greenwich