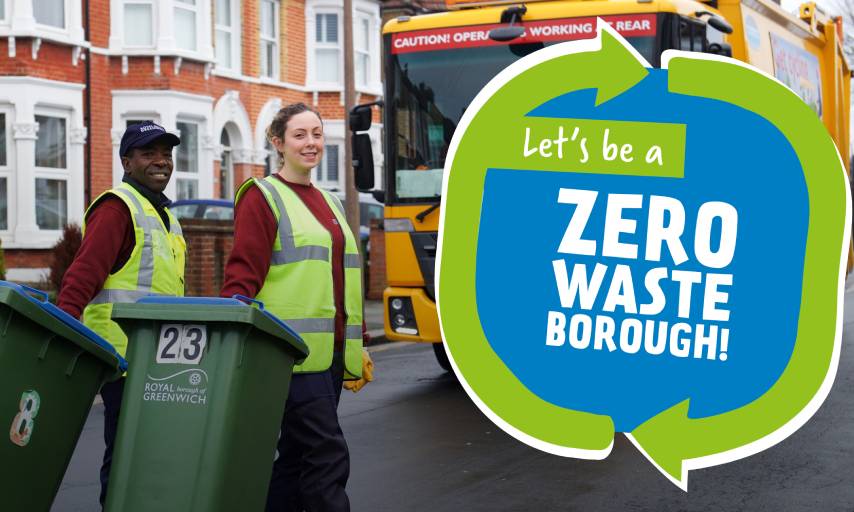 Published: Thursday, 17th September 2020
We're taking steps to help increase the borough's recycling rates.
We care strongly about the environment and our aim is to one day become a Zero Waste Borough. To help get us there we know that changing bin collections is a great way to increase recycling and make the borough a greener place to live.
This is why earlier this year, we asked you to tell us how you'd feel about general waste collections moving from weekly to fortnightly. More than 4,000 filled in the survey and a total of 62% of people said that fortnightly general waste collections would either have no impact or little impact on them. Following this clear feedback, we've made the decision to reduce the general waste bin collection to every two weeks, however this won't be happening for another 2-3 years. The outcome of the consultation has shown us that residents really do care about increasing recycling in the borough.
We will be making some other changes too, they are:
The recycling blue top and garden/food green top wheelie bins (240L) will still be collected every week.
General waste black top wheelie bins (240L) will be collected every two weeks.
Any recycling and garden/food waste bins that have the wrong items in them will not be collected.
Additional bags of rubbish left by the side of wheelie bins will not be collected.
Garden waste collections will remain free of charge.
Only providing clear sacks to properties which cannot store a recycling wheelie bin.
The changes relate to houses and converted flats that have wheelie bins. Blocks of flats with communal bins or properties with nowhere to store wheelie bins, will not be affected. The changes will most likely take 2-3 years to implement so you won't see any changes until 2022/2023.
Not only will these changes help increase recycling rates and have a positive impact on the environment, but they are also a result of the tough financial environment we find ourselves in.
Cllr Danny Thorpe, Leader of the Royal Borough of Greenwich, said: "Due to a decade of Government imposed austerity, we have less money to fund good quality, universal public services. The fact is, the Government have taken away more than £1,400 per household in Greenwich over a 10 year period, and we are now forced to confront that reality. Cuts have consequences and this is the reality of the stark choices Councillors face."
We are not alone in making these changes. So far, 83% of all councils - including those with the top recycling rates in the country - now collect general waste every other week, or less frequently. Fortnightly collections will help reduce the Council's carbon footprint as fewer HGV refuse collection vehicles will be used and stop approximately 60 tonnes of CO2 being released into the atmosphere per year. The positive impact the changes will have on the environment is not lost on residents. Of the people who answered the survey, 75% of you agreed that we should work towards being a Zero Waste Borough. This is a clear signal that you see a greener future for our borough and these changes aim to ensure that this happens.
Cllr Size James, Cabinet Member for Environment, Sustainability and Transport said:
"I was so happy to see such a high number of people fill out our consultation, as it really proves how important waste collections are to our residents. The opinions that residents shared helped form what I believe are some really positive and forward-thinking changes. Protecting the environment is so important but we can only do this if we pull together, welcome change and adopt new habits. I'm excited to see what the future holds now that these changes have been agreed."