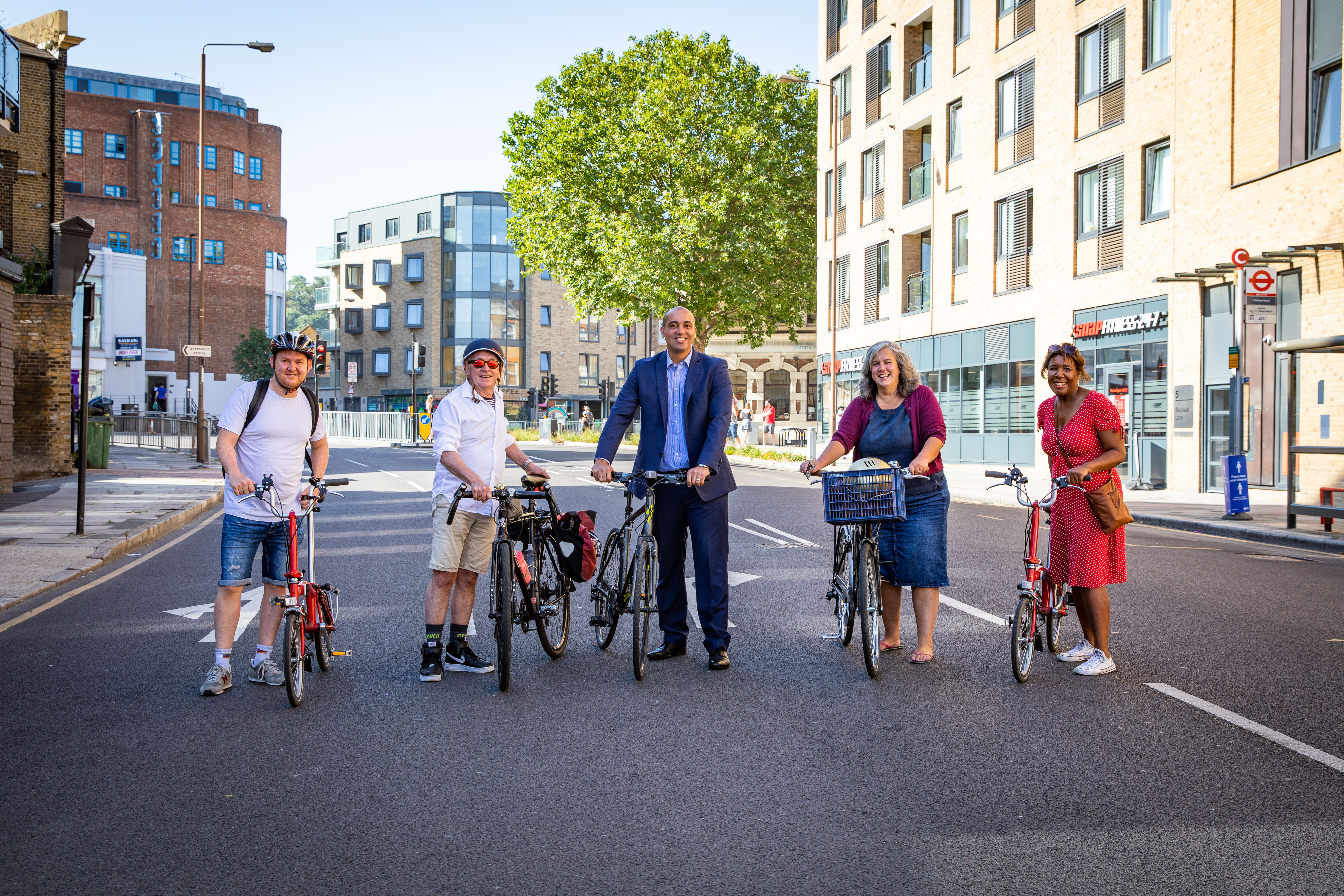 Published: Wednesday, 12th August 2020
Transport for London (TfL) and Royal Greenwich announce that plans to overhaul one of southeast London's most dangerous roads will be brought forward.
Transport for London (TfL) and Royal Borough of Greenwich have today announced that plans to overhaul one of southeast London's most dangerous roads and make neighbourhoods between Greenwich and Woolwich much safer for people walking and cycling, will be brought forward as part of the Streetspace for London plan. TfL will be speeding up work to extend Cycleway 4 in the borough this summer, starting with temporary changes.
First stage 'enabling' work will begin this week with the main work to start in early September. The first stage of the extension will be just over a mile long and will run along Old Woolwich Road and Trafalgar Road (A206) and include improvements to the Angerstein roundabout, an intimidating location where two people cycling have been killed in recent years. There will be a new fully segregated cycleway through the simplified junction, with new signals to help people walking and cycling navigate the junction safely and easily.
The extension of Cycleway 4 will be a 5km two-way segregated cycle route connecting the Tower Bridge to Greenwich section of the route to Woolwich, creating a safer route into the city for borough residents. Making it easier for people in the area to walk, cycle and use public transport is vital to the capital's recovery from coronavirus.
In order to ensure the best design, a two-way cycle track, could be built, Greenwich contributed £500,000 from developer contributions, known as 'Section 106 (S106) funding', to secure the best option.
Cllr Sizwe James, Cabinet Member for Environment, Sustainability and Transport said: "We very much welcome this extension to Cycleway 4 in Greenwich. The area includes one of southeast London's most dangerous junctions – cyclists have sadly died at the Angerstein roundabout – so this will provide an overdue safer cycling route into London.
"The S106 funding contribution from the council was earmarked for the permanent extension to Cycleway 4 but I'm pleased that it's been brought forward to create the precedent for a permanent two-way cycle track on this busy and in-demand route."
Eventually the cycleway will run from Woolwich to Tower Bridge and will be built in stages. Work on the route from Tower Bridge to Greenwich is progressing again following the safe-pause due to coronavirus. After that, and subject to an application for funding from TfL being granted, a temporary cycleway will continue along Creek Road and through Greenwich town centre and College Approach leading into the Old Royal Naval College for a safe connection into the cycleway at Old Woolwich Road.
The second stage of the project will take the route from the Angerstein roundabout to Anchor and Hope Lane and 24/7 bus and cycle lanes will be created through to the Woolwich ferry roundabout to temporarily provide an improved cycling landscape from Charlton to Woolwich.
Heidi Alexander, Deputy Mayor of London for Transport, said: "I'm delighted that work to extend Cycleway 4 has been brought forward to help make it safer and easier for people to walk and cycle, especially at the Angerstein roundabout. Enabling more people to walk and cycle is more important than ever as our city recovers from coronavirus, so I'm pleased that temporary changes will be made while the work to create a fully segregated route is carried out."
The plans also include creating more pedestrian crossings and improving others along the route, making it easier and safer for people to travel on foot and by public transport as well.
The three new strategic cycle routes Greenwich is developing in the borough as part of the Streetspace programme should connect to the Cycleway 4 extension, meaning even more residents should be encouraged to cycle around and through Royal Greenwich.
You can read detailed information about this project on the TfL website. If you have any comments or suggestions for changes or improvements about this TfL scheme, please email TfL at: streetspacelondon@tfl.gov.uk
Notes to editors
Temporary changes will be monitored and a full consultation would take place on any permanent improvements