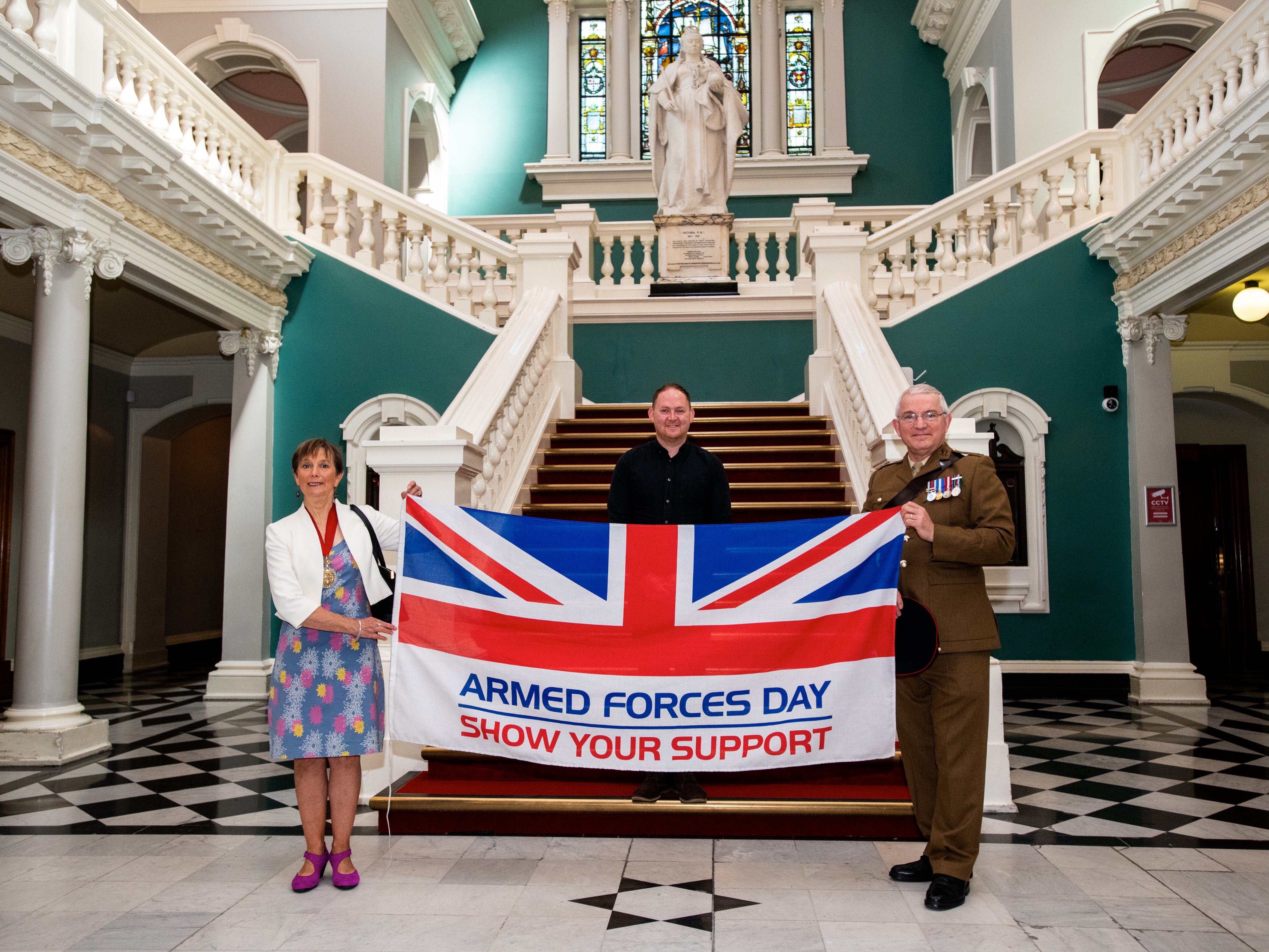 Published: Monday, 22nd June 2020
In the lead up to Armed Forces Day this week, the Royal Borough of Greenwich is showing its support for the men and women who make up the armed forces community.
On Monday 22 June, Leader of the Council Cllr Danny Thorpe and the Mayor of Greenwich Cllr Linda Bird raised the Armed Forces Day flag above Woolwich Town Hall. They were joined by Chairman of the Royal British Legion Barry Nugent and Major Gwizdala from Woolwich Garrison. The flag will fly until Armed Forces Day on 27 June.
In previous years, the Council has celebrated Armed Forces Day alongside the Royal Greenwich Get Together, which is unable to go ahead this year due to the coronavirus pandemic. Despite not being able to celebrate in the same way, appreciation for the armed forces community is as strong as ever.
Leader of the Council Cllr Danny Thorpe said: "Even though our annual spectacle has not been able go ahead this year, we hope that Armed Forces Day is being celebrated in many other ways in the safety of your homes. We have a long-standing military history in Royal Greenwich, and we recognise the selflessness from our serving troops, cadets, service families and veterans."
Mayor of Greenwich Cllr Linda Bird said: "During this crisis, our armed forces have been on the front line supporting our nurses, doctors and key workers. We offer you our sincere thanks and gratitude for this. I hope that the continued sacrifices made from the armed forces community continue to be remembered by the generations ahead of us."
Chairman of the Royal British Legion Barry Nugent said: "The support that the veterans receive during Armed Forces Week means so much to them, especially in a time like this. Many of the armed forces have been helping the government in the covid-19 response, so now is a time to thank them."
Armed Forces Day takes place each year on the last Saturday in June and provides a valued morale boost for the troops and their families.