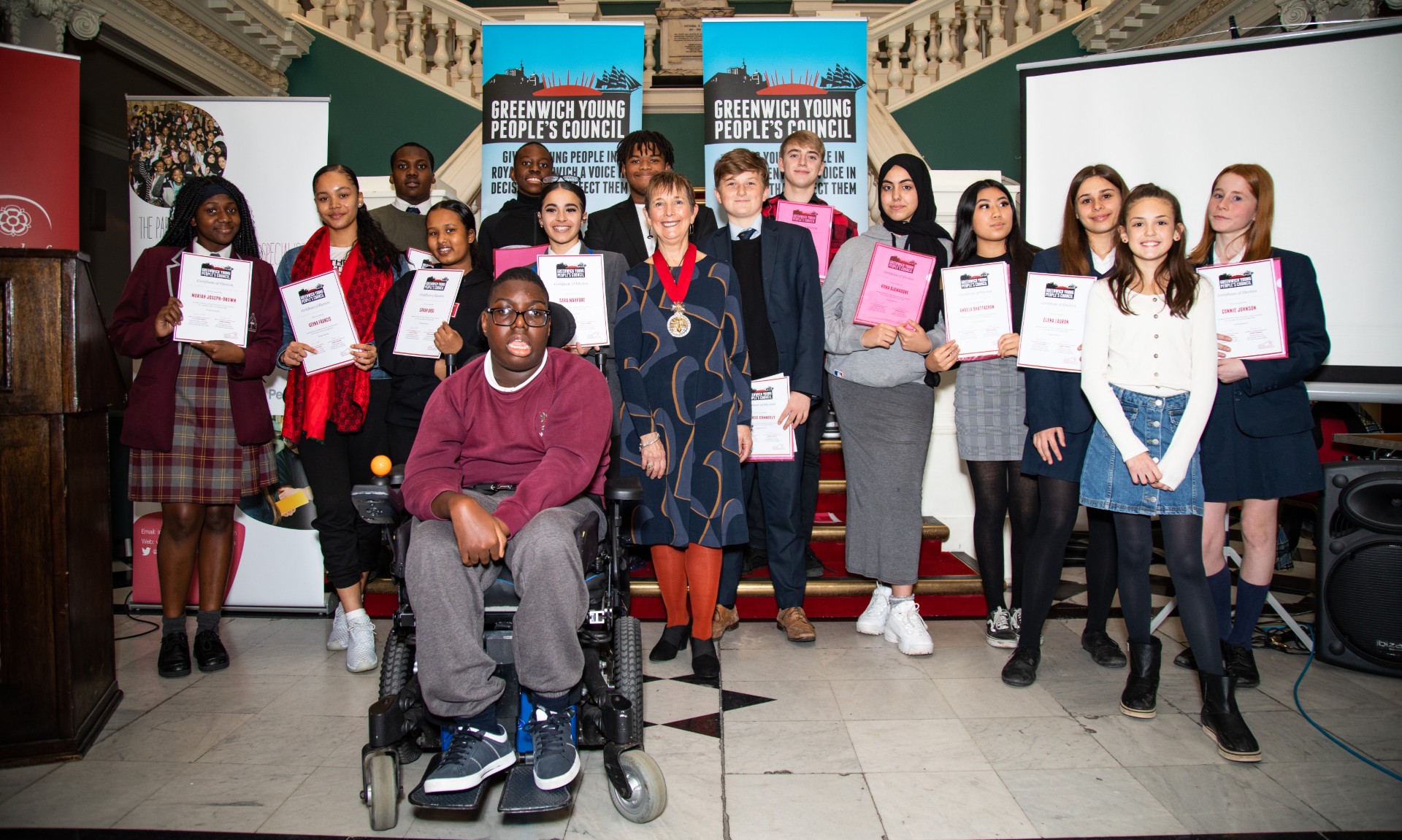 Published: Friday, 22nd November 2019
On 21 November, 20 new Greenwich Young People's Council (GYPC) members were welcomed into office during an official election ceremony at Woolwich Town Hall.
Every year, young people from schools and colleges across our borough are given the opportunity to put themselves forward to form part of the GYPC, an elected group of young people who represent views of children and young people, and influence decision-making within the Council.
Cllr Danny Thorpe, Leader of the Royal Borough of Greenwich, said: "Children and young people in our borough are so important to every decision that we make and ensuring they have an official voice is enormously important to the Council. I am looking forward to working with the new young councillors, moving forward, and I would like to thank the outgoing members for all their hard work and wish them all the very best in their future."
This year, 27 nominees were put forward as candidates and following a rigorous election campaign, 18 were elected to represent participating schools and colleges across the borough.
Cllr Jackie Smith, Cabinet Member for Children's Services and Community Safety, said: "Being part of the GYPC is a fantastic opportunity for all those young people involved - not only to represent young people in council decision-making, but also to learn some key life skills around politics and citizenship. I am looking forward to working with the newly elected young councillors as they build on the great work of their predecessors."
The ceremony was attended by Councillors and key staff at the Royal Borough of Greenwich, alongside the outgoing and incoming youth councillors, their family and friends, and supporting teachers and youth workers.
We had a chat with some newly elected GYPC members at the ceremony and here's what some of them said:
Caleb said: "We're all passionate about politics and being a councillor with GYPC means we can give young residents a say around what is happening in our borough."
Obed said: "We are in the perfect position to act as a bridge between our age group and the older residents."
Fredrick said: "As young councillors, we will ensure we are mindful of others."
Markus said: "There are a lot of things we plan to achieve this year and we can't wait to get started."
Representation:
Incoming candidates will be representing:
Ark Greenwich Free School
Colfe's School
Eltham Hill
Halley Academy
Plumstead Manor School
St Mary Magdalene School
St Paul's Academy
St Thomas More
Stationers' Crown Woods Academy
Thomas Tallis School
Willow Dene School
Woolwich Polytechnic
Greenwich Islamic Centre
For more information about GYPC members and to sign up for regular updates, visit: royalgreenwich.gov.uk/GYPC or follow @GreenwichYPC on Twitter.