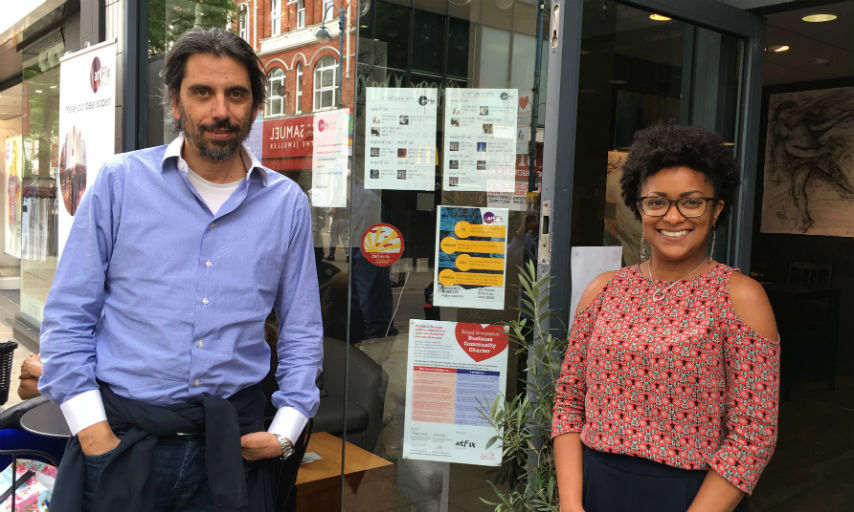 Published: Wednesday, 11th September 2019
As September marks World Alzheimer's Month, we're encouraging residents, local businesses and community groups to become more aware and accommodating of the needs of people with dementia.
Our Dementia Inclusive Greenwich initiative works directly with people with dementia, their family carers, local businesses, community groups and charities, in order to make the borough a dementia friendly and inclusive place to live, learn, work and visit.
Dementia describes a group of symptoms which includes memory loss, confusion, difficulty with day-to-day tasks and mood changes. There are many causes of dementia but Alzheimer's disease is the most common and there is currently no cure.
In Royal Greenwich alone, more than 2,500 people have a dementia diagnosis and each person with dementia may have at least one family carer who supports them every day.
Working directly with people with dementia and their carers
Cllr Averil Lekau, Cabinet Member for Adults Social Care and Health said: "The Council is working to ensure people with dementia and their carers live independently for as long as possible, and Royal Greenwich is one of thirteen London boroughs that has been recognised as dementia-friendly.
"By working with people with dementia and their family carers, Dementia Inclusive Greenwich is able to advise and support local businesses and organisations, on how they can create inclusive environments that take into account the needs of people with dementia and that of their carers. This has led many organisations across the borough to make adjustments to the way they operate, and we want to see more of this."
The artFix café in Woolwich has received Dementia Inclusive Greenwich recognition for not only attending awareness training, but for also making physical changes to their business. Their menus are now in contrasting colours and clear font, they've repainted their walls in a lighter shade so this contrasts with their shelves and they've also organised art activities in care homes.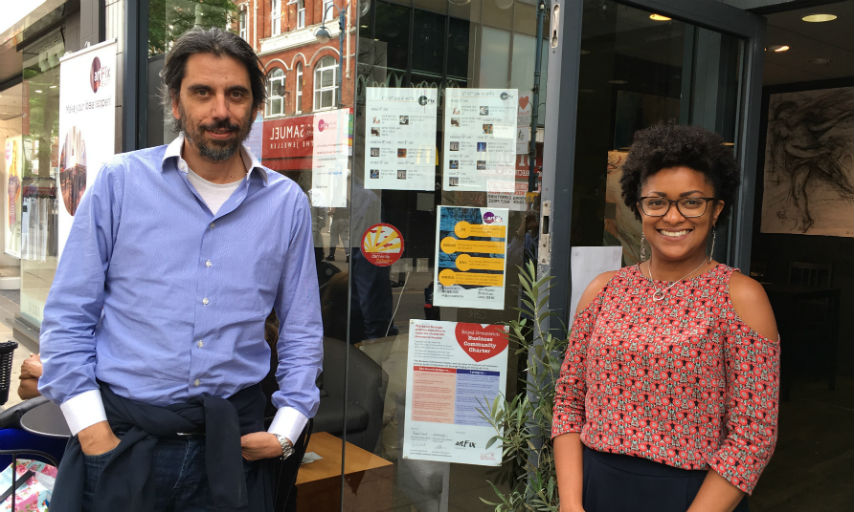 George Neris and Melise from dementia inclusive artFix cafe in Woolwich
We can all do something about it
George Neris, owner and founder of artFix, said: "We are all part of the dementia community, one way or another, so why not do something about it?"
If you are a person with dementia or a family carer you can join the Royal Greenwich dementia reference group to work alongside the Council, local businesses and organisations. Local businesses, charities and organisations are also invited to be part of this movement and can receive recognition for being dementia-friendly. To find out more and get involved, email dementia@royalgreenwich.gov.uk or call 020 8921 8533.
Also to mark World Alzheimer's Month, a session is taking place on 27 September from 10am-2pm at the Woolwich Library, so residents can take 'a walk through dementia' and have a virtual reality experience of life through the eyes of someone with the condition.