Published: Wednesday, 13th February 2019
Universal Credit (UC) is having a devastating impact on vulnerable people in the borough, putting many of them into debt.
That's the message given to the Council Leader when he met with a group of residents this week.
Cllr Danny Thorpe met with five residents impacted by the introduction of Universal Credit, which they say is making their lives a living hell. The meeting is part of the budget setting process and Cllr Thorpe was determined to speak to people and consult the community about the choices we face on continued austerity, especially as it affects the most vulnerable in society.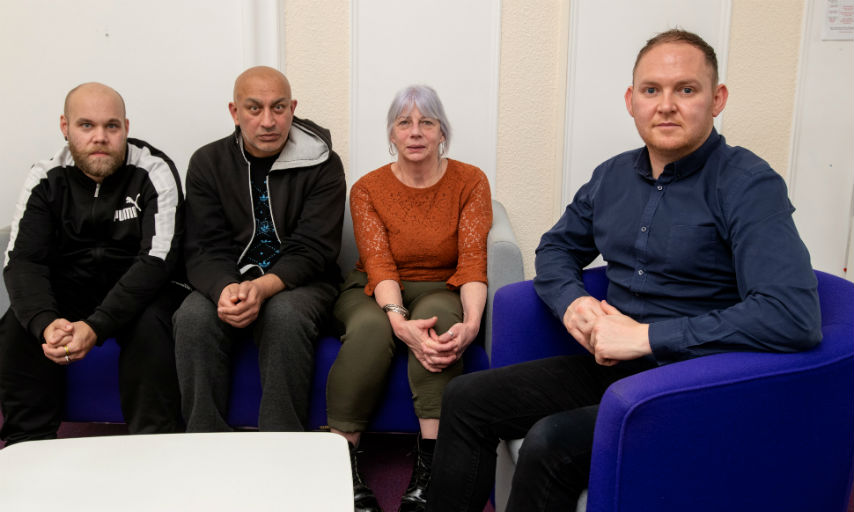 Residents Adam, Talit and Jackie meet with the Leader Cllr Danny Thorpe to discuss their Universal Credit problems
Cllr Danny Thorpe said: "I have listened to harrowing stories from people living in the borough who have been adversely affected by Universal Credit. We are calling on the government to realise the devastating impact of this policy."
Barrington, who lives in Woolwich, says the current UC system is not working for him. He has osteoporosis and osteoarthritis and is currently awaiting another hip operation. He has been refused Personal Independence Payment (formerly Disability Living Allowance), which he previously received. His wife, who cares for him, cannot claim benefits, so they are experiencing serious financial problems.
'Nobody wants to beg'
"UC is a complete disaster for me. I'm disabled because of my hip, so can't work. My payments have gone down from £110 per week to just £6. We have to rely on family and are just about keeping up with the rent. Nobody wants to beg. It's a cold-blooded system."
Adam, from Eltham, says that one missed appointment has led to sanction after sanction, resulting in no payments for a year and mental health issues.
I've no money to pay my rent and my mum is now threatening to throw me out. I just gone downhill arguing with family and friends. I've thought about committing suicide twice now."
'I've started using food banks'
Talit, who lives in Woolwich, turned to Welfare Rights following an overpayment of UC.
"I told them about the overpayment from the beginning, but the current system demeans people like us. It is horrible being put through it. I am being helped by Welfare Rights, which is fantastic service. But I still have to rely on food banks."
'I feel so embarrassed'
While Jackie, from Eltham, is rebuilding her life following the breakdown of her 34-year marriage. A housewife throughout her marriage, she is now struggling, having been moved from Job Seekers Allowance to UC. I panicked when I started getting letters about being evicted. I have always been a housewife and don't have computer skills so it's hard getting a job. I have started using food banks. I am living on my nerves and have developed mental health problems.
"I put on a brave face in front of my children, grandchildren and friends, but I feel embarrassed. I don't want to rely on them as they have their own lives to live."
Morenike, who lives in Woolwich with her eight-month-old baby and six-year-old daughter, has been refused UC because of her EU status and has been destitute ever since. Welfare Rights have taken up her case.
"I am a student nurse and don't get maternity pay. The authorities have lost my documents about my settled status and indefinite leave to remain. I qualified before but now that has been stopped as they say I don't meet the criteria. I have no money and we were lucky to survive through Christmas."
Austerity measures
Cllr Thorpe said: "The Royal Borough is one of the most deprived local authorities in the country. As we set the budget for Royal Greenwich, it is clear that austerity measures are not working for many of our residents.
"The government is currently proposing changes to shift resources from urban areas like Royal Greenwich, which have more challenges such as poverty, crime and homelessness, to the countryside. These stories show how important it is to ensure that resources are kept where they are most needed."
For information and help:
Welfare Rights Service advice line 020 8921 6375.
The Advice and Benefit Team 020 8921 4900.