Published: Wednesday, 19th December 2018
We want residents and businesses to tell us their views on a walking, cycling and public realm scheme at the junction of Greenwich South Street, Blissett Street, and Devonshire Drive.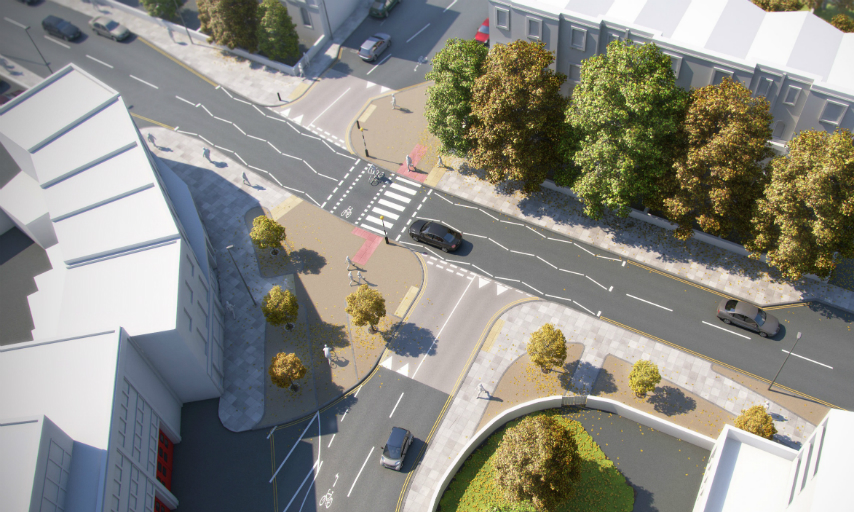 Computer-generated impression of how the junction could look
The proposed improvements to the junction are funded by TfL's Quietways programme, a London-wide network of safe routes for pedestrians, cyclists and other vulnerable road users to help reduce air pollution and improve public health.
The changes would:
Reduce vehicle speeds through the junction to improve safety
Relocate the Greenwich South Street zebra crossing, so it will be closer to the junction and better for pedestrians
Add a crossing for cyclists to cross safely
Add more trees, and improve the public realm
Cllr Denise Scott-McDonald, Cabinet Member for Air Quality, Public Realm and Transport, said: "The proposed improvements to this busy junction will make walking and cycling safer and easier.
"The changes are part of a wide range of policies to improve air quality in Royal Greenwich, and it's vital that you participate in this consultation and have your say to help us deliver the best scheme possible."
The deadline for taking part is Friday 25 January.
Drop-in session
Members of the Council's Transport Strategy team will be available to answer questions about the scheme at a drop-in session held between 6pm and 8pm on 8 January 2019.
Jubilee Hall
Blissett Street
London SE10 8UU