Published: Friday, 16th November 2018
A time capsule has been laid to mark the first phase of the Royal Borough's first all-through single site school.
Once complete, St Mary Magdalene Church of England School will provide over 1,600 places for young people to learn, thrive and excel - from fledgling learners starting in nursery right through to young adults entering sixth form.
At the service to mark phase one of the development - the school will be completed in June - the first wave of students, transferred from temporary school campuses, were on hand to welcome the Council leader, Cllr Danny Thorpe and other dignitaries and to lay the time capsule.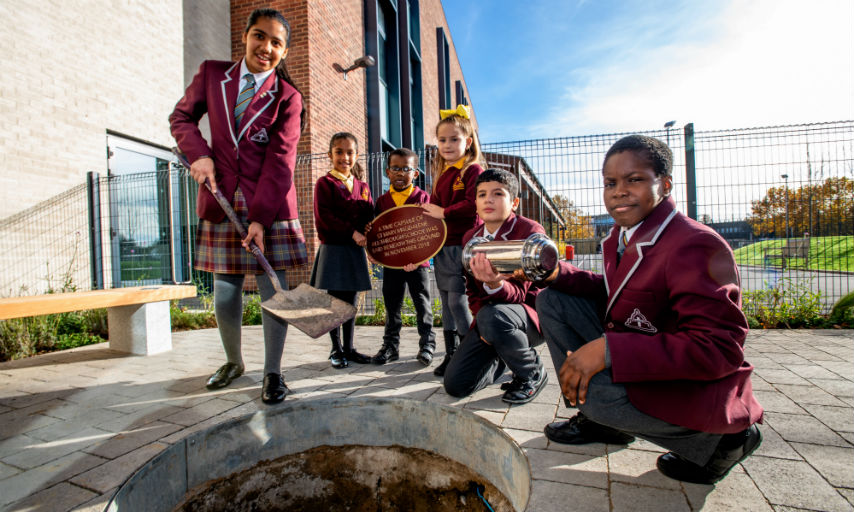 Pupils from St Mary Magdalene CofE school get ready to bury the time capsule
Lego, school tie and £5 note
Included were interesting artefacts which record their own little bit of history: a school tie, planner, Mr Men book, lego brick, class photos and £5 note.
The school, situated on the Greenwich Peninsula, has been developed by the Royal Borough working with Knight Dragon Development Ltd, developers for the peninsula wide site, the GLA which are the landowners and the Southwark Diocesan Board of Education.
The all-through school is located on the corner of Millennium Way and John Harrison Way and encompasses environmentally friendly technology. It includes a nursery, two form entry primary, a sixth form entry secondary school phase and 300 sixth form places. The school's high quality sports facilities will be available for community use and include a running track, external all weather sports pitch and four court indoor sports hall.
'A stunning place to learn'
Council Leader, Cllr Danny Thorpe said: "It was a privilege to join the pupils at their wonderful assembly Eucharist service as they celebrated being at their new school by burying the time capsule. New education facilities are badly needed and the school is a most welcome contribution to the significant growth and regeneration in the area. It's a stunning place to learn and, once complete next year, will benefit the lives of many young people in the area."
Claire Harrison and Victoria Wainwright Federation Executive Co-Headteachers of St Mary Magdalene CofE School said: "Today has been the first opportunity for our primary and secondary students of our all-through Peninsula campus to come together as a family to worship and mark our move into our permanent new school building. We are also commemorating this special day by burying a time capsule containing artefacts for future generations to understand the history of our school's collaboration and expansion."