Published: Monday, 5th November 2018
The Leader of the Royal Borough of Greenwich, Cllr Danny Thorpe, was in attendance to welcome The Princess Royal when she visited the Seafarers' Advice and Information Line (SAIL).
HRH visited SAIL's premises in Greenwich to mark the expansion of this unique and vital service for the seafaring community. This was her second visit to SAIL, the only citizens advice for seafarers, and represents a significant milestone in its history since it opened its phone lines in 1996.
Founded by the Seafarers Hospital Society in response to the specific needs of seafarers and their families, SAIL provides free, confidential and impartial advice online or by phone on a wide range of issues, from debt and welfare benefits to housing and employment problems.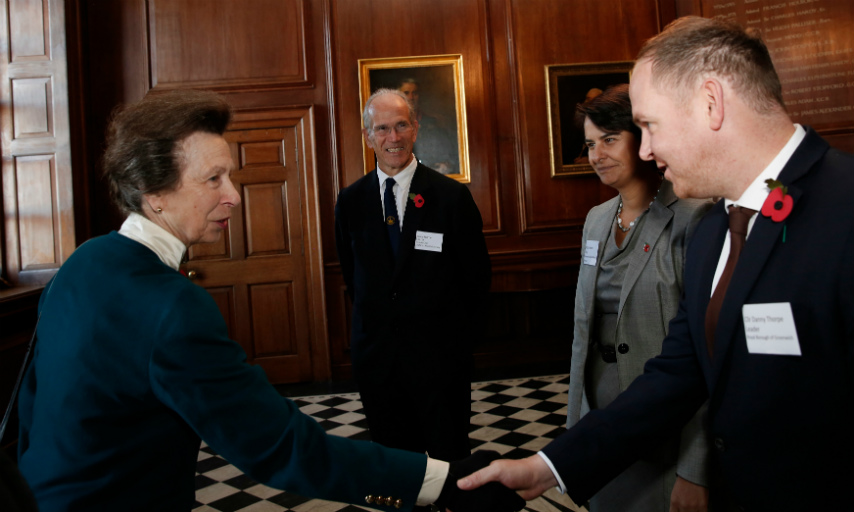 HRH The Princess Royal is greeted by Royal Borough of Greenwich Leader, Cllr Danny Thorpe
SAIL extends its cover
SAIL has grown from three members of staff in 1997 to 13, plus a full-time Manager. In April 2016 the service was extended to cover the Royal Navy and Royal Marines, and has recently been expanded further with generous funding from Greenwich Hospital. The offices in King William Walk have just been refurbished to accommodate the growing team. SAIL is now funded by the Seafarers Hospital Society in partnership with Seafarers UK and Greenwich Hospital and is an extension of Citizens Advice Greenwich.
As patron of Citizens Advice nationally, The Princess Royal met the staff and volunteers who provide advice and heard about their day-to-day work with clients.
SAIL Manager, Miles Cowley said: "We were delighted to welcome The Princess Royal to our newly refurbished and expanded premises. Having her support for the work we do will make a real difference. She spent time talking to everyone on the team. She really engaged with our staff and showed genuine interest in the work we do.
'We understand what life is like for seafarers'
He continued: "When you spend most of your life at sea it can be difficult to access help when you really need it and not everyone understands the issues you face. That's what makes SAIL so unique. We understand what life is like for seafarers, both offshore and on, and work with our clients in a way that suits them. Last year we helped 1,334 seafarers from all round the UK and raised almost £900,000 on their behalf in benefits, charitable grants and debt write-offs - that's an all-time record. We know there's demand for more and have just expanded the service to meet the need."
The Leader of the Royal Borough of Greenwich, Cllr Danny Thorpe said: "As a borough we have an historic seafaring background so it was good to welcome the Princess Royal and also to hear about the invaluable work being carried out by SAIL."