Published: Friday, 24th August 2018
School pupils in the Royal Borough of Greenwich celebrated receiving their GCSE results on 23 August.
One week on from A-Level results day, it was the turn of 16 year olds across the Borough to go back in school to collect their GCSE results.
Top results
Eldona Kupa, a pupil at St John Roan School, is one of only 732 pupils in the country, who achieved straight 9s - even higher than the old A*.
Councillors visited schools across the Borough to congratulate pupils on their results.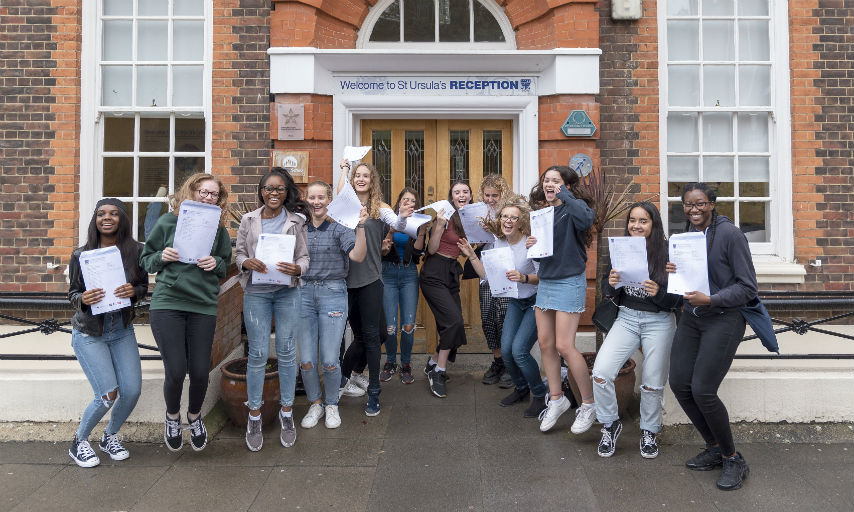 St Ursula's pupils jump for GCSE joy
2018 has seen further reform in terms of more GCSE subjects moving over to the 1-9 grading scheme; for 2017 this only related to English and maths.
'We are incredibly proud'
Cllr Danny Thorpe, Leader of the Royal Borough of Greenwich, and Cllr David Gardner, Deputy Leader of the Royal Borough of Greenwich, and Children's Services and Schools, said:
"We are incredibly proud of all our students in Royal Greenwich who have worked so hard over the last five years.
"We wish them the very best in their post-16 studies, and we would also like to thank parents, carers and all of our teaching staff for their continued efforts which has enabled our young people to realise their full potential."