Scams and rogue traders
Scams
Unfortunately, criminals are exploiting the COVID-19 pandemic to scam the public.
Criminals come in all shapes and sizes and can contact you at the door, by phone, post or online. Here are just some of the scams that the Council is aware of:
Fake products online and people offering miracle protection, cures or vaccines for coronavirus. There is currently no cure or vaccination for COVID-19. The best way to protect ourselves is stay at home, keep our distance and follow good hygiene practice.
Parents of children eligible for free school meals have received an email requesting their bank details. If you receive this email delete it immediately. Schools will be implementing the Government's system when available next week. Schools will not be asking for bank details.
Home cleaning services to remove COVID-19.
People impersonating healthcare workers claiming to offer 'home-testing' for coronavirus. These kits are not available to buy.
Emails saying that you can get a refund on taxes, utilities or similar. These are usually bogus sent by criminals trying to secure your personal and bank details.
New mobile phone applications that claim to give you updates on the virus but instead lock your phone and demand a ransom.
People offering to do your shopping or collecting medication and asking for money upfront and then disappearing.
If you think you've been scammed
Call Action Fraud on 0300 123 2040. If you need advice call the Citizens Advice Consumer Helpline on 0808 223 1133.
Tips to avoid being scammed
Be cautious and listen to your instincts. If it sounds too good to be true is probably is! Do not be afraid to hang up the phone, bin the letter or delete the email.
Face-to-face
Do not open to door to anyone you do not know - talk through a closed window.
If someone claims to represent a charity, ask them for ID.
Be suspicious of requests for money up front. If someone attempts to convince you into accepting a service they are unlikely to be genuine.
Check with family and friends before accepting offers of helps if you are unsure.
Online
Be aware of fake news about COVID-19 and use trusted sources such as gov.uk and nhs.uk
Make sure you type the website address in the site address bar and do not click on links within emails.
Only purchase goods from legitimate retailers and take a moment to think before parting with money or personal information.
Know who you're dealing with - if you need help, talk to someone you know or get in touch with your local council.
Protect your financial information, especially from people you do not know. Your bank, building society or the police will never ask for your bank details over the phone.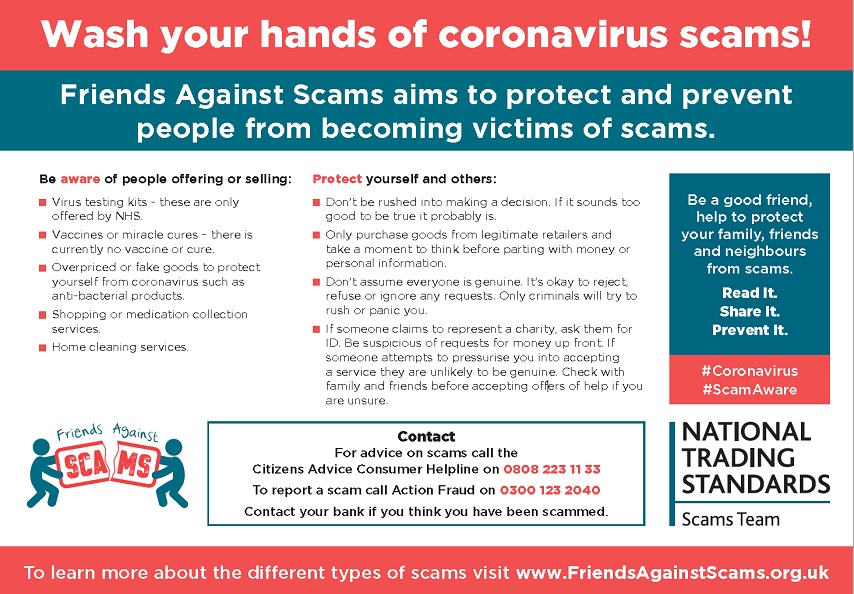 Rogue traders
We are receiving reports of:
trading in contrary to directions to close
sale of goods not in line with either safety or manufacturer requirements
unreasonable price hiking
Such behaviour is unethical and can put the public at greater risk while we all try to stop the spread and impact of the COVID-19 pandemic.
Any trading concerns can be reported by email to: tradingstandards@royalgreenwich.gov.uk
We encourage email contact wherever possible due to reduced staffing levels. Out of normal office hours, please call 020 8854 8888, or dial 999 in an emergency.
Please note: some food and beverage premises may still able to trade by providing takeaway and delivery services and not allowing consumption of food or drink on site.
Read more at responsible trading during the coronavirus (COVID-19) pandemic.
Find out more
https://www.royalgreenwich.gov.uk/tradingstandards
https://www.nationaltradingstandards.uk/news/beware-of-covid19-scams