The Best of Royal Greenwich Business Awards, celebrate the variety of over 11,000, thriving businesses within the borough and highlight the vital role they play in providing sustainable growth. They are free to enter and open to anyone who manages or owns a business in the borough, giving businesses of all sizes a great opportunity to gain publicity and highlight their successes. For the second year running, the awards are being sponsored by U+I and have the support of the South East London Chamber of Commerce.
The awards have brought many benefits and great opportunities for previous winners including, television appearances, new business deals, business support and new customers. Here's what some of them had to say:
Rachel Hubbard, CEO of 'Deaf Umbrella' and winner of the Business of the Year Award 2019

Rachel Hubbard founded Deaf Umbrella in September 2000. The company is a recruitment agency for British Sign Language professionals supporting Deaf people. It also provides a job club and employment support to profoundly Deaf people.
"I started my career as a Chef working at Unilever for 10 years, and then worked at some five star hotels in London. During a career break to have children, I decided to upgrade the British Sign Language skills I had obtained in my teens by joining a training course. Alongside this I also trained to be a scribe for Deaf students. It was this experience that led me to create Deaf Umbrella.
"The best bit about the business is the people you meet. The Deaf people you meet and the lives they have had are interesting, and inspiring; it's great to promote talented Deaf people. The hearing people who come into the profession are dedicated to creating independence, are committed to providing the best support, and are constantly learning and developing; I'm really proud of the Deaf Umbrella Team.
"The challenges we face are to constantly educate. Some employers are concerned about how much time and support a Deaf person may need from other staff whilst working. We educate them on Access to Work which is a fund that is utilised to ensure a Deaf person is not disadvantaged in the workplace and the employer is not financially disadvantaged by employing a Deaf person who may need additional language support.
"Deaf Umbrella entered the Best of Greenwich awards last year because we are proud of being a business in Greenwich. We are proud of the work we do and we wanted to be recognised for our achievements and give our staff a company they can be proud of.
"Winning a business award gives everyone a boost in morale, it makes you realise that the decisions you make are the right ones. It makes you strive to be even better and gives you confidence to aim higher. We have seen a 20% increase in business in the last year, over and above our expectations. This due to the achievements at the business awards and the trust this instils in your service users.
"My advice to entrants this year is to take your time, write out what you do in your business and how it affects people, the environment etc. and what drives you to do your job. Then get someone outside your business to review it. Do they understand the message you bring? Sometimes you can be so immersed in your business you forget to clarify in simple terms what you do and achieve daily."
Visit: deafumbrella.com
Selena Pang, owner of vintage style hairdressing salon, 'the Curious Comb' and winner of the High Street Retailer Award 2019
Selena Pang has just celebrated the tenth anniversary of the Curious Comb; she moved the salon to Greenwich four years ago. She wanted an atmosphere that was a home from home, something people would find comfortable, welcoming and friendly.
"We are different in the sense that we are really welcoming. I have always worked in Central London and I wanted to bring a higher standard of hairdressing to the suburbs.
The best thing about having my own business is the challenge. There is no limit to what you can do, it can be as successful as you make it. From starting the business to now, there have been good and bad challenges. It's a journey and I have really enjoyed it.
"We were delighted to win the High Street Retailer Award. We originally entered to get more exposure and build links within the community. The awards made me more interested in getting to know more of the community and other businesses within the community.
"Winning the award has raised our profile. It has helped us attract new customers who would normally go somewhere else in town. It has made them try out local businesses like ours."
Visit: thecuriouscomb.co.uk
Raymond Sheehy, Chief Executive of 'Bridge Support' and joint winner of the Business Champion Award 2019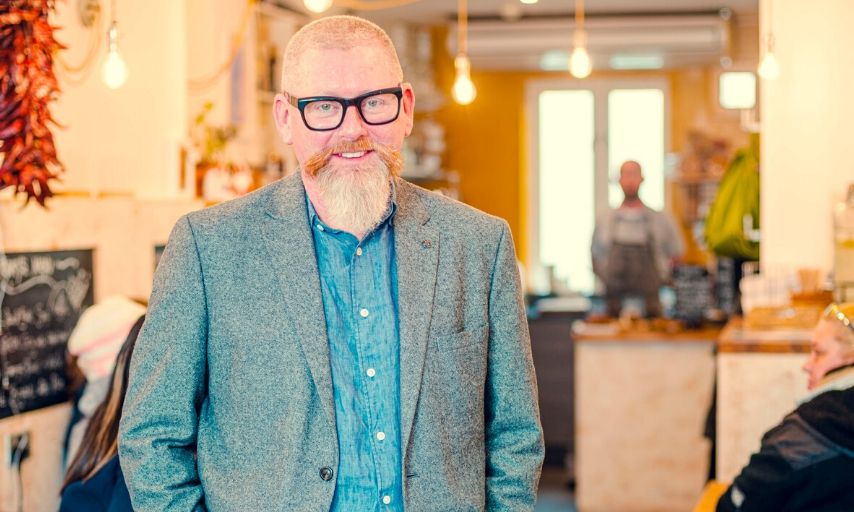 Bridge Support was set up in 1986. It now runs different services within the community to support people to be more resilient and independent, and a social enterprise called 'Stir' in Woolwich, which provides good food for the community and training courses for people to get back into work successfully. It also runs a non-NHS recovery college which enables people to learn practical skills to manage their own mental health.
Raymond Sheehy has worked at Bridge Support for the last ten years.
"Greenwich is a fantastically diverse borough. We are trying to contribute, and Greenwich is the place to do that. We are the biggest provider of mental health services in the borough.
"I entered the awards because I am passionate about Greenwich, the businesses in Greenwich and what people do. I have lived in the borough for over 25 years and I was determined to contribute to the community when I came here.
"We've employed lots of people, helped with health and wellbeing, and helped people with strategies to engage with their communities in a way which means that they don't use many services, such as hospital services or counselling services.
"I was very pleased to be nominated for all the things I have done to contribute to the borough.
"Since winning the business award, I've been able to let people know and it has been a really great opportunity to introduce the business. The awareness around our success in Greenwich means we have been noticed by people and that has translated into two new projects that in the calendar year since we won the award will be delivered and the total value of those is just over a million pounds.
It's been a positive experience and I think people know about us now, in a way that they wouldn't have, had we not taken part in the awards."
Visit: bridgesupport.org
Adrianna Baker, owner of street food business 'Back-a-Yard Grill' won the Young Entrepreneur Award in 2019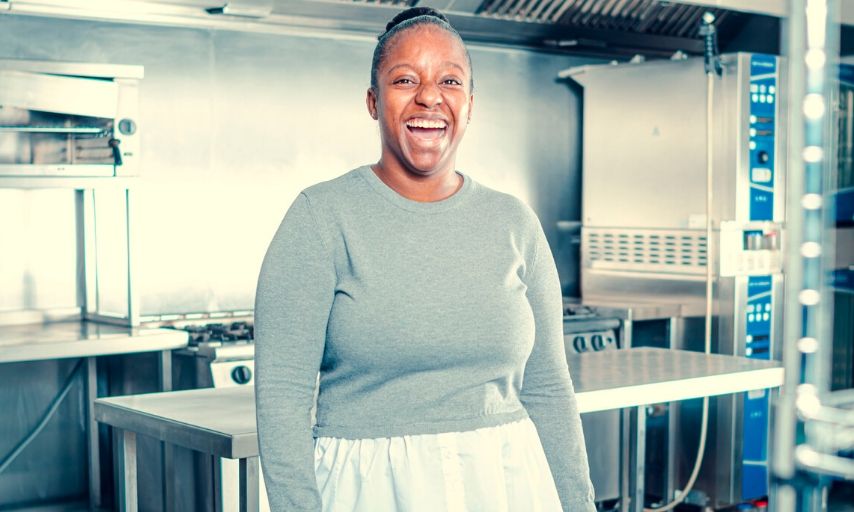 Adrianna Baker was a qualified chef, working as a mental health carer. Her passion for food led her to start Back-a-Yard Grill in June 2018, in a community space in Greenwich.
"I was born in Greenwich and have lived here all my life. I started the business in Greenwich because I love the area. The community is great and it's a very diverse area. There are loads of different types of people and different communities that have come together. It has so much potential. It's a borough to be proud of.
"I set up Back-a-Yard Grill because, even though I was working as a carer, I was more passionate about food and the service that comes with it. We started with a street food and take away service with a fusion cuisine of American and Caribbean food.
"I was encouraged to apply for the awards by Peabody, and I thought why not apply for it and see what happens?
"I can't describe what it felt like to win the award. It was overwhelming. You've not only won an award, but you've been noticed by the Royal Borough of Greenwich! It's such a massive opportunity, which is great.
"The awards have done well for our business. I am about to become a restaurant owner! In the street food part of our business, we have gone from doing one event every weekend or every other weekend to having triple bookings.
"My advice to applicants this year is to give it your best shot, tell them about your challenges and the successes you've had with your business. There are so many opportunities that come from it, so please do give it a try."
Visit: backayardgrill.co.uk
Julia Dyer, Director of children's shop, 'Ottie and the Bea' and winner of The Independent Retailer Award 2018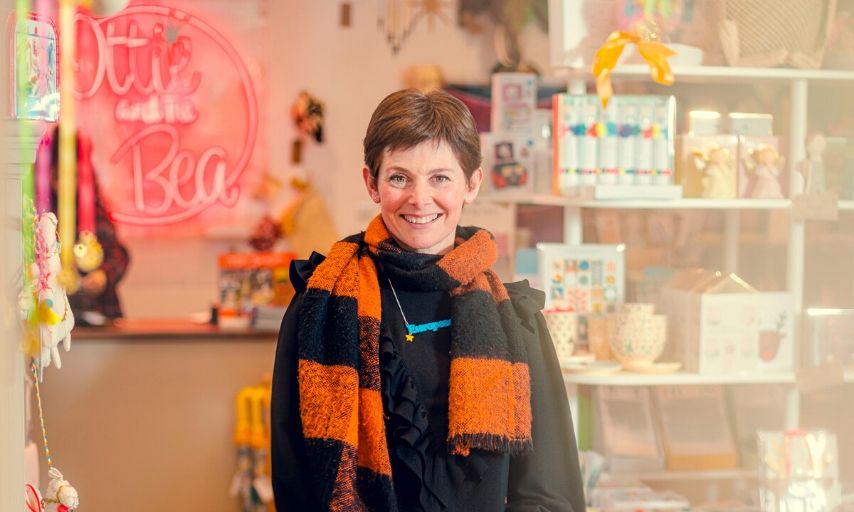 Julia opened Ottie and the Bea in 2010, she was formerly an actress and when she had her first daughter she wanted to do something else. The shop is named after her two daughters.
"Compared to acting, with running a business, I am not at the beck and call of anybody. I know where I am seven days a week. There's the customer service side of things, which I love and then on top of that there's all the paperwork. My favourite part is that however I am feeling when I leave my home, by the time I get to the shop I've bumped into so many people. All the children recognise you as the 'toy shop lady'. It's the customer side of things and the community I love most of all.
"Everyone who works at Ottie and the Bea is part of a family, and by working that way we ensure that the quality of service is excellent and we become part of people's lives.
"We were invited to apply for the business awards and I thought, why not have a go?
"Through the awards, we gained a mentor from the business team at the Council, which was free. It was the first time I had someone to talk to about what I was trying to do."
Visit: ottieandthebea.com
Grace Olugbodi, creator of the multi-award-winning maths board game 'Race to Infinity' and winner of the Micro to Small Business Award 2019 for BeGenio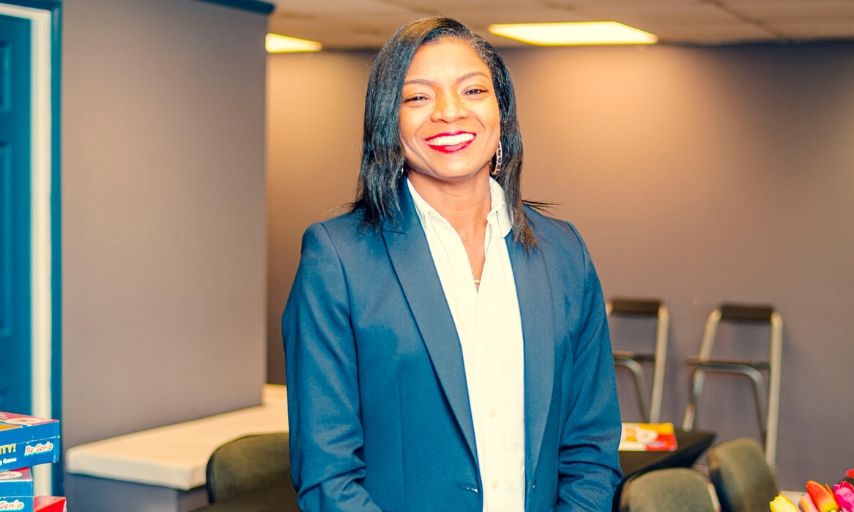 Grace Olugbodi is the creator of the multi award-winning maths board game called 'Race to Infinity', author of 'Make Maths Fun' and co-author of the No.1 Amazon bestseller 'Get in the Game'. She set up BeGenio three years ago after leaving a career as a Java programmer in investment banking.
"With little funds or know-how, I first created my maths game on paper. In 2015 when the game was ready, in my opinion, my mentor at the time said it was wonderful, but wrong. After years of work I had to start again. With no spare money, I had to be resourceful.
"My kids and I played that game about 450 times, and I ran workshops in schools and with parents and kids, and kept tweaking the game until I was satisfied. On a shoe-string budget I printed 100 copies of the final version and sold non-profit for proof of concept. Then I saved to print 1,500 games for a pre-launch event. I also had to learn to sell on Amazon like my life depended on it until the game became successful there.
"The best bit about running my business is the incredible feeling of achieving my mission and living my purpose - what I believe God put me on earth to do. That is, solve key problems such as maths anxiety, low self-esteem and confidence; and help children fall in love with mathematics. I have had incredible support from the Council, specially Cllr Denise Hyland and her wonderful team, and Clive Jelf, my business advisor from Royal Greenwich.
"I entered the business awards because my business advisor really encouraged me to. I did not think I would win, let alone win what I was told was the most competitive category.
"Since winning the award, I have had business support from the Council that is worth its weight in gold, in the form of contacts and invaluable business advice which has helped me move forward in leaps and bounds."
Visit: racetoinfinity.com
Kate Zalyubovskaya Co-Founder and Director of 'Archery Fit' and winner of the Young Entrepreneur Award 2018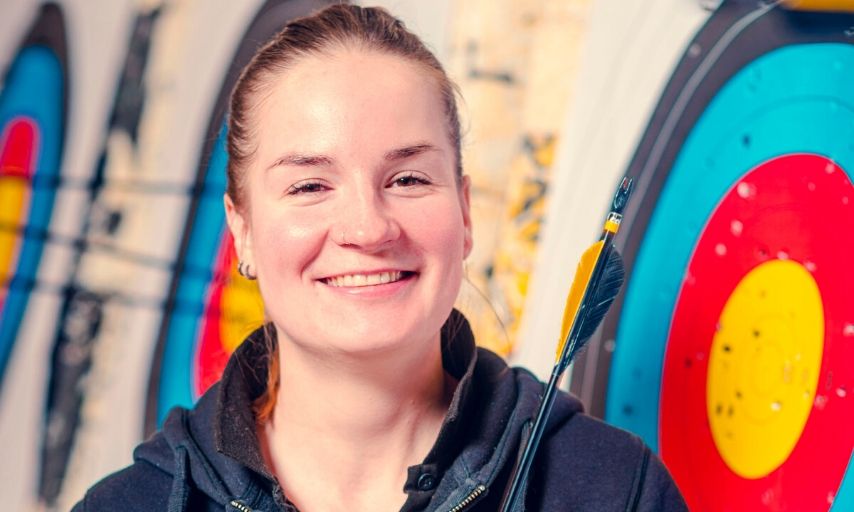 Kate and her husband Roman Godin opened Archery Fit in 2015. Kate is the Head Coach and has been a professional archer and instructor for 18 years. In 2003 she won the title of Russian National Champion. Roman worked as a banking and financial consultant for 15 years. He manages the operational, administrative, financial, and marketing side of the business.
"The best thing about running a business is the family like relations, friendly community of customers, and being paid for doing what you like. The most challenging part is to get it known and being on a very tight marketing budget."
"We choose to have the business in Greenwich because of its central location, good transport links, and friendliest borough in London.
"We entered the awards because we thought that its good publicity, and we have a product which deserves it. The entry process was easy and straightforward.
Winning the awards raised our staff morale, added positive weight to our brand and helped us address a larger audience.
"Just apply! If you think that your product or service is worth recognition – don't hide it!"
Visit: archeryfit.com
The awards will be held at the InterContinental O2 Hotel on Friday 6 March 2020 with guest presenter Steph McGovern.
For more information about the awards Email: business-awards@royalgreenwich.gov.uk