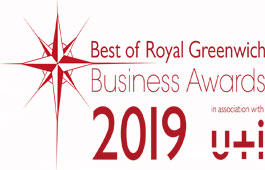 Following the success of the inaugural Best of Royal Greenwich Business Awards, we are proud to announce the 2019 programme, in association with U+I, showcasing business excellence from the best organisations within the borough.
The award ceremony is being held at the InterContinental O2 Hotel on Friday 15 February 2019. Our guest presenter will be breakfast TV's Steph McGovern.
You can nominate your business from Monday 15 October 2018 until Friday 11 January 2019.
Follow us on social media
Business in Royal Greenwich