The festival is set to dazzle with a five-day extravaganza revelling in different dance styles from our African, Asian, and Caribbean diaspora communities across several borough locations.
The live festival celebrates the wonderfully rich cultural diversity we have in our borough and runs over half term, Monday 25 to Friday 29 October 2021. Showcasing four new commissioned dance pieces, our headliners are:
Funky Immigrants present Dancemic. The break dance trio's light-hearted replay on the 'new normal' following the pandemic.
Silyvester Bahanda fuses his Tanzanian roots with Plumstead street dance Kiduku Rhythms in this collaboration to reflect togetherness.
Dipson Ghale's contemporary solo is influenced by his Nepalese background and love of hip hop and pays homage to local community stories.
UK Latin Community presents an Afro infused creative extravaganza, with a decidedly Spanish twist in this uplifting and powerful performance.
Plus, several unique performances made in collaboration between residents, community groups, and dance pros TARU, Dynamix Dancerz, UK Latin Community, and Afro Praisers.
Celebrating our African, Asian, and Caribbean communities it's a festival for everyone of every ability who wants to come together, and joyfully dance.
The nights will be hosted by Adisa Andwele is a rhythm poet from Barbados who hashas performed at many different places including theatres, festivals, schools, day centres for senior citizens and even Buckingham Palace!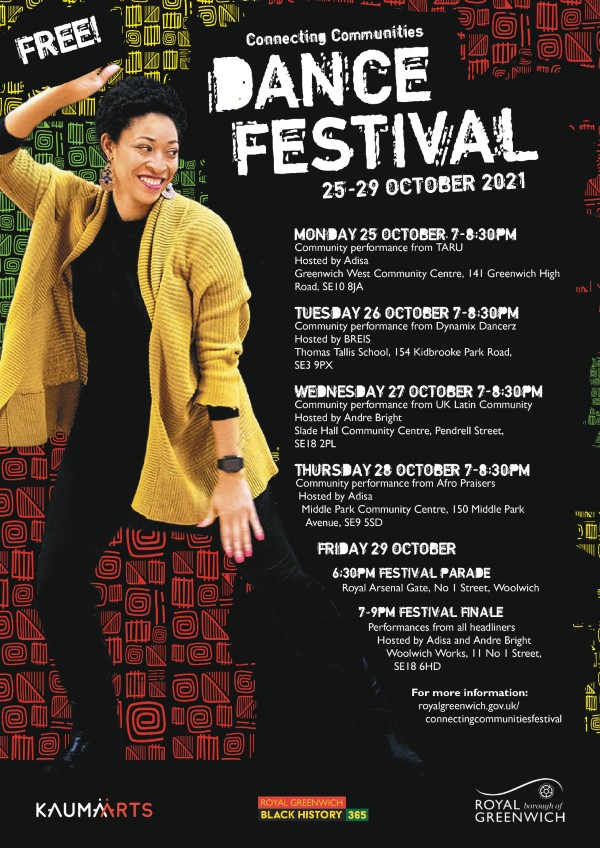 Find out about each day including how to get tickets
Read our full story on the Connecting Communities Dance Festival