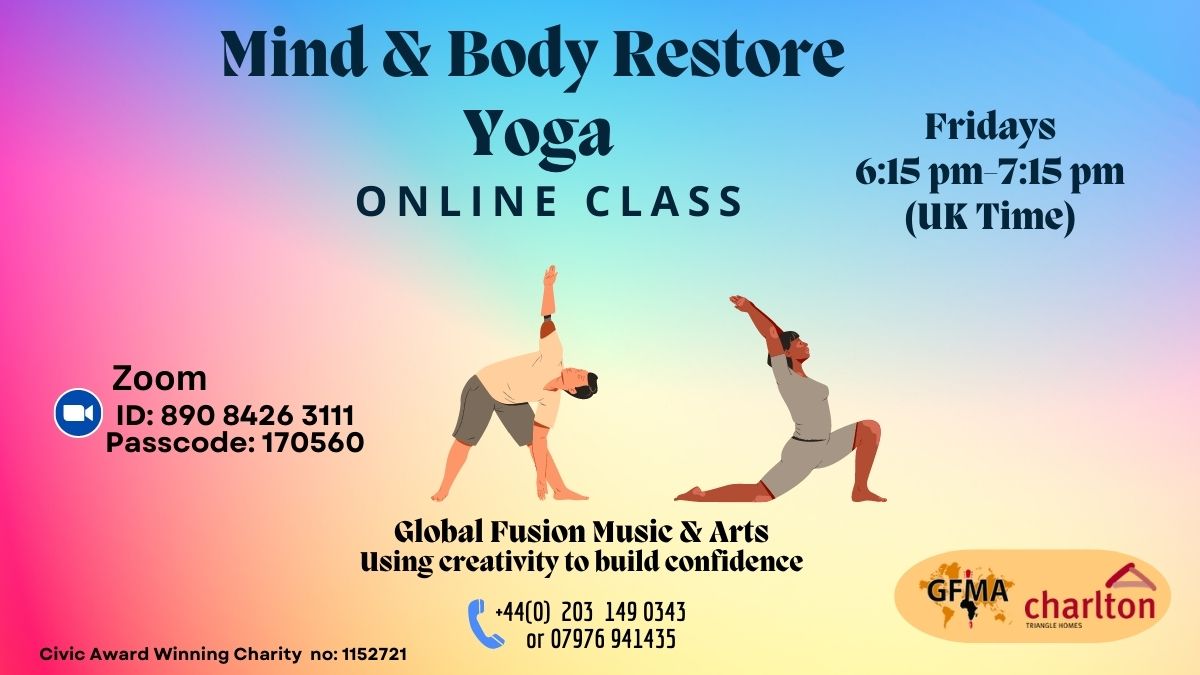 Date: 20th January 2023 - 31st March 2023
Every week
Location: Zoom Platform
Time: 18:15 - 19:15
Cost: Free
Join our guided, stage by stage free live 'Zoom' Yoga Sessions. No need to book, meetings are open approximately five mins before start time, please arrive promptly.
Yoga is an exploration of the body, mind and spirit. Through physical postures and breath-work. These sessions explore the inner and outer workings of the body; allowing, guiding, moulding and massaging the body in different ways to release tensions, stored emotions and creating clear pathways for our energy to flow freely.
Global Fusion Music & Arts is inviting you to Zoom Weekly Yoga with Jacqueline Hannam Fridays - 06.15 PM to 7.15PM London UK
Zoom Meeting link: https://us02web.zoom.us/j/89084263111?pwd=b0JRUWN4bVZ6L053eE40ZDA4L256dz09
Meeting ID: 890 8426 3111
Passcode: 170560 (Please switch on your camera and identify yourself when entering the Zoom meeting - for the safety of the group)
Global Fusion Music & Arts Using Creativity to Build Confidence, Civic Award Winning Charity no: 1152721, Phone: +44(0) 20 3149 0343 or ‭07976 941435‬ email: info@globalfusionarts.co. instagram: @gfmaworkshops @globalfusionmusicarts @gfmarecords twitter: @gfmaglobalarts
Our Sponsor: Charlton Triangle Homes