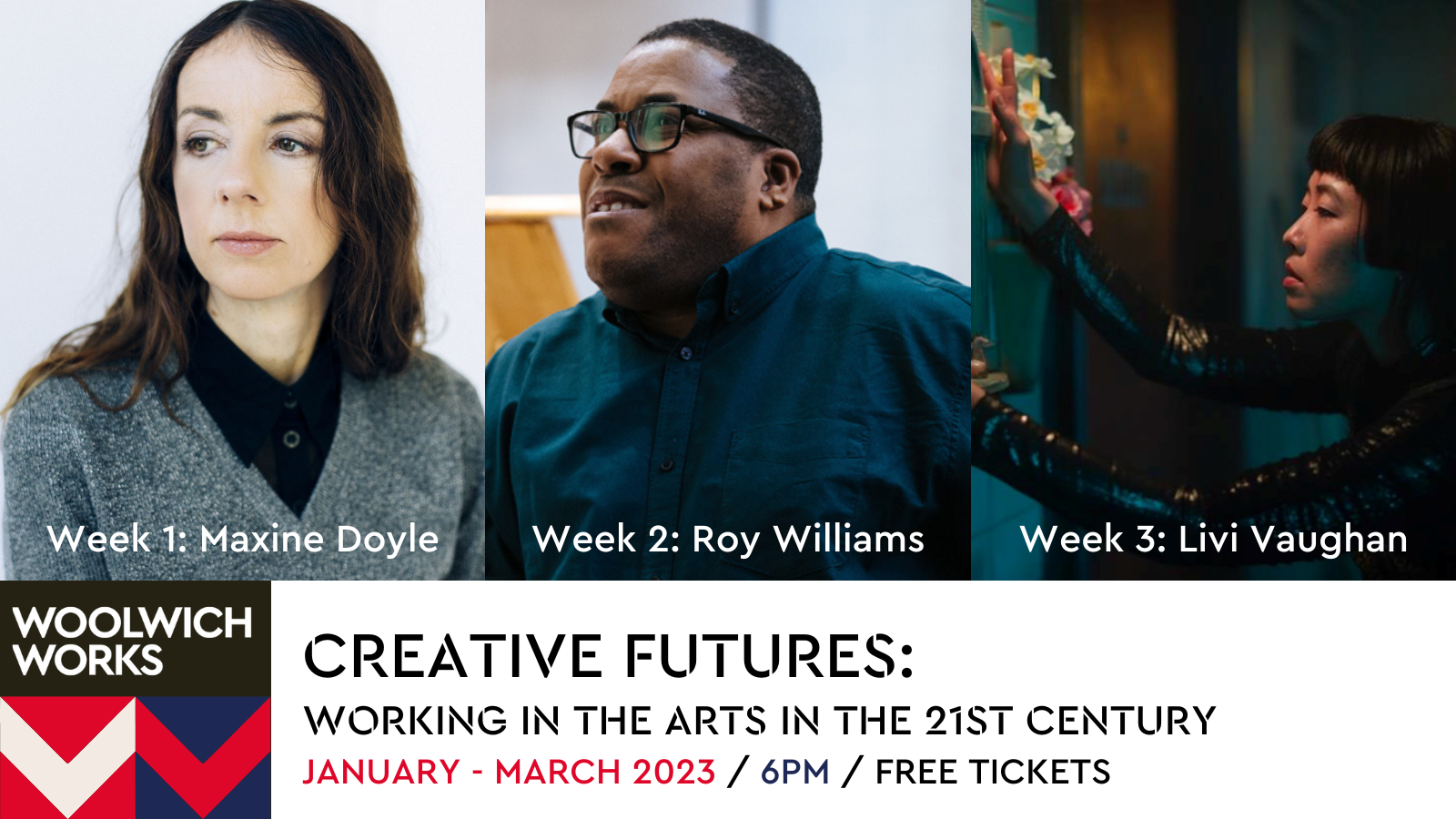 Date: 25th January 2023 - 15th March 2023
Every week
Location: Woolwich works, No.1 Street, Royal Arsenal, SE18 6HD
Time: 18:00 - 19:00
Cost: Free, tickets must be booked in advance
In a new collaboration between Woolwich Works and the University of Greenwich, this series of interviews offers an opportunity to hear from industry professionals working in the Creative Arts today.
Each event will provide an insight into the sector, explore some of its challenges and ask what we might need to prepare to work in the industry and how we can shape its future in the decades to come.
Wed 25 Jan, 6pm: Maxine Doyle interviewed by Misha Myers Maxine Doyle is the Associate Director and Choreographer of Punchdrunk. Her work includes Executive Co-Creator on Sleep No More (New York and Shanghai) and Co-Director and Choreographer on The Burnt City (London).
Wed 1 Feb, 6pm: Roy Williams interviewed by Harry Derbyshire Roy Williams is an award-winning playwright whose work has been performed at theatres including the Lyric Hammersmith, Royal Court Theatre and the National Theatre.
Wed 8 Feb, 6pm: Livi Vaughan interviewed by David Hockham Livi is a Design Associate at Punchdrunk where her work for the company includes The Masque of the Red Death, Sleep No More, The Drowned Man and most recently The Burnt City.
Wed 15 Feb, 6pm: Ola Animashawun interviewed by Nicholas Holden Ola is a National Theatre Associate and Connections Dramaturg and former Associate Director of the Royal Court Theatre, where he worked for 23 years.
Wed 22 Feb, 6pm: Jorge Lopes Ramos & Persis Jadé Maravala interviewed by Carlos Eduardo Pires ZU-UK's artistic directors are leaders in participatory theatre and performance art, renowned for their distinctive personal, political and humorous approach.
Wed 8 Mar, 6pm: Suzy Wilson and Paul Clark interviewed by Jillian Wallis Clod Ensemble's Artistic Directors will discuss the company's 25-year history and distinctive collaborative approach to performance-making that has seen them work across fields, from dancers and musicians to medics and architects.
Wed 15 Mar, 6pm: Bathway Theatre Associate Artists interviewed by Simon Bowes Featuring this year's Bathway Theatre Associate Artists who are working alongside University of Greenwich staff and students to develop new projects and progress their artistic practice.