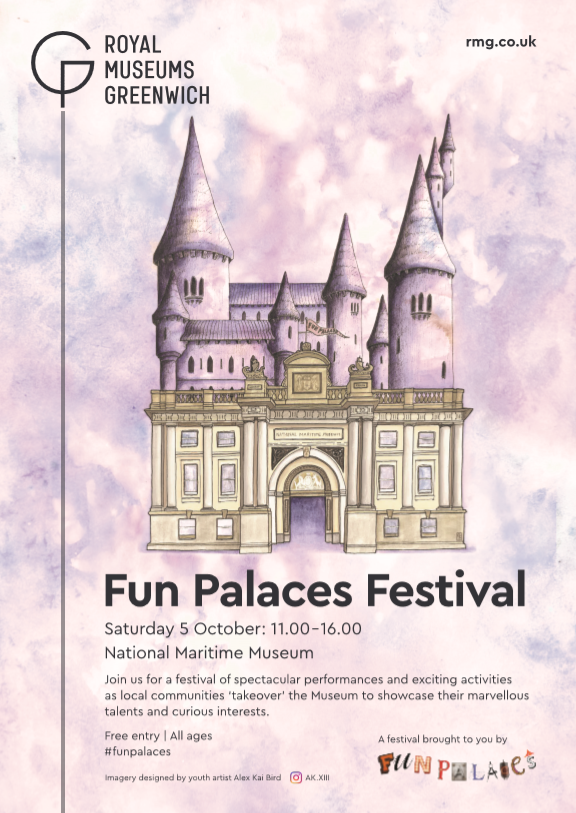 Date: 5th October 2019
Location: National Maritime Museum
Time: 11:00 - 16:00
Cost: Free
Local communities are transforming the National Maritime Museum into a Fun Palace for one day only! Join us for a festival full of spectacular performances and unusual activities.
We have been working alongside a group of brilliant volunteers from local communities, who have been busy at work designing the Fun Palaces Festival for 2019.
Many months of dedication have resulted in a truly unique day of activities for all to enjoy. Wonderful workshops and performances to get involved in include:
Steel drum workshop and performance led by the amazing Wilfred Hohenkirk.
Hula Hooping extravaganza - be wowed by Laura's tremendous skills then have a go yourself.
Join the Three Cs for a family-friendly crafting workshop exploring how we can protect our oceans.
The Caribbean Social Forum are taking over a corner of the museum to play Games Without Wires - see if you can top their scores!
Get fired up for a Craftivism workshop inspired by the history of queer fashion activism.
Listen to the immersive performance of Bee Haven by Trinity Laban's string ensemble, a piece motivated by the current ecological crisis