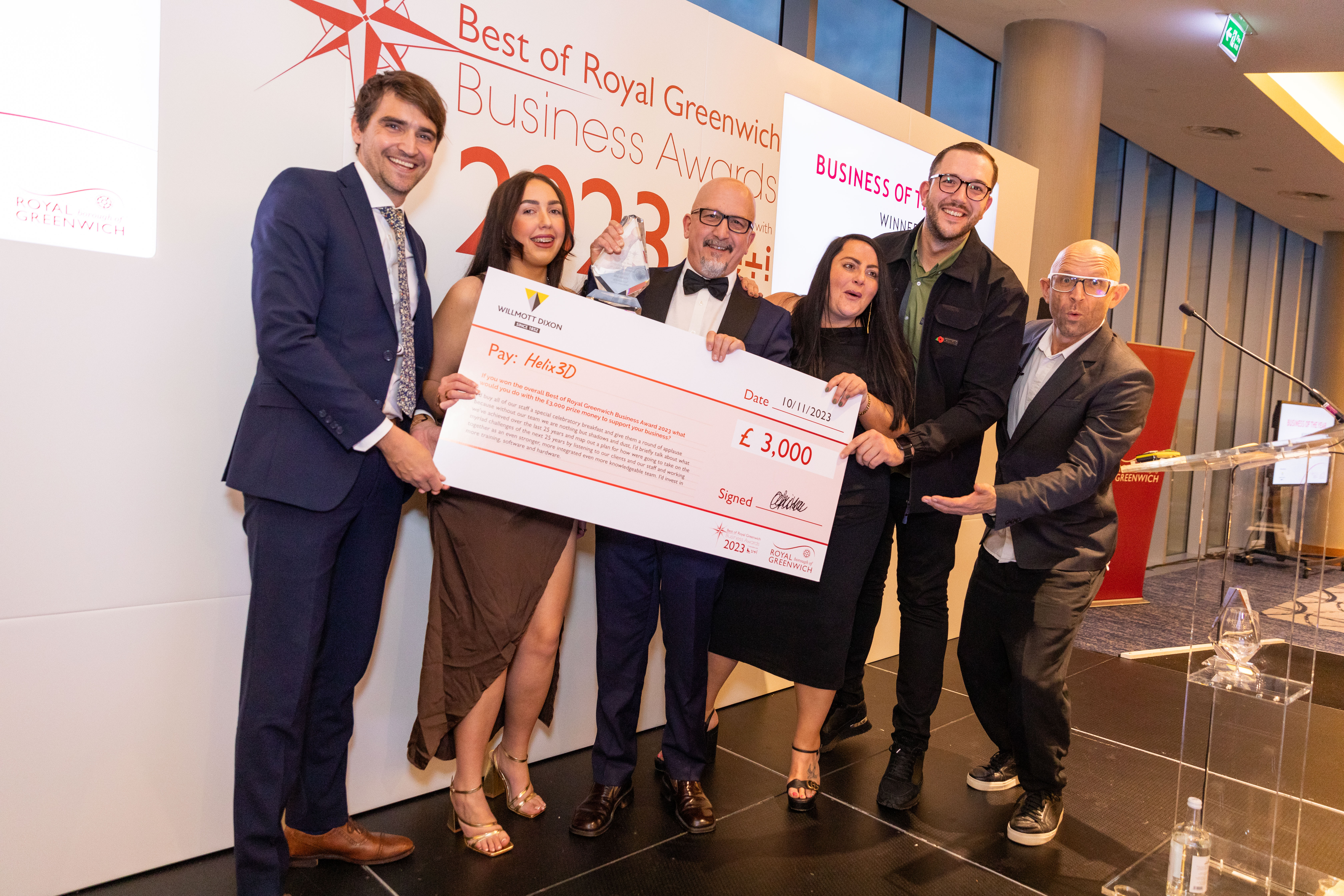 Published: Tuesday, 14th November 2023
Following months of anticipation, the exceptional 2023 Business Awards winners were revealed at a sparkling awards ceremony on Friday 10 November.
Over 350 people came together at InterContinental London – The O2 to celebrate local businesses' success and hard work, with the ceremony culminating with the big winners' reveal for the 12 categories and the Business of the Year.
The top accolade of Business of the Year 2023 went to family business Helix 3D, specialists in set design and construction for film, TV and commercials, based in Thamesmead.
This year the awards, held in association with headline sponsor LandsecU+I and with the South East London Chamber of Commerce, received a record number of nominations, with over 320 organisations competing to showcase their work and skills and be in with a chance of winning the top prize of £3,000, sponsored by Willmott Dixon.
Councillor Anthony Okereke, Leader of the Royal Borough of Greenwich, said: "Huge congratulations to our winners and finalists, who have achieved amazing things over the last year. We want to thank local businesses for their important contributions to Royal Greenwich. From enlivening our town centres to providing jobs and helping us to create an inclusive local economy, they are the backbone of our community. The annual Business Awards are an opportunity to recognise the best businesses in the borough and highlight Royal Greenwich as a fantastic place to do business, with strong industry networks connecting businesses and traders, great transport links and vibrant, historic town centres. We encourage more businesses to establish and grow their business here in the future."
Councillor Mariam Lolavar, Cabinet Member for Inclusive Economy, Business and Skills and Head Judge, said: "It was wonderful to celebrate our incredible winners and finalists at the ceremony on Friday. With a record number of entries, across all categories this year, it was no easy feat to be crowned winner. This year's winners reflect the exciting diversity of industries in the borough – from design and manufacturing companies to training providers, and from community cafes to world-class museums and attractions. We are so proud of our business community and the Business Awards are our chance to shine a light on their hard work and remarkable achievements as well as a timely reminder to support our businesses by shopping locally."
Brian Dowling, Co-Founder at Business of the Year Helix 3D said: "I'm so proud to receive the Business of the Year and Made in Greenwich awards behalf of my Co-founder Sanjeev Dowling and our Business Partner Chloe Fitzgerald. It's been an extraordinary 25 years! A massive shout out to Chloe Fitzgerald for leading her amazing team. I'm donating our £3,000 prize money to "The Indie-30" start-up incubator in memory of my Dad Liam. This initiative is designed to help people start new businesses focusing on technology and sustainability in the screen industries. I don't have any employees, I don't have access to any grants, I don't have a team yet, but I do have £3,000 in start-up capital! Some might say you can't start 30 companies with £3,000? Au contraire Black Adder! I started Helix 3d with no money whatsoever and I started Indie-zero film studios while the Wolf of Wall Street was gnawing my fingertips through the letterbox, anything is possible, I'm living proof".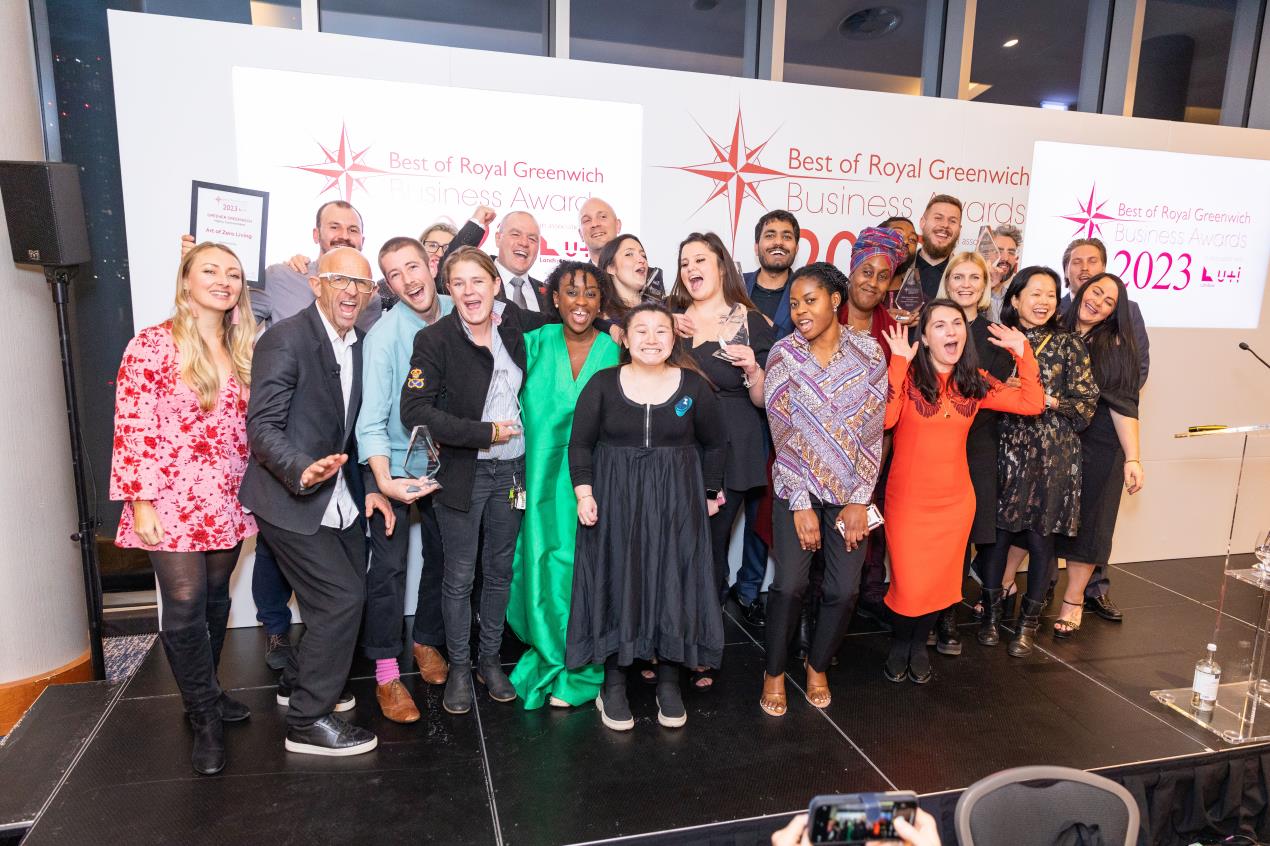 Pictured: All the winners and highly commended businesses, Head Judge Cllr Lolavar and other judges and guest presenter Jason Bradbury
The finalists were treated to a champagne reception, courtesy of GLL-Better, and lunch with views over the River Thames. The event was hosted by Jason Bradbury, tech entrepreneur and TV presenter on programmes including The Gadget Show, with a welcome speech by Councillor Averil Lekau, Deputy Leader of the Council. Businesses showed their generosity raising funds for the Mayor's charities, Javan Coker Foundation and Stroke Association, through the Mayor's Charity Raffle, sponsored by Lovell.
Winners for nine of the categories and the Business of the Year were selected by a panel of judges including Head Judge Cllr Mariam Lolavar, Rachel Brown from University of Greenwich, Michael Bullion, CEO at Tribe Urban Entertainment, Cllr Majid Rahman, Our Greenwich economy and business champion, Tracey Sage, Associate at Emergency Exit Arts, Steve Sayer, VP and General Manager at The O2 and Max Skomorowski, Director at Greenwich Enterprise Board.
Three categories – the Best Food and Drinks Venue, High Street Business and Market or Mobile Trader - were determined by the public, who submitted over 8,000 votes.  
We can reveal the 2023 Best of Royal Greenwich Business Awards winners are:
Business of the Year
Sponsored by Willmott Dixon
Best Food & Drink Venue
Sponsored by Drury Tea and Coffee   
Best New Business Award
Sponsored by University of Greenwich
Greener Greenwich
Sponsored by The O2
Highly Commended
Art of Zero Living
Health & Wellbeing
Sponsored by GLL - Better
Highly Commended
Woolwich Service User Project (WSUP)
High Street Business
Sponsored by Hindwoods
Innovation
Sponsored by Alcatel Submarine Networks  (ASN)
Made in Greenwich
Sponsored by Grant Saw Solicitors   
Market or Mobile Trader
Sponsored by London City Airport   
Online Business
Sponsored by Digital Greenwich Connect
Professional Service
Sponsored by Berkeley Homes
Tourism & Culture
Sponsored by Uber Boat by Thames Clippers
Highly Commended
Greenwich+Docklands International Festivals
Workforce Development Award
Sponsored by London South East Colleges (LSEC)
You can see photos from the event on Facebook.