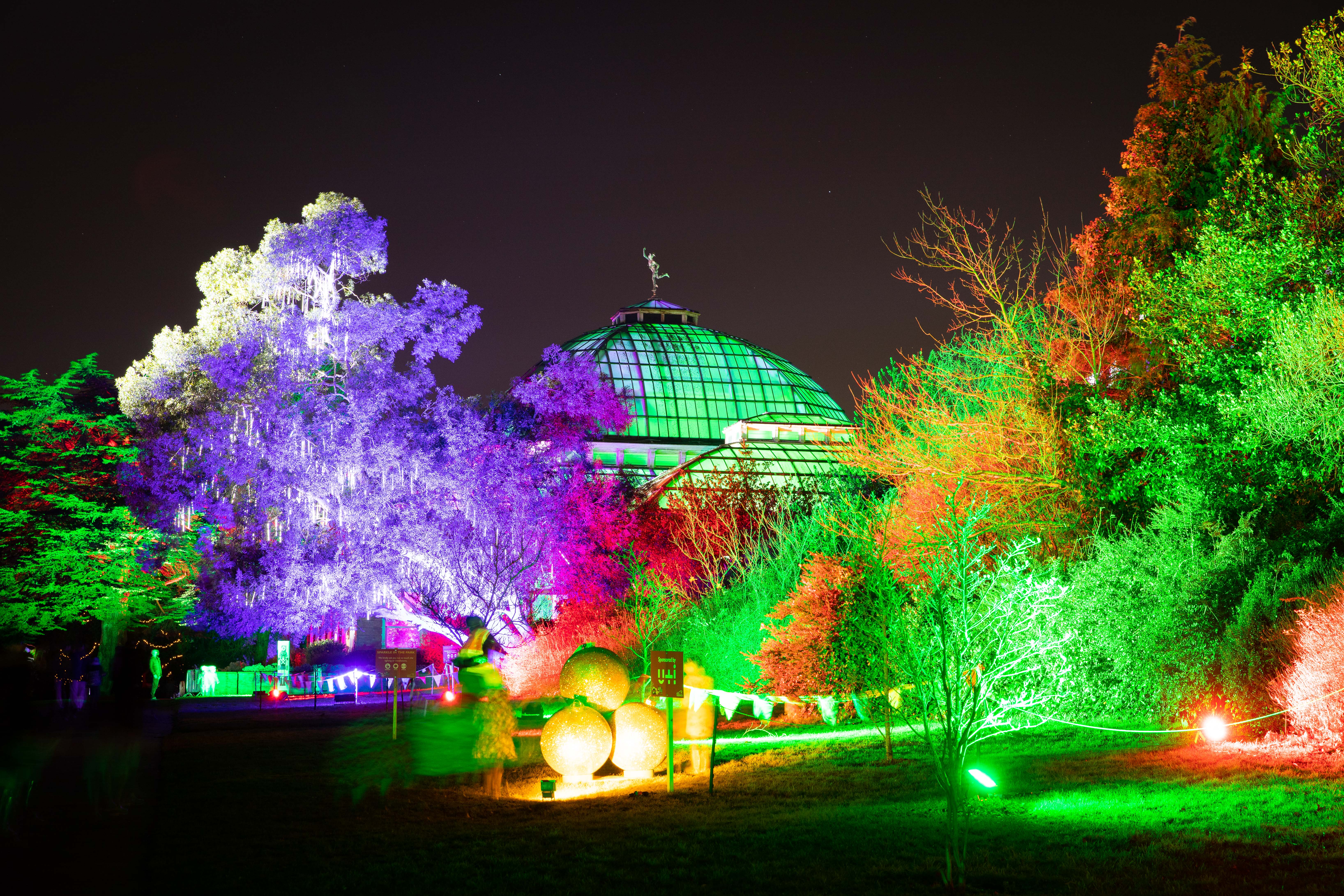 Published: Thursday, 9th November 2023
It's beginning to look a lot like Christmas!
And the council's team of elves are busy transforming Avery Hill Park into a new Sparkle in the Park winter wonderland for Royal Greenwich residents to explore.
The free festive fun continues daily from 30 November to 3 December, between 4.30 and 9pm. After your first visit, we know you'll want to stay another day!
Councillor Adel Khaireh, Cabinet Member for Equality, Culture and Communities, said: "We're bringing Sparkle in the Park back to Avery Hill Park this year.
"We can't wait to give you all another fantastic, free event on your doorstep, without anyone having to worry about the cost of entry. I look forward to seeing many of our residents there.
"Be sure to plan your visit in advance so you can get the most out of this festive experience."
Aa part of the annual festive light trail, the historic Winter Garden will be illuminated, alongside stunning light features sponsored by Bagnalls and Lbox Communications. There will also be a market, fun fair and pop-up performances from local school and community choirs, and vocal harmonists Elle and the Pocket Belles will perform on Saturday evening.
On Saturday and Sunday, Disco Shed will have you rockin' around the Christmas tree in no time!
Entry is free, and unlike last Christmas, visitors won't need a ticket to enter this year's event. We will do our best to minimise any wait times, but please be prepared to queue for entry at busy times.
On Sunday 3 December, the first hour will be a quiet session, for children and adults with special educational needs and disabilities (SEND) and sensory sensitivities.
Be sure to plan your visit in advance, so all you have to think about on the day is having yourself a merry little Christmas!
Getting there
Please use the park entrance on Avery Hill Road, next to the junction with Bexley Road.
There is no on-site public parking. Please use public transport, walk or cycle to the event.
Avery Hill Park is easily accessible by public transport and is on many major bus routes – please visit Transport for London to plan your journey.
Local streets will be patrolled by parking enforcement teams to prevent illegal and irresponsible parking.
There is limited disabled parking available on a first come, first served basis.
Accessibility
On Sunday 3 December from 4.30to 5.30pm will be a quiet hour, for children and adults with special educational needs and disabilities (SEND) and sensory sensitivities. During this time, there will be reduced noise, no flashing lights, a reduced capacity on site and sensory appropriate entertainment.
The trail is on a hardstanding trackway and is wheelchair accessible, but some areas such as the woodland walk may become muddy if the weather is wet. The Christmas Market is on soft terrain and grass, and there are some small inclines around the trail.
There will be a Changing Places toilet on site.
Food and drink
Sparkle in the Park will have stalls selling a wide variety of food and drink for all dietary requirements and you may bring in your own treats too. The event also has a range of bars and only alcohol purchased on site is allowed to be consumed.
It's cold outside!
Be prepared for chilly weather. Wrap up warm, wear sensible shoes or boots, and this is Britain so you may need raincoats and an umbrella too...
Leave it at home
Anything that could be considered a weapon.
Alcohol should not be brought on site but can be purchased at the event bars.
Animals
Dogs must be kept on a lead and under control at all times. Please consider if your dog will be comfortable with the lights, smells and loud noises of the event before bringing them along.
No animals are allowed to be used in performances, for entertainment or as prizes at Royal Borough of Greenwich events.
First aid
First aiders will be on site. In the event of accident or injury please inform the nearest member of event staff who will call for help.
Lost children and vulnerable people
If you find or lose a child or vulnerable person, please notify the nearest member of security staff immediately.
Photography
Filming and photography will take place at this event. If you do not wish your image to be taken, please let a member of staff know.
Find out more about Christmas events