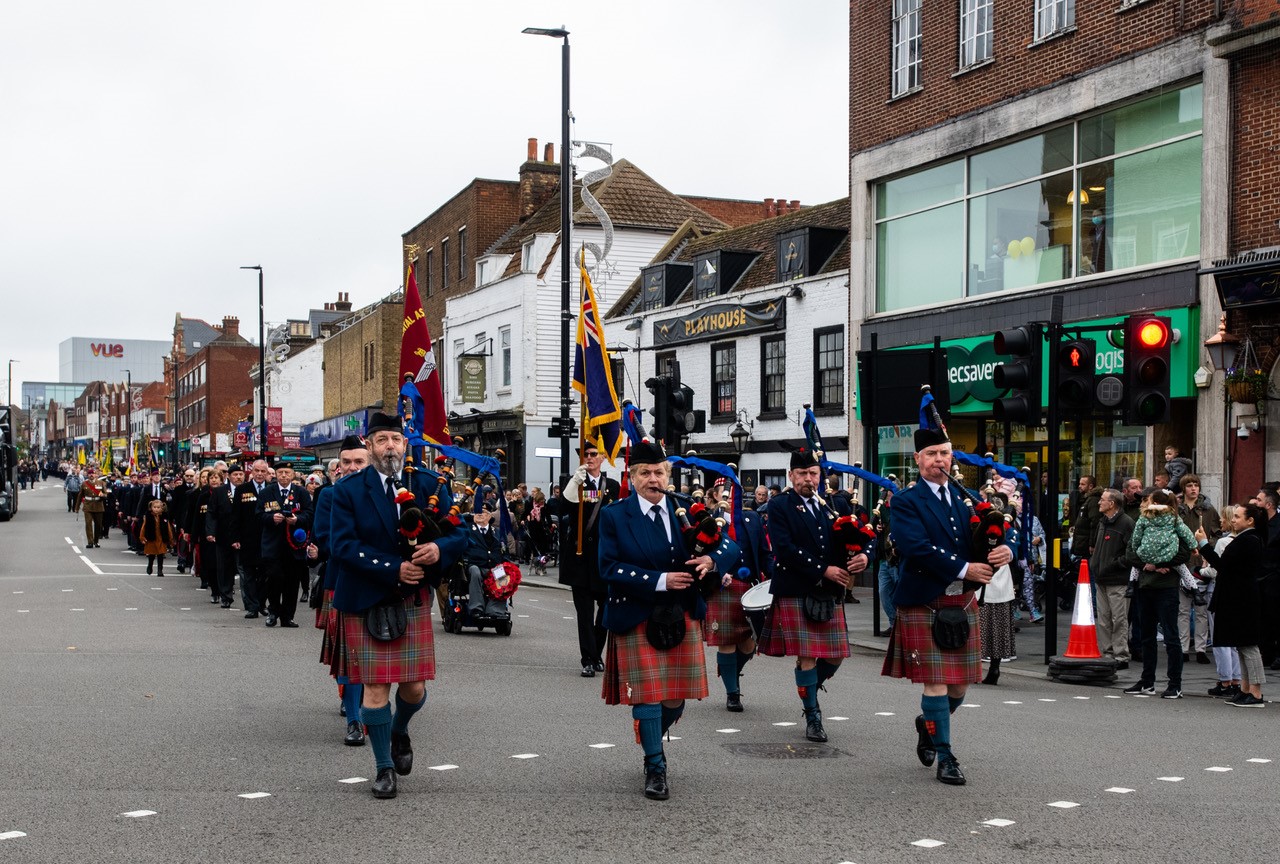 Published: Friday, 20th October 2023
This upcoming Remembrance Weekend, the Royal Borough of Greenwich will be hosting events alongside local Royal British Legion.
These will include a two minute silence, wreath laying ceremonies, Remembrance services and a parade for the public to attend in memory of those who lost their lives serving in the causes of peace and freedom.
Councillor Dominic Mbang, Mayor of the Royal Borough of Greenwich said: "As a Royal Borough with a rich military heritage, it is crucial for us to remember and honour those who have served in the Armed Forces. I hope we all use this Remembrance Weekend to attend one of the events in the borough and reflect on the contributions of service people past and present."
Last year the Council re-signed the Armed Forces Covenant on Armistice Day, 11 November 2022 at Woolwich Town Hall. The Covenant is a promise by the nation ensuring that those who serve or who have served in the Armed Forces, and their families, are treated fairly.
Councillor Adel Khaireh, Cabinet Member for Equality, Culture and Communities said: "Remembrance Weekend is an important opportunity for the borough to come together and pay our respects in memory of those who have lost their lives in service. Those in the Armed Services as well as their family and loved ones make incredible sacrifices for our communities. It is our responsibility to not only recognise these sacrifices but ensure that we continue to support them."
Friday 10 November
2pm | Wreath laying ceremony | Memorial Hospital, Shooters Hill SE18
3pm | Wreath laying ceremony | Greenwich Cemetery, Well Hall Road SE9
Saturday 11 November
10.55am | Wreath laying with Royal British Legion Abbey Wood and Thamesmead Branch | Thamesmead War Memorial, Thamesmead Clocktower SE28
11am | Wreath laying with Royal British Legion Blackheath and Charlton Branch | War Memorial Maze Hill SE10 following on to St Johns Church, Stratheden Road SE3, followed by St. Luke's Church, Charlton Village SE7 and Charlton Cemetery, Cemetery Lane SE7
11am | Wreath laying (organised by Berkeley Homes) | War Memorial Carriage Street SE18
12noon | Wreath laying with Royal British Legion Abbey Wood and Thamesmead Branch | Plumstead Cemetery, Cemetery Road SE2, following on to Woolwich New Cemetery, Camdale Road SE18
Sunday 12 November
10.45am | Remembrance Day parade and service held by Royal British Legion Eltham and Well Hall Branch, joined by veterans, ex-service groups and youth organisations | Eltham War Memorial, at the junction of Eltham High Street and Eltham Hill SE9, 11am Two Minutes Silence, Remembrance Service to follow in St. John's Church, Eltham Hill SE9
10.40am Remembrance Service organised by Royal British Legion Abbey Wood and Thamesmead Branch | St. Michaels and All Angels Church, Abbey Wood Road SE2, following on to Abbey Wood Memorial Gardens, Rosedale Road SE2
10.45am Remembrance Day Service | Woolwich Garrisons Church, Grand Depot Road SE18 (please email Tim Barnes at tim@ttbarnes.com if you would like to attend)