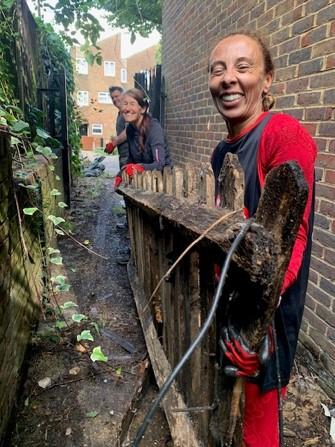 Published: Thursday, 12th October 2023
Local residents on the Woolwich Common Estate came together on 22 September to take part in the first clear-up day on the estate.
The event was part of the Woolwich Common Estate co-operative project, a new co-operative community project spearheaded by the Council's Cabinet Member for Community Safety and Enforcement and launched as a pilot in July.
Targeted outreach work took place with residents to engage them in prioritising activities to help improve the environment around the estate – helping to make it a cleaner, greener and safer place to live. Other planned activities will also include growing foods and supporting residents in taking more control of the safety, security and look and feel of their estate.
Councillor Ann-Marie Cousins, Cabinet Member for Community Safety and Enforcement, said: "It is great to see so many residents take part in the first clear-up day since we established this co-operative on the Woolwich Common Estate.
"We know that residents want to live in clean, safe and tidy environments and it is obvious they are willing to work with us to make it happen. This demonstrates what is achievable when residents are empowered to take control of their environment. Well done to everyone involved.
"I hope to see even more communities in our borough follow this pilot started in Woolwich Common and work together to make positive changes in their neighbourhoods, their living conditions, getting to know their neighbours and also yielding benefits to their personal mental health."
The Council's caretaking teams and staff from the council-commissioned Greenwich Co-operative Development Agency (GCDA) worked alongside residents to clear rubbish including food and drink litter, cardboard boxes, bed units and mattresses and even a bathroom hand basin and a toilet cistern. By the end of the day, six rubbish vans used by the caretaking team were loaded with rubbish from the clear-up.
In addition, since the first event a group of residents – calling themselves the Woolwich Warriors – have worked alongside the caretaking team to continue the estate clear up and post 'before and after' photos on the board in the main foyer of the Woolwich Common Community Centre.
Get involved
Additional clear-up days will take place on Friday 13 October 2023 and Friday 20 October 2023 from 10am to 1pm and 2 to 5pm with a free lunch for all volunteers.
The events are open to anyone who would like to volunteer, just email jane@gcda.org.uk or drop into the Woolwich Common Community Centre, 17 Leslie Smith Square, London SE18 4DW