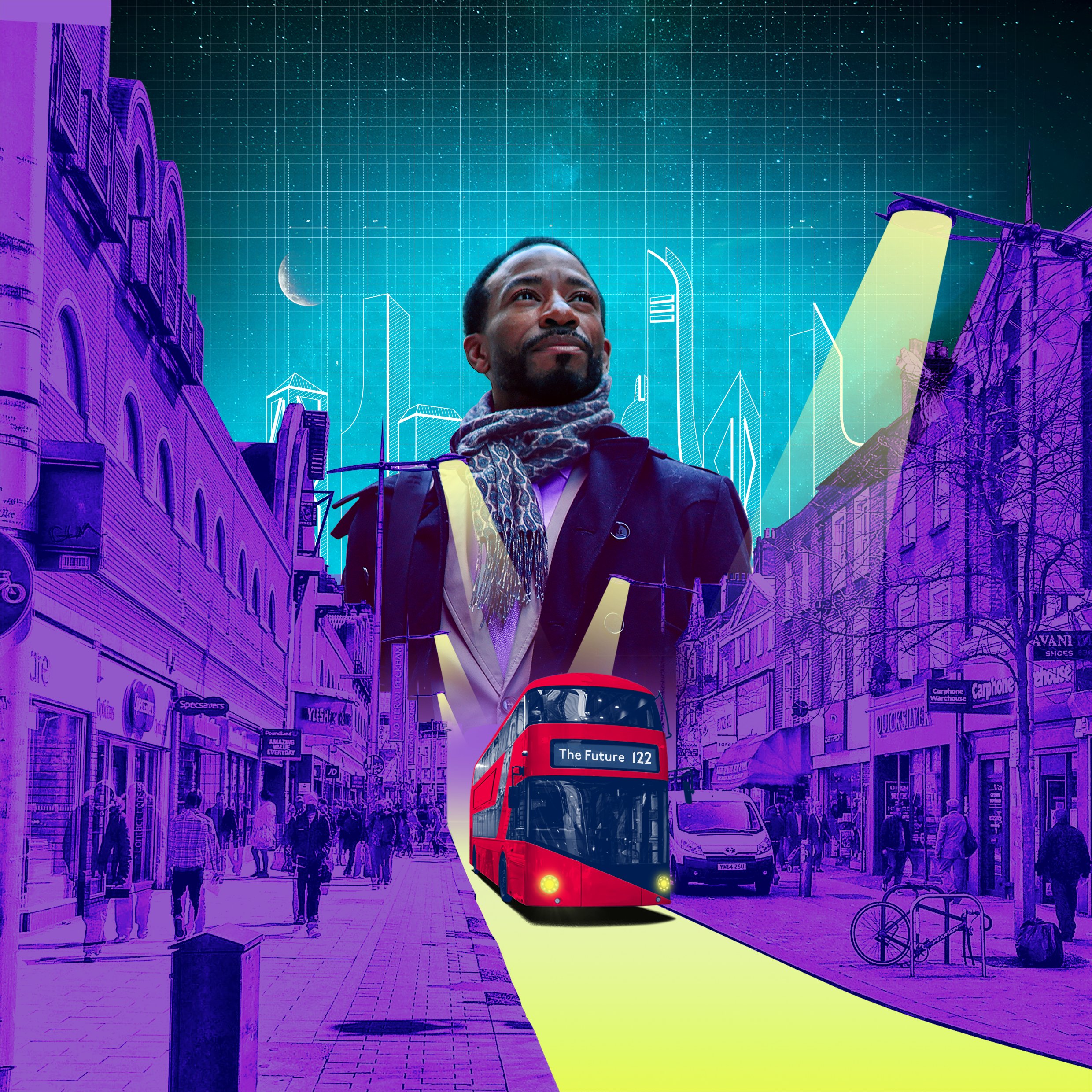 Published: Wednesday, 6th September 2023
For five nights only, Woolwich town centre is home to immersive theatrical performance The Architect's Dream, as part of Greenwich and Docklands International Festival and Royal Greenwich Festivals.
Inspired by the legacy of Stephen Lawrence, who was murdered in an unprovoked racist attack on 22 April 1993, the standalone performance is the free finale to the sold-out show, The Architect. It introduces a 48-year-old Londoner of Caribbean heritage, who has fulfilled his life-long dream of becoming a builder of cities.
As he steps off a double decker bus into General Gordon Square, he'll share his vision for a future that embraces everyone.
Councillor Adel Khaireh, Cabinet Member for Equality, Culture and Communities, said: "The Architect reflects on the legacy of Stephen Lawrence 30 years on from his murder and imagines a future where he would have thrived in his dream of becoming an architect.
"Arts and culture help us interpret the world around us, our heritage and history, and imagine a more positive future. We're committed to ensuring Royal Greenwich is a place where everyone is inspired to reach their full potential, without barriers or discrimination."
"That's why we created the Royal Greenwich Festivals programme, to make arts and culture accessible to people from all backgrounds across the borough. Join us in General Gordon Square this week to watch world class theatre free of charge."
Councillor Anthony Okereke, Leader of the Royal Borough of Greenwich, said: "We're proud to welcome the internationally renowned Greenwich and Docklands International Festival to our borough once again as part of our Royal Greenwich Festivals programme."
"Set in the heart of Woolwich Town Centre, The Architect's Dream will ensure that the legacy of Stephen Lawrence continues to be shared with our communities. By exploring his story through the arts, we can reflect on and learn from the past and motivate the next generation to imagine the future they want to build."
Watch the Architect's Dream in General Gordon Square:
Wednesday 6, Thursday 7 and Friday 8 September | 7.20 and 9.20pm
Saturday 9 and Sunday 10 September | 3,20, 7.20 and 9.20pm
The Architect and The Architect's Dream were conceived by Mojisola Adebayo, Roy Williams and Matthew Xia, and created with a collective of leading Black artists including Bola Agbaje, Dexter Flanders, Vanessa Macauley and XANA.
They are produced by Actors Touring Company and Greenwich and Docklands International Festival, in association with the Stephen Lawrence Day Foundation.