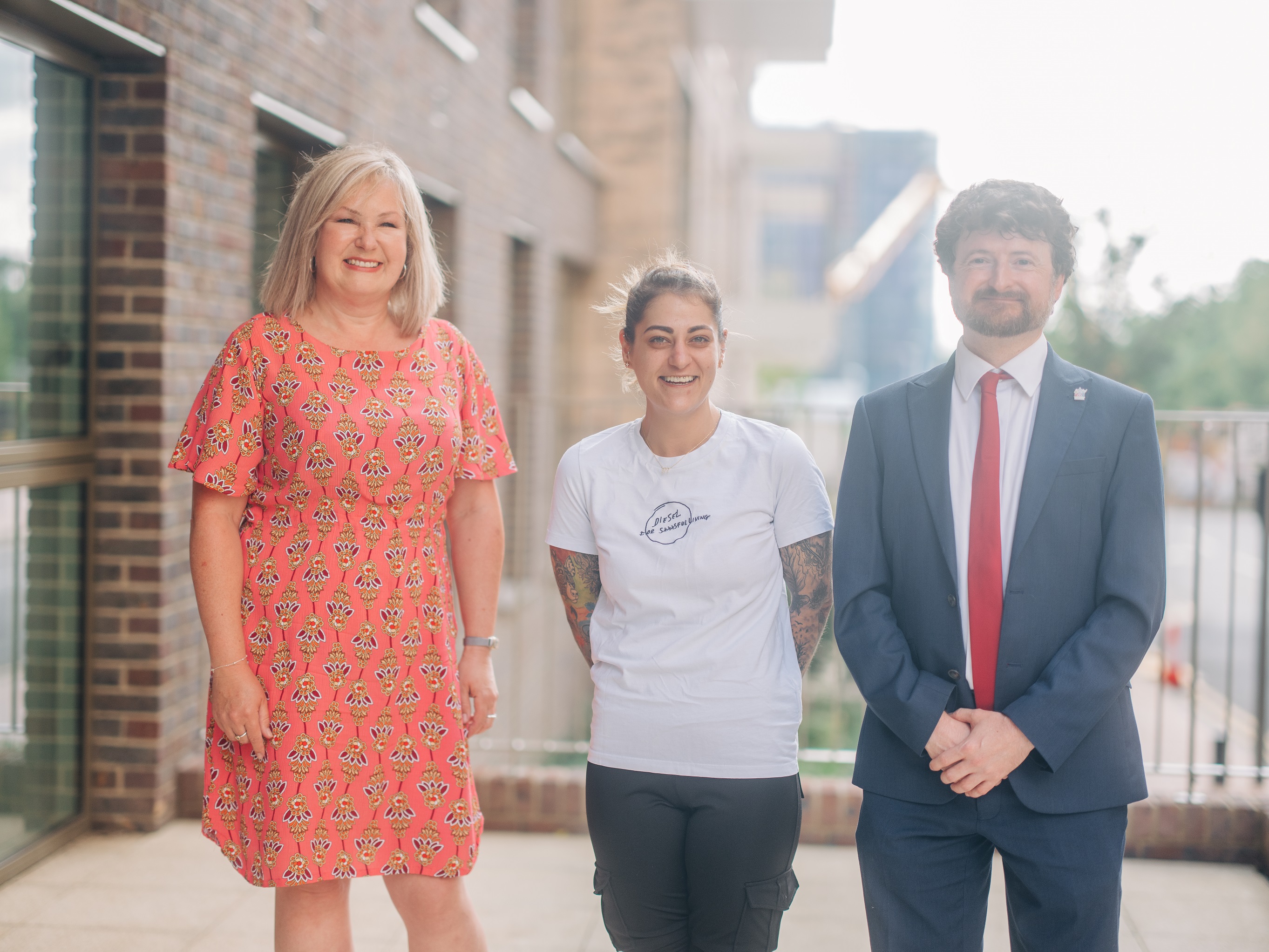 Published: Thursday, 17th August 2023
Councillors visited tenants in new homes at Kidbrooke Village to see how our collaboration with housing associations and private developers is maximising the creation of truly affordable homes.
Working together with L&Q Homes and developer Berkeley we were able to secure the building of 1,942 affordable properties as part of the regeneration of the old Ferrier Estate.
In total 5,268 new homes will be built at Kidbrooke Village, and of the affordable properties 854 will be let to local people on our housing register through the Choice Based Lettings system. A further 1,052 properties are for shared ownership, while 36 are for discount market sale. This allows people who would otherwise be locked out of private ownership to get a foot on the property ladder.
These homes are in addition to the 1,750 council homes we are creating with our Greenwich Builds programme.
Cabinet Member for Regeneration Councillor Aidan Smith and Councillor for Kidbrooke Village & Sutcliffe Sandra Bauer were shown a model of how the estate will look upon final completion in 2031 before being taken on a tour of the newly completed Helio House, where they met tenants Deborah and Rahman and their families.
Deborah explained how positive it had been to move from a one-bedroom home to a three-bedroom apartment: "The children are over the moon… My daughter loves it here!". She also praised the local area: "The neighbourhood is wonderfully multicultural… I do all my shopping in this area, I can get whatever I need".
Rahman was similarly enthusiastic about the new home he shared with his family: "Happy home. Happy family. Happy community!".
Cabinet Member for Regeneration Councillor Aidan Smith said:
"We have pioneered a multi-strand approach to affordable home-building in Royal Greenwich, ensuring that we maximise every opportunity for creating the homes local people need."
"Our partnerships with housing associations and developers is one cornerstone of this strategy, and Kidbrooke Village shows the benefits it can bring: modern, high-quality, secure housing for people on the housing waiting list, with shared ownership for those in our borough who want an affordable way onto the property ladder. We loved meeting Deborah and Rahman and their families, and hearing how these homes are transforming lives for the better."
Karl Whiteman, Divisional Managing Director for Berkeley said: "The completion of Helio House at Kidbrooke Village is a great example of what can be achieved by working in partnership with L&Q and The Royal Borough of Greenwich. I sincerely hope these new residents enjoy being part of the vibrant community which represents all that is good about living in London."
Neil Davis, Development Delivery Director at L&Q, said: "At L&Q we believe that homes matter to everyone and our mission is to combine our social purpose and commercial drive to create homes and neighbourhoods everyone can be proud of."
"We believe we have achieved this at Kidbrooke and we were very proud today to welcome our partners Berkeley Homes and the Royal Borough of Greenwich into some of our residents affordable rent homes."
"While the growing need for more genuinely affordable homes is painfully obvious, it is also becoming increasingly difficult to deliver. So we are very grateful for Berkeley Homes and the Borough's support in getting us here."