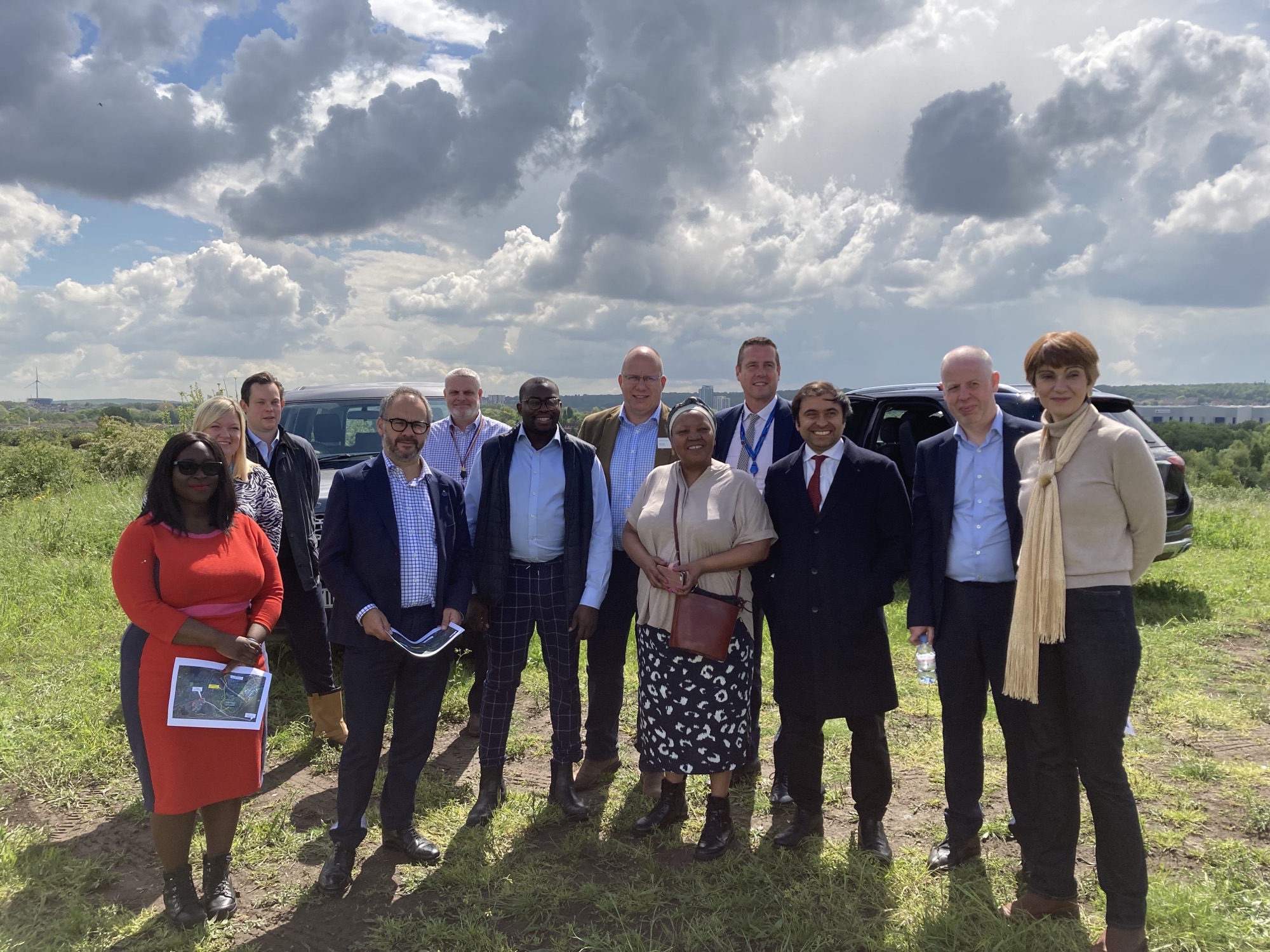 Published: Wednesday, 17th May 2023
Minister for London, Paul Scully, has visited Royal Greenwich to hear about proposals for an extension of the Docklands Light Railway (DLR) to Beckton Riverside and Thamesmead.
Councillors from Royal Greenwich and Newham councils, and representatives from Transport for London (TfL) welcomed the Minister to a development site in Thamesmead to talk about the proposed extension which will help bring forward 25,000 new homes on both sides of the River Thames.
Leader of the Royal Borough of Greenwich, Cllr Anthony Okereke, said: "Thamesmead is an ambitious, growing community and DLR would transform the area, just like the Elizabeth line has done for Woolwich and Abbey Wood. Thamesmead is the only postcode area without access to direct train connections to London, and that limits its potential for growth. We were delighted to show the Minister the site and demonstrate how important this is for Thamesmead. This project is a vital part of our ongoing efforts to improve connectivity in the area, and make much needed new housing and jobs accessible to our residents."
Cllr Averil Lekau, Deputy Leader of the Council and Cabinet Member for Climate Change, Environment and Transport, said: "The DLR extension would provide a vital transport link for the local community, making it easier and more convenient for people to travel into London. This is critical to helping us reduce our carbon emissions and delivering our Carbon Neutral Plan, as it will encourage more people to use public transport. It would enable the development of around 15,000 new homes in Thamesmead, alongside 10,000 new homes in Newham, which would help in tackling the national housing shortage."
The exciting proposals would see the DLR train network extended from Gallions Reach to new stations at Beckton Riverside in Newham and Thamesmead in Royal Greenwich. The project also includes a new bus transit route that would connect Thamesmead to the Elizabeth line at Woolwich and Abbey Wood, offering an efficient and attractive journey.
The two councils, TfL, the Greater London Authority (GLA), Department for Levelling Up, Housing and Communities (DLUHC) and local landowners are working together to campaign for the proposals. The partnership, known as the Thamesmead and Beckton Riverside Public Transport Delivery Board, are asking for the government to help support work on feasibility studies and development of the proposals.
The group were also joined by landowners including Peabody, Abrdn and St William, who detailed the economic benefits new development and improved connectivity would bring for both local residents and businesses. The new homes would be complemented by 55 hectares of open space, shops, leisure and cultural facilities.