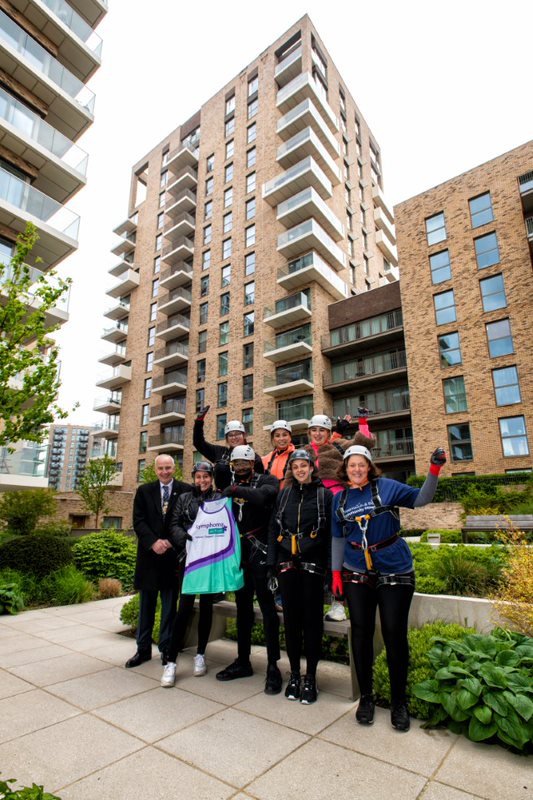 Published: Friday, 12th May 2023
68 people raised over £20, 000 for Greenwich & Bexley Community Hospice and Lymphoma Action in a charity abseil hosted by the Mayor of the Royal Borough of Greenwich.
The mayor, Councillor Leo Fletcher, teamed up with Berkeley to host the fundraising event on Thursday 27 April in aid of his charity appeal. Participants braved the 17 story abseil down Loder House, a residential building in Kidbrooke Village's Pegler Square.
Leader of the Council Anthony Okereke, Deputy Leader Averil Lekau and Councillors Clare Burke-McDonald, Issy Cooke, Calum O'Byrne Mulligan and Majid Rahman all took part, alongside council officers, residents, local businesses and Berkeley staff.
The event takes the total raised by the Mayor for his appeal charities to £40, 000.
Cllr Fletcher, said: "I am over the moon we've raised such a huge amount for Greenwich & Bexley Community Hospice and Lymphoma Action. Thank you to everyone who took part in this challenge. Seeing so many people face their fears to support my charity appeal was truly inspiring.
"These funds will make a huge difference to the families supported by both charities. Greenwich & Bexley Community Hospice supports people within our communities with a terminal illness and two thirds of their funding comes from supporters just like our brave abseilers.
"Lymphoma Action is the only UK charity dedicated entirely to lymphoma, which is in the top five most common cancers diagnosed in this country. It's a cause very close to my heart and helps thousands of people every year."
Paul Prichard, Divisional Development Director for Berkeley East Thames took part in the charity abseil and said: "It was scary leaning backwards at the top but it was an incredibly exhilarating experience and something I am very proud to have been part of.
"To see over 60 people take the time out of their day to come and raise money for the Mayor's two chosen charities in such a daring way was incredible. A big thanks must go to all of those involved in making this event possible and for the local community for coming out to cheer us on from the Village Square."
If you'd like to support the mayor's charity appeal, you can donate at www.justgiving.com/mrgaf