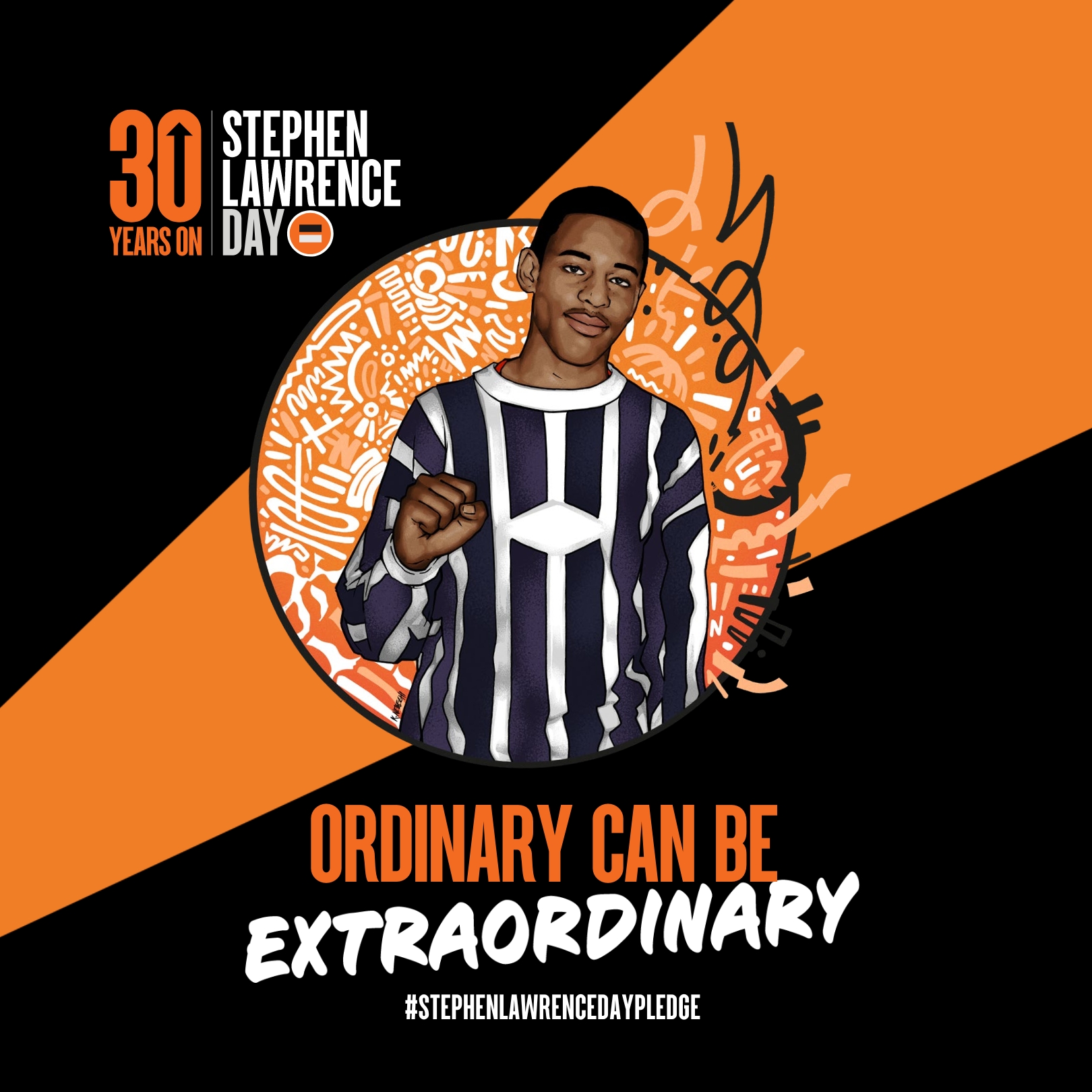 Published: Tuesday, 11th April 2023
Stephen Lawrence Day / 30 years on / Ordinary can be extraordinary / #StephenLawrenceDayPledge
On Saturday 22 April, the Royal Borough of Greenwich invites residents to mark the 30th anniversary of the death of Stephen Lawrence with a community event in Woolwich.
Stephen Lawrence was murdered in an unprovoked racist attack on 22 April 1993. Stephen Lawrence Day is a celebration of his life and legacy that takes place annually on the anniversary of his death.
Stephen had ambitions to use his talent for maths, art, and design to become an architect, and wanted to have a positive impact on his community.
The Council will be remembering Stephen at an event from 11am to 4pm in General Gordon Square, Woolwich, where people will contribute to a piece of artwork exploring the Stephen Lawrence Research Centre's theme of 'Hopeful Futures'. Everybody will be able to add to a vision of the future where all our communities live life to the full and enjoy the same opportunities as friends and neighbours across the borough and beyond.
Cllr Anthony Okereke, Leader of the Royal Borough of Greenwich, said: "The Royal Borough of Greenwich shares the aspirations of the Stephen Lawrence Foundation to learn from the tragedy of Stephen's death. We want to create a future in which he would have thrived and succeeded in his dream of becoming an architect.
"As we come together to celebrate Stephen's legacy 30 years on, our thoughts are with everyone who knew and loved him. I hope that by continuing to share his story with the young people of our borough, we can motivate a new generation to drive forward the changes we still need to see in our society."
Cllr Adel Khaireh, Cabinet Member for Equality, Culture and Communities, said: "We continue to face the challenge of discrimination and we acknowledge that there is still much progress to be made.
"We are committed to making sure our borough is one where everyone is inspired, encouraged and supported to realise their full potential, without barriers or discrimination."
"Our Equality and Equity Charter has now been signed by 388 organisations within Royal Greenwich and we know many, many more share our vision to end inequality. Together we can continue Stephen's legacy and create a community where everyone is set up to succeed."
The Council, architects HTA Design and Thomas Tallis school have also joined together to commemorate the anniversary and celebrate the potential of young people to realise their dreams and design hopeful futures. A group of year 12 students worked with architects to learn about Stephen's story. They have developed a mural which will be installed on hoardings around our Kidbrooke Park Road council home building scheme. The artwork will be unveiled at a ceremony on Thursday 20 April.
Cllr Aidan Smith, Cabinet Member for Regeneration, said: "The Royal Borough of Greenwich is committed to working with contractors who support the principles of equality and equity. HTA Design offers opportunities to aspiring young designers as part of their social value outreach programme.
"They have designed a number of council home schemes under the Greenwich Builds programme, which will create 1,750 new council homes for local people on the housing waiting list. We are proud to be working with an organisation that shares the Council's values of creating an equitable future for all of our young people."
About the Equality and Equity Charter
Royal Greenwich is a vibrant, dynamic borough and home to many diverse communities – which is one of our greatest strengths. However, this diversity also presents challenges and inequalities which need to be addressed to make sure our borough is a place where everyone can succeed and prosper, no matter what your background.
Our Equality and Equity Charter sets out pledges to promote the values of equality, diversity and inclusion. We have a key role in shaping what life is like in Royal Greenwich, but we cannot do this alone.
We are encouraging local organisations to sign the charter and commit to its eight pledges, so that we can unlock opportunities for all people across our borough.