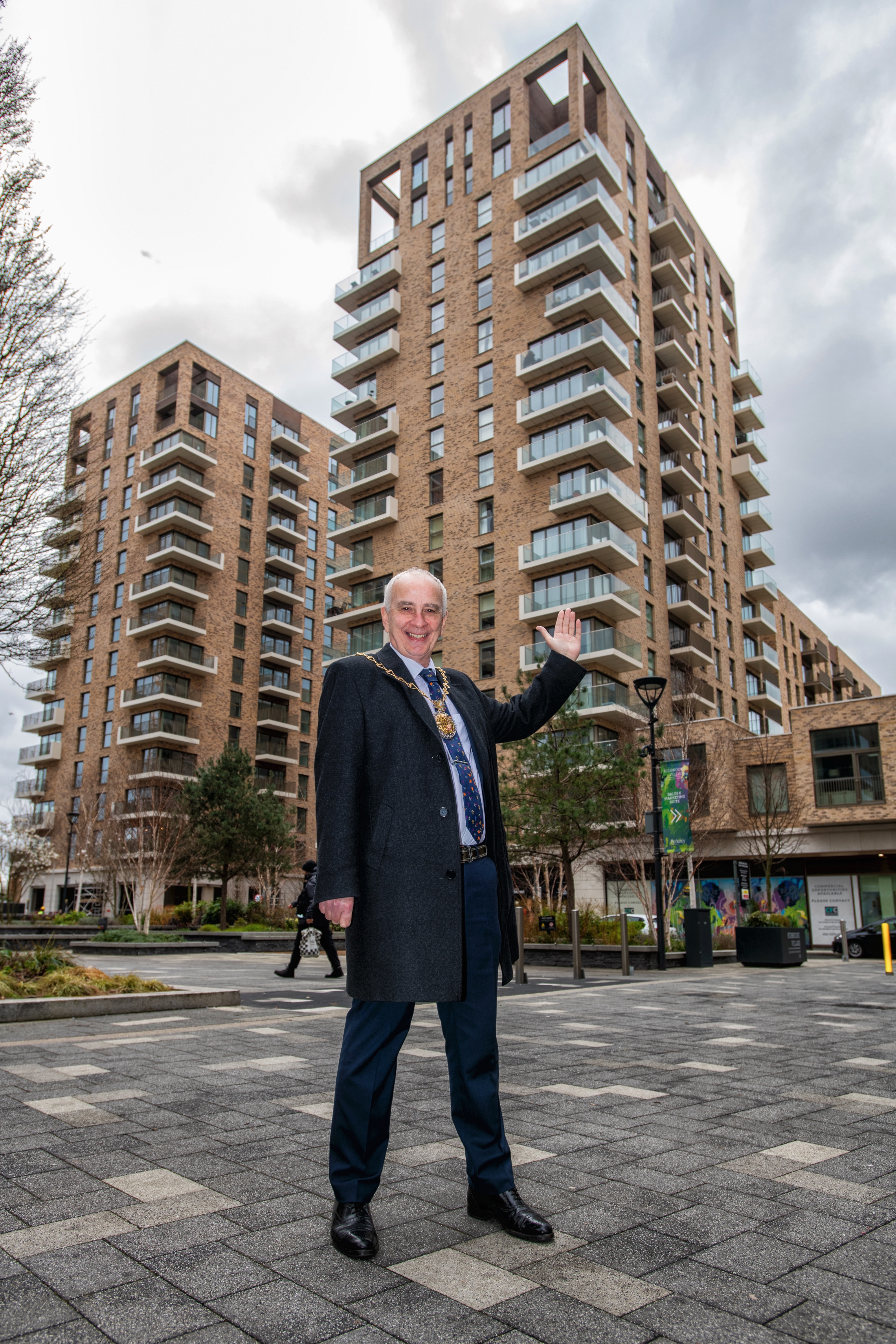 Published: Wednesday, 5th April 2023
The Mayor of the Royal Borough of Greenwich Councillor Leo Fletcher has teamed up with Berkeley, to host a charity abseil on Thursday 27 April.
The challenge will raise much needed funds for his charity appeal, which supports his chosen charities: Greenwich and Bexley Hospice and Lymphoma Action.
Almost 100 Councillors, council officers, residents and Berkeley staff will be scaling Loder House, a 17-storey residential building in Kidbrooke Village's Pegler Square.
The event marks the end of Cllr Fletcher's term as Mayor of the borough, which has so far seen him raise £22,500 for his appeal charities.
Cllr Fletcher, said: "I am thrilled to be able to end my term as Mayor of Royal Greenwich by hosting such an exciting fundraising event.
"Greenwich and Bexley Community Hospice provide vital support to local people living with a terminal illness, as well as their families and carers. They receive only a third of their funding from the NHS, so it's thanks to the generosity of the local community that they continue to be able to deliver their services.
"Lymphoma Action is the only UK charity dedicated entirely to lymphoma. As someone who has received treatment for Hodgkin's Lymphoma myself, it's a cause very close to my heart and I know how much of a difference their work makes."
"My thanks go out to everyone who is taking on this challenge, as well as Berkeley Homes who have made it all possible. It's sure to be a brilliant day, raising much needed funds for some brilliant causes."
Karl Whiteman, Divisional Managing Director for Berkeley East Thames, said: "We are proud to be sponsoring this event which will hopefully raise significant funds for the Mayor's chosen charities.
"We would like to wish all those taking part good luck and if they are after some advice, I would say don't look down when you are at the edge of the building!"
All council staff taking part will be doing so outside of their working hours or are using their annual leave to do so.
If you'd like to support the mayor's charity appeal, you can donate at www.justgiving.com/mrgaf
About Lymphoma Action
Lymphoma Action re the UK's only charity dedicated to lymphoma, the 5th most common cancer. They have been providing trusted information and support for over 35 years, helping thousands of people affected by lymphoma.
Their mission is to make sure no one faces lymphoma alone.
If you're in need of support, you can call their free helpline on 0808 808 5555.
About Greenwich and Bexley Community Hospice
The Hospice is a local charity dedicated to providing free, high-quality, compassionate care and support for people with terminal illnesses, their families, and their professional carers in the London Boroughs of Royal Greenwich and Bexley.
They care for over 2,500 people each year in the community; in their homes, care homes, our Hospice beds, Hospice-based clinics, local prisons and in hospital.
They receive only about one third of our funding from the NHS, which means that they depend on the generosity of the community to fund much of the care they provide for local people.