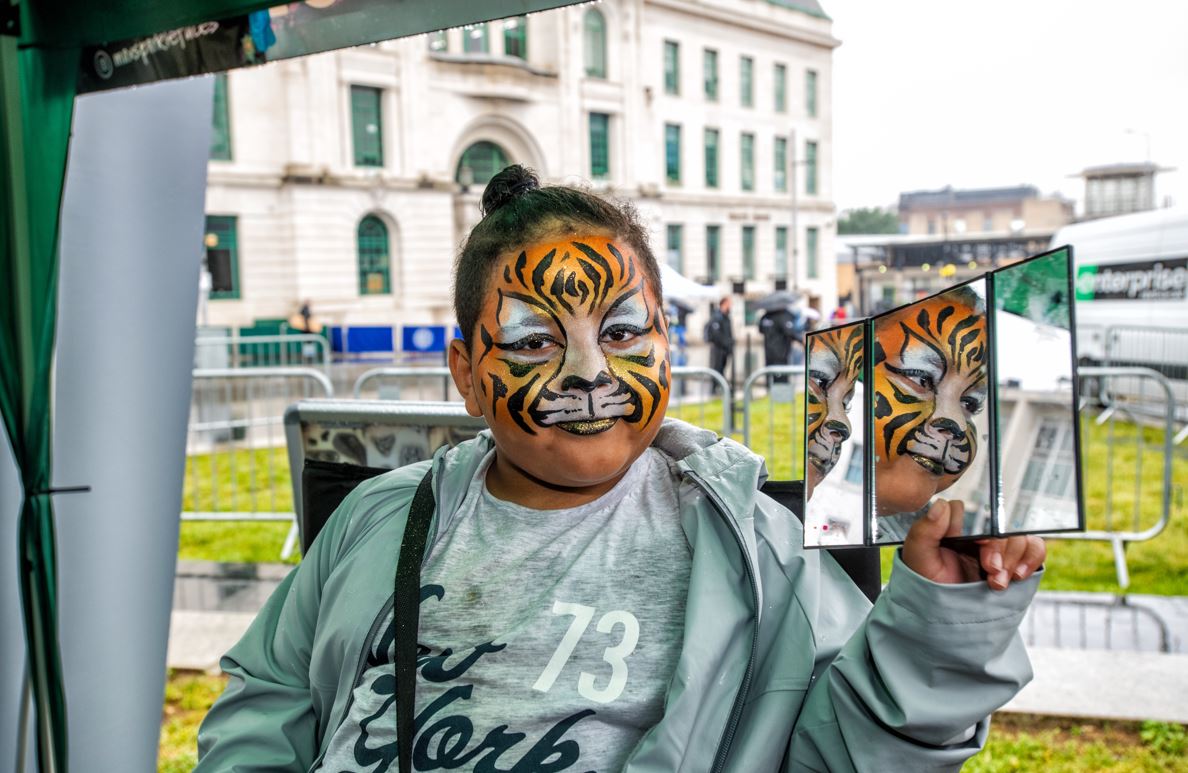 Published: Friday, 31st March 2023
Holiday Fun Friday is back this Easter and will continue after dark for the second time, as part of the spectacular Woolwich Lates programme.
Come along for a free family day out on Friday 14 April in General Gordon Square in Woolwich. The event kicks off at 10am and the fun will carry on until 8pm.
Get stuck into free arts, crafts and activities, support local market traders and don't miss some exciting fire performances and African drumming workshops.
Cuisine from across the globe will be on offer from local food vendors, including stone baked pizza, gourmet burgers, Caribbean jerk chicken and West African dishes.
Be sure to check out Beresford Square Market too, open from 9am to 8pm. The market's hours are extended during Ramadan for those who are fasting during the day.
Councillor Adel Khaireh, Cabinet Member for Equality, Culture and Communities, said: "As a parent or carer, the school holidays can be challenging with extra childcare costs and finding affordable ways to keep the kids entertained.
"If you're looking for free things to do, come along and join us on Friday 14 April in General Gordon Square for a free day of family fun, and have a go at sport, African drumming, arts and crafts. Stick around into the evening for Woolwich Lates, when a fire performer will light up the sky!"
Councillor Mariam Lolavar, Cabinet Member for Inclusive Economy, Business and Skills, said: "Following the huge success of our first ever Woolwich Lates Event, we've teamed up with Holiday Fun Fridays for a second time.
"The Mayor of London has awarded Woolwich Night Time Enterprise Zone status in response to our programme for Woolwich Lates, which aims to boost Woolwich's high streets after 6pm with innovative events, public realm interventions and business support.
"We can't wait to welcome residents to General Gordon Square once again to show what your local town centre has to offer after dark, boost our high streets and support our local businesses."
What's on?
Local singers

Easter trail

African drumming workshop
Fire performer

Meet and greet with 'Hey Duggee'

Princess story time

Arts and crafts

Giant lawn games
Meet the police and fire brigade until 4pm

Special offers at businesses on the high street*

Arts and crafts, seed planting and food workshops at Woolwich Front Room until 6pm
Plus, food, drink and market stalls, funfair rides, a bouncy castle and face painting throughout the day!
Why not continue the fun with a comedy night at Tramshed?
Woolwich Lates is supported by the Mayor of London's Night Time Enterprise Zone and Night Czar Amy Lamé. The programme is aimed at boosting high streets and town centres for the benefit of businesses and residents. Find out more.
If you have a suggestion, or want to be part of Woolwich Lates, email the Business team on business@royalgreenwich.gov.uk
See full Holiday Fun Friday calendar
Friday's business offers:
Al-Safa Restaurant & Grill New business, formerly Blue Nile - 20% off homemade dishes, 15% off everything else
AT VR Free entry into the VR lounge worth £10; Free flowing pizza at half price, from £20 to £10
Cell Fone City 15% off new or refurbed phone and repairs
The Cakery 10% off on all types of cake
The Coffee Lounge 15% off on delicious thin-crust pizza from 4pm to 9pm
Duck Duck Pork 10% off
Fab Nails Nail specialist doing 10% off on all treatments
German Doner Kebab 10% off
Harry Perry Cycles 10% off on a purchase of a new bike costing £300
Hitachi Sushi 10% off
Kailash Momo 10% off on all meals excluding alcohol
Luxor Home Furniture 5% off a minimum spend of £100
Maya DD's 10% off on all meals excluding alcohol
Royal Kebab 10% off
Royal Rooster 10% discount
Sapranos 10% off
Snappy Snaps 10% off on all products
Square Bubbles Tea Save £2 when you buy any drink with a 'croffle', and enter the Prize Draw for a chance to win free drinks, special discount and gift cards.
Urban Ice Dessert parlour offering
ViB Bar 10% off on all food and drinks
Victorious Photo Studio 15% off all photo packages
Viet Baguette 10% off on all food and drinks
Tramshed Comedy at Tramshed Meal Deal. 12" pizza and drink from £10 to be purchased alongside your ticket
Xposed Fashions 10% off, excluding sale items
Check out the Enjoy Local website to plan your evening out in Woolwich.
Woolwich Lates is supported by the Mayor of London's Night Time Enterprise Zone and Night Czar Amy Lamé. This initiative is aimed at boosting our high streets and increasing activity later into the evening, for the benefit of our businesses and residents.