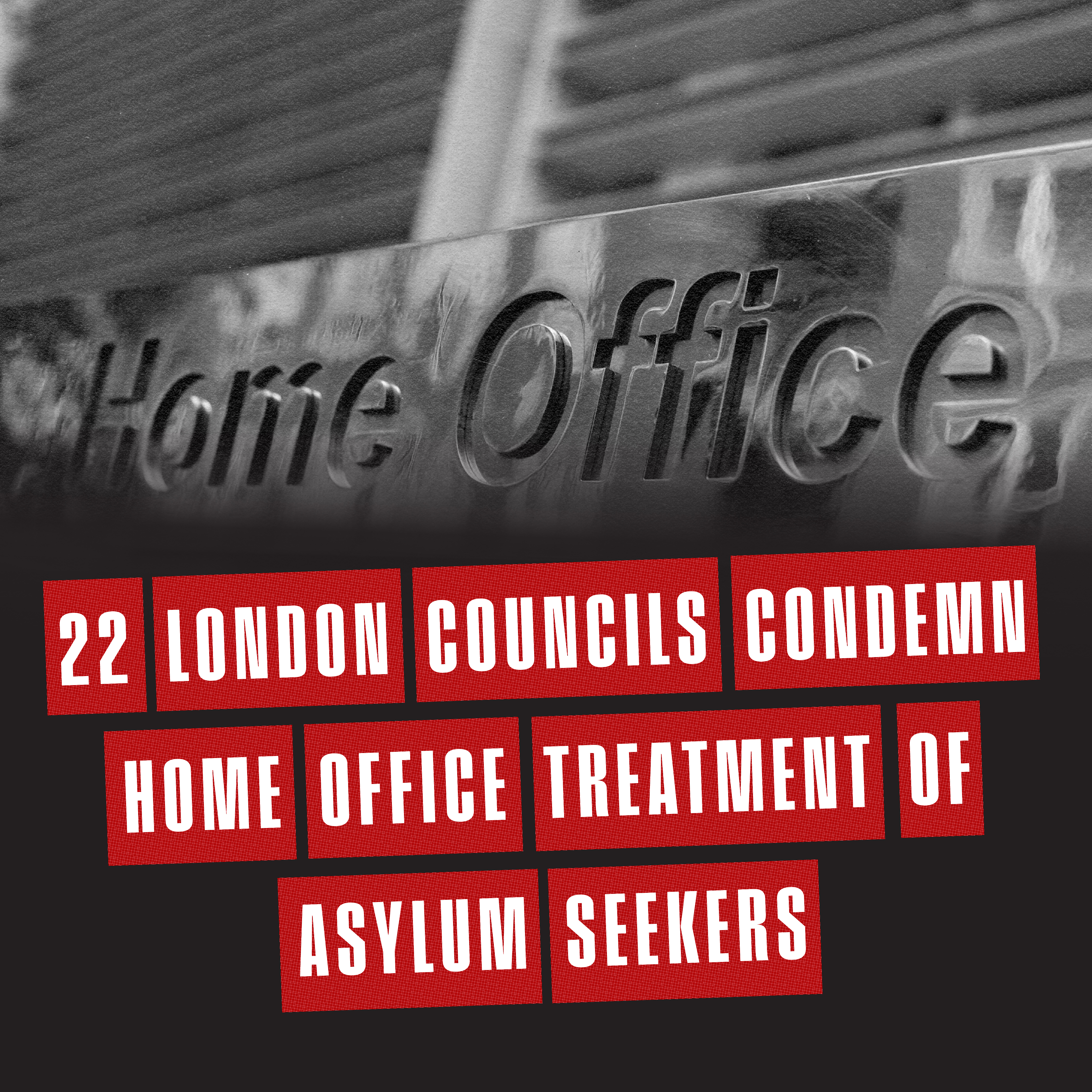 Published: Monday, 13th March 2023
Two thirds of councils in London condemn Home Office treatment of asylum seekers.
Twenty-three London councils have written to Suella Braverman to condemn the treatment of asylum seekers living in hotels across the Capital and the UK.
Following the removal of over 100 people from a hotel in Greenwich to Dunstable, Bedfordshire (more than 50 miles away), the letter urges the Government to take immediate action to prevent further suffering.
It sets out four key areas of improvement of the treatment of asylum seekers in hotels, including stopping the removal of people at only hours' notice, improved communication and transparency with local authorities, ensuring basic needs are met including food and healthcare provision, and finding a permanent housing solution for people stuck in hotels.
The letter, led by the Royal Borough of Greenwich, has been co-signed by the London Boroughs of Barking and Dagenham and Hammersmith and Fulham, and Barnet, Brent, Camden, Ealing, Enfield, Hackney, Haringey, Hounslow, Islington, Lambeth, Lewisham, Newham, Redbridge, Southwark, Tower Hamlets, Waltham Forest, Wandsworth and Westminster City Councils.
Councillor Anthony Okereke, Leader of the Royal Borough of Greenwich said: "It is appalling that people who have spent months and sometimes years rebuilding their lives, studying, volunteering and establishing community links, are now being removed and placed miles away from their new homes against their wishes."
Cllr Denise Scott-McDonald, Cabinet Member for Health and Adult Services, and lead signatory, said: "The removal of asylum seekers goes completely against our principles as a borough that welcomes refugees and migrants. That's why we have been trying to meet and work with the Home Office to find an alternative solution.
"Many people who have been moved or are waiting to be moved have told us they are incredibly frightened. While we appreciate that the Home Office is discharging its duty to provide accommodation to those seeking asylum, there must be a better way of doing it than this.
"We remain steadfast in our condemnation of the removal of people against their will and look forward to a timely response from the Home Office."
Local authorities have no control over the management or running of hotels housing asylum seekers – this is under the complete jurisdiction of the Home Office and its contractors.
The Royal Borough of Greenwich, like other signatories to this letter, has written to the Home Office on numerous occasions to raise significant issues over the treatment and welfare of asylum seekers, but has received minimal response.
List of signees (28 total):
Cllr Anthony Okereke, Leader of the Royal Borough of Greenwich
Councillor Denise Scott-McDonald, Cabinet Member for Health and Adult Services, Royal Borough of Greenwich
Cllr Darren Rodwell, Leader of the London Borough of Barking and Dagenham
Cllr Barry Rawlings, Leader of Barnet Council
Cllr Muhammed Butt, Leader of Brent Council
Cllr Nadia Shah, Cabinet Member for Voluntary Sector, Equalities and Cohesion, Camden Council
Cllr Peter Mason, Leader of Ealing Council
Cllr Nesil Caliskan, Leader of Enfield Council,
Phillip Glanville, Mayor of Hackney
Cllr Carole Williams, Cabinet Member for Employment, Skills and HR, Hackney Council
Cllr Stephen Cowan, Leader of the London Borough of Hammersmith and Fulham
Cllr Ben Coleman, Deputy Leader of the London Borough of Hammersmith and Fulham
Cllr Peray Ahmet, Leader of Haringey Council
Cllr Lucia das Neves, Cabinet Member for Health, Social Care and Well-being, Haringey Council
Cllr Shantanu Rajawat, Leader of Hounslow Council
Cllr Kaya Comer-Schwartz, Leader of Islington Council
Cllr Marcia Cameron, Cabinet Member for Healthier Communities (Job share), London Borough of Lambeth
Cllr Jim Dickson, Cabinet Member for Healthier Communities (Job share), London Borough of Lambeth
Damien Egan, Mayor of Lewisham
Cllr Juliet Campbell, Cabinet Member for Communities, Refugees and Wellbeing, Lewisham Council
Cllr Ross Garrod, Leader of Merton Council
Mayor Rokhsana Fiaz OBE, Newham Council
Cllr Jas Athwal, Leader of Redbridge Council
Cllr Jasmine Ali, Deputy Leader and Cabinet Member for Children, Young People, Education and Refugees, Southwark Council
Lutfur Rahman, Executive Mayor of Tower Hamlets
Cllr Grace Williams, Leader of Waltham Forest Council
Cllr Simon Hogg, Leader of Wandsworth Council
Cllr Adam Hug, Leader of Westminster Council