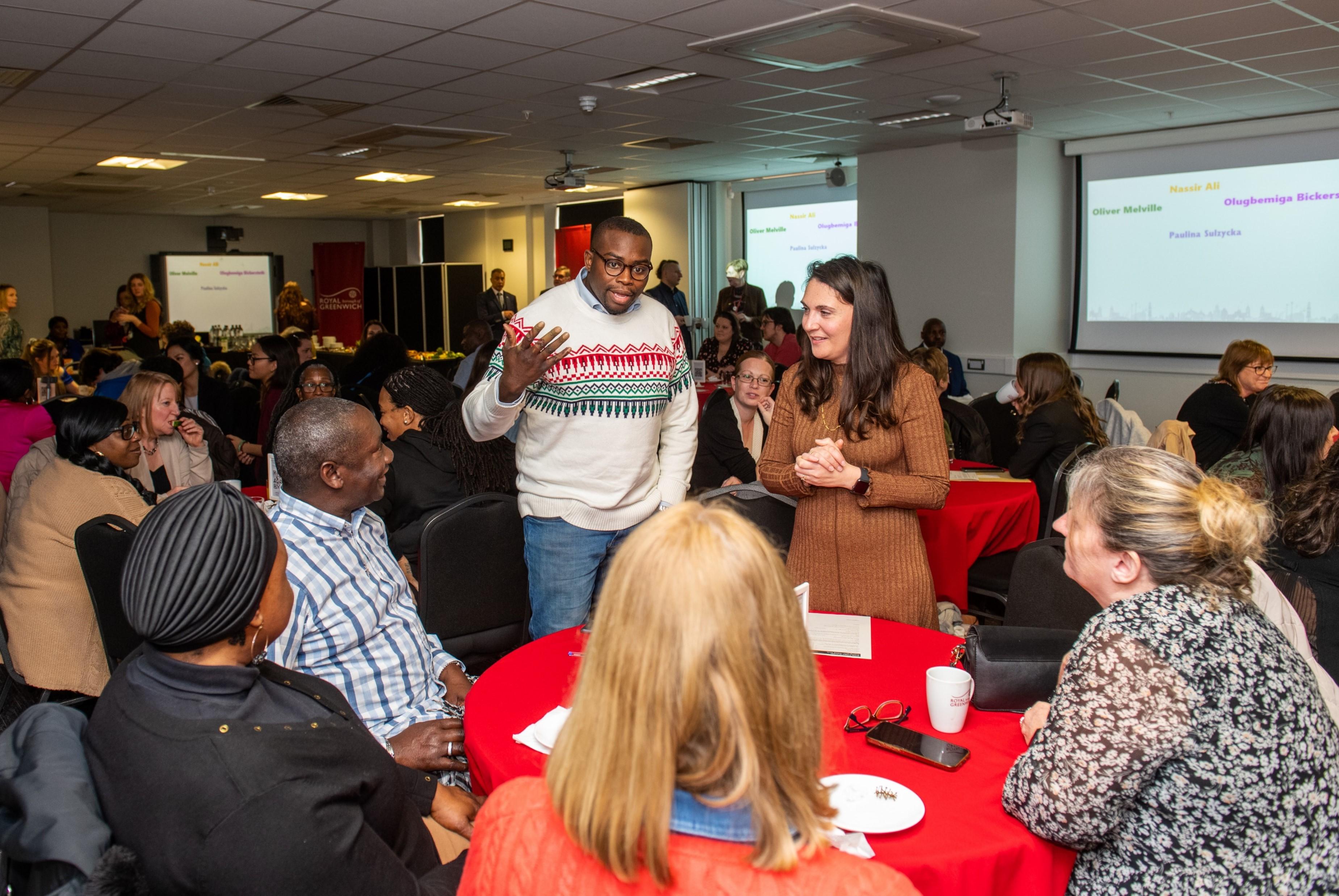 Published: Wednesday, 22nd February 2023
Royal Borough of Greenwich celebrates the achievements of their apprentices during a special graduation ceremony
On Thursday 9 February, during National Apprenticeship Week, the Royal Borough of Greenwich celebrated the amazing achievements of 64 apprentices during a special graduation ceremony. The event was held at The Professional Development Centre in Plumstead.
Council Leader, Cllr Anthony Okereke, attended alongside Cllr Mariam Lolavar, Cabinet Member for Inclusive Economy, Business and Skills, Mayor Cllr Leo Fletcher, local councillors, members of staff, and apprenticeship graduates who volunteered to speak about their apprenticeship journeys.
Through apprenticeships, our Council develops compassionate future leaders and people who care about the Royal Borough of Greenwich and its people, and who are committed to making the Council the best it can be. We remain strongly committed to apprenticeships.
Cllr Anthony Okereke, Leader of the Royal Borough of Greenwich
We want to inspire apprentices today and we recognise that they have the potential to become leaders of tomorrow. Our apprenticeship training programmes grow local talent to help people from all backgrounds accelerate their careers through academic qualifications and on the job experience.
Mariam Lolavar Cabinet Member for Inclusive Economy, Business and Skills
The theme for this year's Apprenticeship Week was 'Skills for Life'. There are apprenticeships in different vocational areas, ranging from business administration to health and social care, housing, and youth work, that result in accredited qualifications.
These placements are targeted at local people who have had very little opportunity to work or who have never worked.
I want others to see they can achieve any dream. I was taken on at 16 as an apprentice in customer services. I learned a lot about myself and the passion I have for helping people. Working in a face-to-face environment you come across rewarding and difficult challenges. I am now currently a team manager at Greenwich Council and truly loving every minute of it! I can look back now and see every hurdle, every bad day, every good day, the smiles and the tears were to lead me to where I am today.
Former Royal Borough of Greenwich apprentice Gemma Mordey, Registrars Team Manager Communications and Democratic Services
Apprentice opportunities with the Council
Greenwich Direct Apprenticeships (GDA's): is for applicants who have little or no previous work experience. These are full-time and part-time apprenticeships. They provide a nationally recognised apprenticeship qualification upon completion.
Trainee or Career Grade posts: attracts new recruits who are early in their careers. These posts can be either fixed term or permanent.
Continuous Professional Development Apprenticeships: provide an opportunity to upskill and support professional training for existing staff. They can learn on the job, improve their skills, and gain a recognised professional accreditation.
Fixed-term Apprenticeships: are placements that encourage those in their early careers to achieve the standards that they will need to be ready for work.
Benefits of Royal Borough of Greenwich Apprenticeships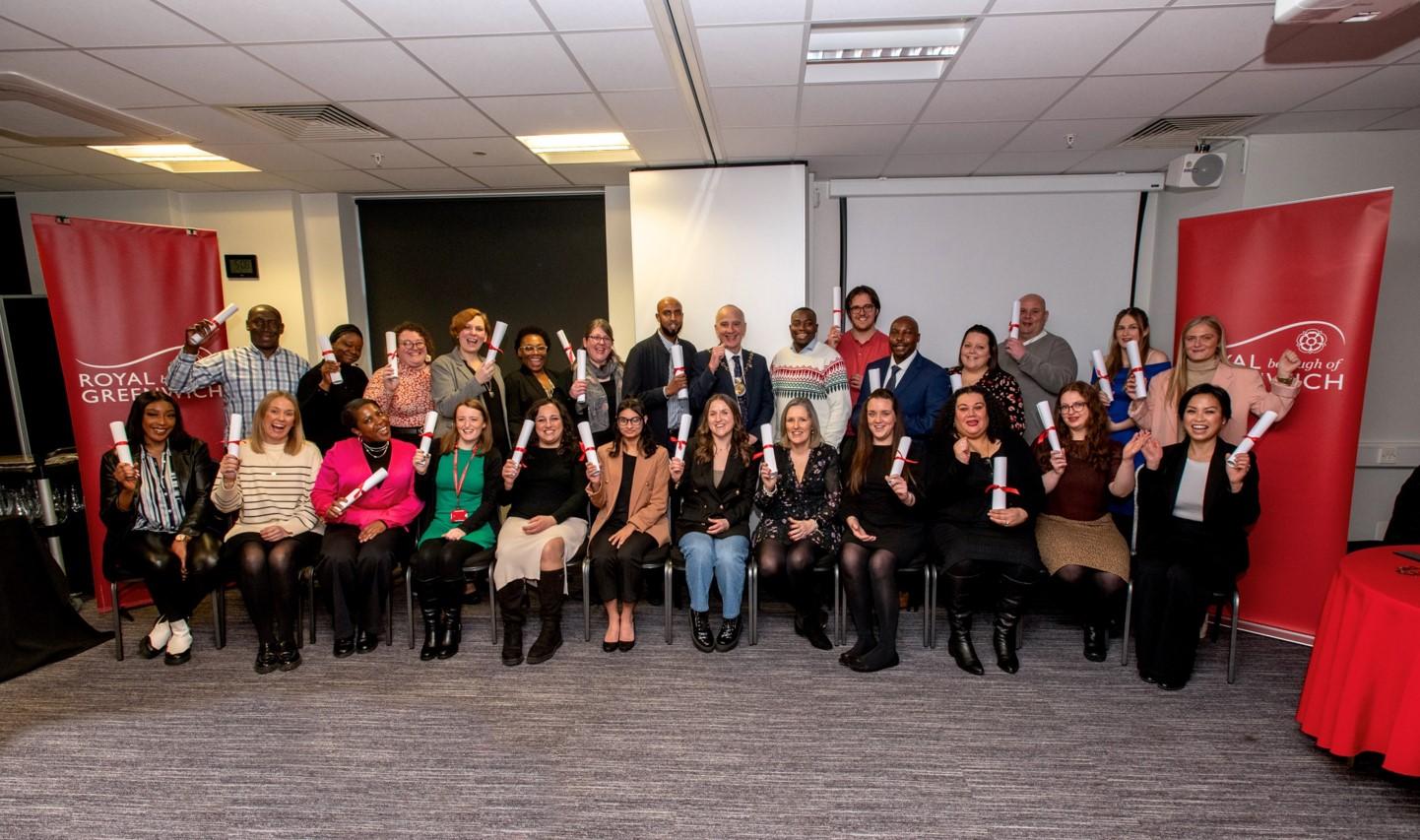 Work. Earn. Learn.
As a Council we're also helping local businesses offer apprenticeships through our Access to Apprenticeship Fund - to pay for the cost of training and assessments for an apprentice.
Greenwich Council offers a variety of apprenticeship opportunities ranging from administration to specialist skills such as trades.
Becoming an apprentice at Greenwich can boost careers because of the on-going learning, development, and prospects for future progression that we provide. One of the main benefits is the combination the Council offers of earning while learning from practical training. The starting salary for Greenwich Direct Apprenticeships is approximately £23,628.
Alongside role-related training, unlike work experience, apprentices at Greenwich are given job opportunities with experienced staff that are consolidated in a practical real-work environment.
Could your business offer an apprenticeship?
Your business may be eligible for funding to cover the cost of training an apprentice! Businesses in Royal Greenwich can take advantage of the Greenwich Access to Apprenticeships Fund. The fund can be used to cover 100% of the training and assessment costs of an apprenticeship, through one of the new apprenticeship standards. The Council can transfer up to 25% of its annual levy funds to small businesses, third-sector organisations, charities, social enterprises, and apprenticeship training agencies.
Note.
Businesses are being encouraged to train apprentices and to find out if they are eligible for the Greenwich Access to Apprenticeships Fund can be used to cover training and assessment costs.
Anyone over 16 can become a Royal Borough of Greenwich apprentice.
The aim of the Council's apprenticeship scheme is to provide work experience in a supported learning environment.
The apprentices complete their qualifications, develop their skills and knowledge in a particular discipline or service area, and gain future employment.
Information and resources about the Council's apprenticeship schemes
Please explore the links below.
Greenwich Access to Apprenticeships Fund
Greenwich Direct Apprenticeship Description
Apprenticeships and Traineeships
Post 16 Education and Training