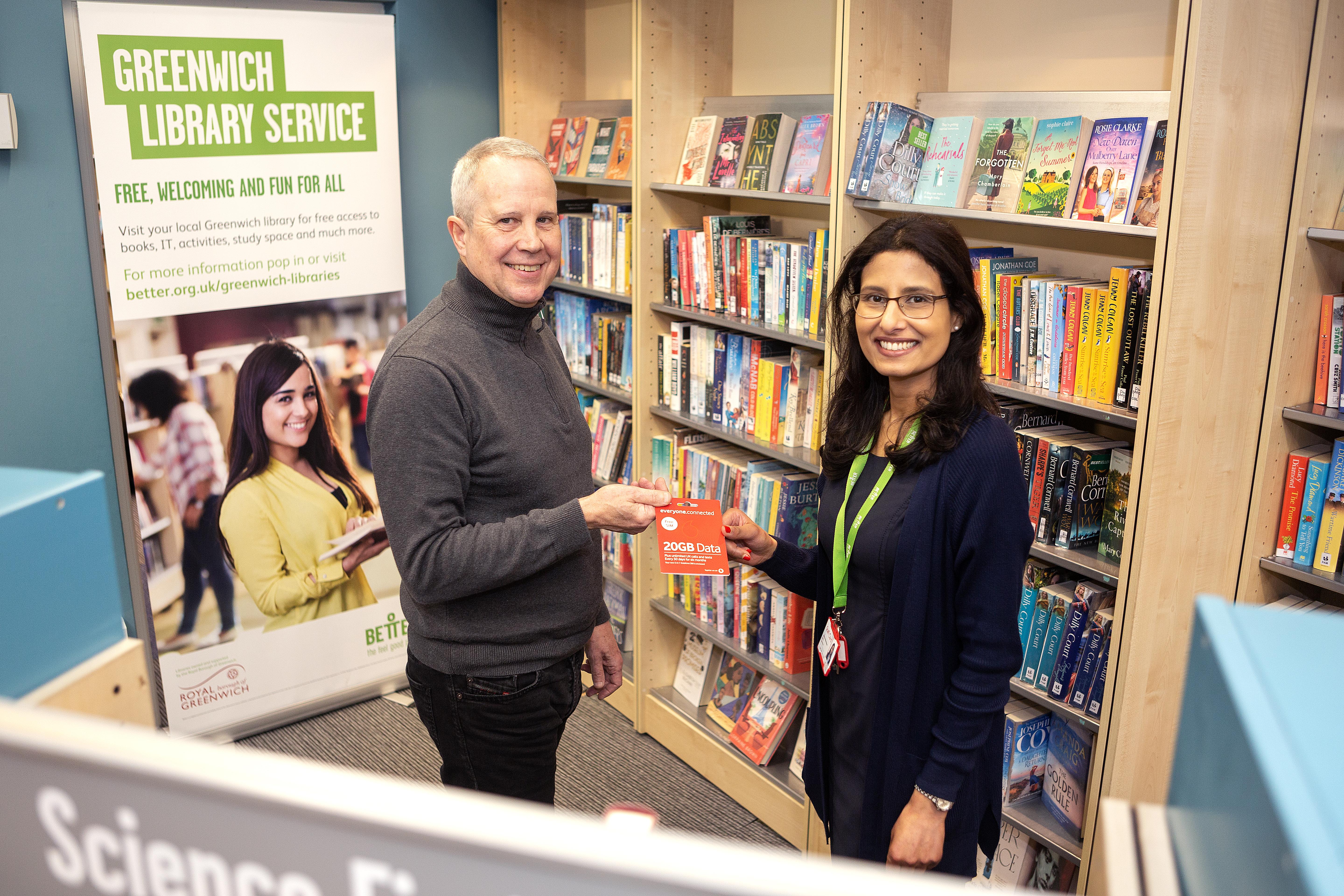 Published: Friday, 17th February 2023
The Royal Borough of Greenwich, in partnership with Better, has joined a national scheme to provide 7,200 free mobile sims to residents.
Thanks to Good Things Foundation, Better, which runs libraries across Royal Greenwich on the Council's behalf, will be issuing sim cards to eligible residents through Greenwich Supports, the Council's cost of living campaign.
Cllr Ivis Williams, Cabinet Member for Finance, Resources and Social Value said: "Homes across the UK have struggled to pay TV, internet and phone bills in the last year, with some having to cancel services to afford essentials such as food and fuel bills.
"This is something that has been reflected locally, with residents telling us in our cost of living survey that they are cutting back on mobile and broadband payments, entertainment subscriptions and leisure activities due to rising costs.
"This is an incredible partnership we are proud to be a part of, offering a lifeline when our residents need it the most."
Cllr Adel Kharieh, Cabinet Member for Equality, Culture and Communities said: "Initiatives like this ensure that everyone gets digital access to contact the Council and learn about support in their local community, no matter their finances. Beyond that, it allows residents to pay bills online and contact loved ones when they feel isolated.
"We already offer a wide range of free services spanning from WI-FI, PC and printer access to social and educational activities. And from Monday 13 February, there will be another great reason to visit our libraries."
Paul Drumm, Better's Partnership Manager for libraries, added: "Libraries are at the very heart of our communities and we are acutely aware of the challenges many residents are facing.
"This winter our libraries are also warm and welcoming spaces providing refuge for anyone who would like to spend time using our facilities or enjoying a hot drink.
"The free sim card scheme will build on this and help us ensure that no-one in the local community becomes digitally excluded."
Good Things Foundation has provided 7,200 free sim cards for Royal Greenwich residents.
To be eligible for a sim-card, you must be:
over the age of 18
from a low-income household
And match at least one of the following:
Have no access or insufficient access to the internet
Unable to afford your existing monthly contract or top up
Be in receipt of benefits, both means tested and Universal Credit, Pension Credit, Housing Benefit and Jobseekers Allowance. (Please bring official proof)
Have been identified by referral partners from Welfare Rights, Live Well Greenwich, Charlton Athletic Community Trust
Three options will be available from Virgin Media 02, Vodafone and Three, all with different packages. No contracts are required, so residents will not be tied in or expected to pay any money towards the keeping the sim open.
All 12 library branches will have a one-hour surgery each week for distribution.
Monday
- Coldharbour Library 2pm to 3pm

Tuesday
- Abbey Wood Library 11am to 12noon
- Slade Centre Library 4pm to 5pm~

Wednesday
- Greenwich Centre Library 2pm to 3pm

Thursday
- Eltham Centre Library 2pm to 3pm
- Charlton Library 5pm to 6pm

Friday
- Blackheath Library 10am to 11am
- Thamesmere Library 10am to 11am
- New Eltham Library 11am to 12noon
- Woolwich Centre Library 2.30pm to 3.30pm

Saturday
- West Greenwich Library 2pm to 3pm

Sunday
- Eltham Centre Library 1pm to 2pm